Thailand is ranked 2nd in the world for traffic fatalities. Statistics show a massive 44 deaths per 100,000 people, which is 5.1 percent of Thailand's overall death count.
It's no surprise that drunk-driving is to blame for 26% of road deaths. But it could well be more, as rescue services report that alcohol is involved in as much as 80% of road accidents.
(Stats according to the World Health Organization and The University of Michigan Transportation Research Institute in the United States)
But what about the rest of the traffic accidents? Why so many? 
If you've ever driven in Thailand, you'll know why. But what begs belief is that the root of the problem hasn't been addressed yet.
Learning to Drive in Thailand
Last week I went to watch my wife learn to drive. Now, had we been in the UK, this would have involved me watching her get picked up in a new, dual-control Golf, Mini or other car, and returning after an hour on the roads with a fully qualified instructor.
But this was learning to drive Thai style. Something I was yet to experience.
From the outset, I was pretty shocked that she'd only paid 3,600 Baht for 20 lessons (70 odd quid). That would get you just two lessons back home. I was even more shocked when we pulled up to what resembled more of an assault course than a learning centre.

Okay, I'd seen these places before from afar, but getting to grips with the fact that people in Thailand don't learn to drive on real roads, and are instead let loose in these places, takes a fair bit of getting used to.
There is no getting stuck behind a learner driver in Thailand. Instead, learners are confined to wasteland areas, instructed by non-qualified (so it seems) instructors to weave in and out of cone courses, navigate corners marked out by tyres and attempt reverse parking in makeshift spaces.
I made sure I was fully kitted out with amulets before leaving the house (sarcasm), and I did warn the staff that they should probably close off near by roads, since my wife is accident prone. I also suggested that my wife change her pink-bowed sandals for more appropriate driving shoes.
The Lesson…
Four new female drivers, including Mrs TTL, were bundled into a Toyota Vios and shown the ropes by a fairly uninterested instructor with Red Bull in one hand and fag in the other. After what seemed like less that 20 minutes, each lady was given a car of her own to start driving – alone!
My girlfriend was given a black Nissan with a sticker slapped on the side that made it look a tad rally style.
I told everyone to stand back…They didn't get the joke.
She did brilliantly though. I was super-impressed. She kept a steady pace and managed to go around the corners without stacking the car into the on-site office or running over any of the resident soi dogs.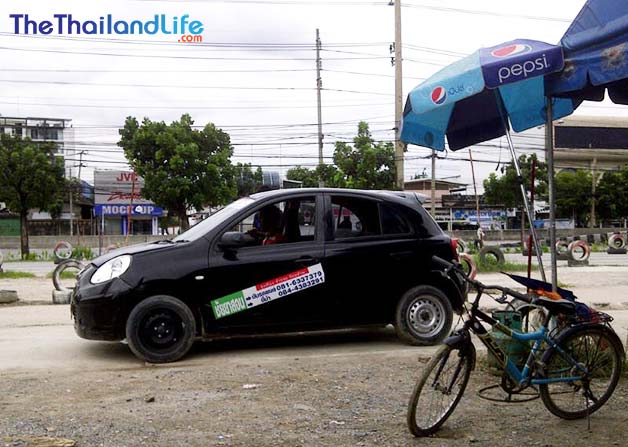 I was baffled: How had she managed to change gears by herself after such a short lesson?
"He put a rock on the clutch. All I had to do was steer".
Huh?
Seriously. That's what they do. Forget dual controls, or even an instructor in the car. They place the car in second gear with a rock on the clutch to keep it from stalling.
A makeshift automatic. Only in Thailand!
She went for another lesson two days later, and upon her return told me that she was left in the car alone for an hour to "figure it out by herself". She was frustrated as the old taxi she was given didn't work as well as the Nissan.
She added that she had pissed off the instructor by having a go at him for not doing his job properly.Bloody right!
Zero Teaching – Zero Real Road Experience
"This is how you do it, now get in and drive!" 
It's madness. This wasteland introduction to driving gives you absolutely zero real road experience and in no way prepares you for the numerous difficulties you might face on a day-to-day basis.
I had assumed that after lesson three they'd take her out on a real road. But the office lady told me this wasn't the case. You learn on site and then put in for your test, which is also conducted on a course (not on a real road), as seen in the video below.
The New Theory Test + Real Questions
One improvement that has been made is the introduction of a harder theory test. In an effort to improve road safety, a new test (effective since June 1st, 2014) requires that students have to answer 50 questions instead of the old 30.
You'll need to score 45 questions correctly to pass, which means a passing grade of 90% instead of the old 75%. That's pretty hard, and needless to say a lot of people are failing.
You can download and print out real test questions at the following links:
>> Thai driving theory test part 1
>> Thai driving theory test part 2
>> Thai driving theory test part 3
But does a harder theory test improve people's ability to drive? Perhaps they will understand more road signs, but at the time of passing their test, their ability to control a car on the road will be limited to the experience of an obstacle course in a car park with no other cars on the road.
Surely the answer to decreasing road deaths and traffic accidents in Thailand is to start offering lessons on roads, and to create a more realistic test that takes users out in real-world situations. Or would that be even more dangerous?
Hell, how many people actually have a real license in Thailand anyway?
If you want to know how drivers should be driving in Thailand, have a look at the official Thai traffic laws here.
How to Apply for a Thai Driving License
What most people don't know is that you are required to have a Thai driving license if you have stayed in the country for 60 or more days. Bear in mind though that you can't get a license on a Tourist Visa.
If you already have an international driving license, you won't need to take the practical test, but will need to take the following:
A short eyesight test (color perception, peripheral vision, depth perception)
A reflex examination
A computer based test (in Thai & English language only) on the rules of driving
Documents Required
1. Medical Certificate
Get this from a local doctor or hospital. It must not be older than 30 days. Cost is between 100-500 Baht.
2. Residency Certificate
This is proof of address and is provided by the Immigration Bureau or foreign embassy.  You can download the form here. When you go to get this, take 2 color Photo's 1.5 in x 2.36 in (4 cm x 6 cm). Proof of residence in the form of a rental contract or yellow residency book or a letter from your landlord.
3. Copy & Original of Passport & Non-Immigrant/Other Relevant Visa
Simply copy the front page of your passport, the visa page, latest stamp page and your  TM6 card. Take your original passport with you too.
4. Valid License / International License
You will need your current motorbike or car license, be it an international one or one issued by your country.  If you don't have one you will have to complete the practical and theory exams. If you license is not in English, you will have to get it officially translated and authorised by your embassy.
5. Identification Card / Other Card Substituted for ID Card
6. Application Forms
>> Download the license application form
>> Download the English translation
If you are renewing a license or extending from 1-year to a 5-year, click here for the official requirements.
To find your local transportation office, see this directory here.
And lastly, a nice man called Vladimir, who took the driving test in Thailand, has put together a mock Thai driving test that you can take online. It basically combines those PDF questions I gave you earlier into a test format. You can find that here.
Whether you need lessons or simply to apply for a Thai driving license, I hope you've found this information useful. If something has changed in the law or procedure that you know about, please do leave it in the comments section and I'll update the post.
Stay safe on the roads!
More Tips for a Better Life in Thailand
Send Money to Thailand:
Use Transferwise. It is fast, cheap, and gives you the market exchange rate. Me and the majority of my readers are using it.
Get Good Health Insurance:
Start with a quick quote from Cigna. Then compare my other recommendations here.
Improve Your Thai Skills:
Learning Thai makes life here easier and more fun. I use Thaipod101. It is free to get started & easy to use.
Protect Your Online Privacy:
A VPN protects you against hackers and government snooping. I always use one. You should too. Read why here.