Known locally as the 'moon' town, Chanthaburi province is located in the southeast of Thailand.
Like much of Thailand Chanthaburi is rich in ancient ruins and temples, but it also has many hidden gems, literally.
Chanthaburi town boasts a famous gems market, where traders from all around the world gather every weekend to hustle and buy and sell . So if you are into emeralds, sapphires, and other precious stones, visiting this charming town is a must.
It also has some lush national parks and beautiful beaches.
In this post I'll give you the low down on how to get there, what to do there, where to stay, and how to get around.
Let's do this.
How to Get to Chanthaburi
Chanthaburi is approximately 250km from Bangkok.
If you are planning to cross borders to Cambodia, it is worth travelling through Chanthaburi is as it's just under 60km from the Ban Pakard/Phsa Prum border.
There are no trains to Chanthaburi, and the nearest airport is in Trat. Trat airport is another 66km away from the city centre, so you would still need to do an hour's taxi ride.
One option is to grab a taxi from Bangkok, but it will cost you around 5,000 Baht ($150).
Via Bus or Minivan
By far the cheapest option to get from Bangkok to Chanthaburi is by bus or minivan.
The majority depart from the Eastern Bus Terminal (Ekkamai) located along Sukhumvit Road in Bangkok. This is also where you would board a bus going to Pattaya, Koh Chang, Koh Samet, and other eastern destinations.
Several buses and minivans also depart from the Northern Terminal (Mochit).
You can choose from two types of buses available at Eastern Terminal:
First-class air-conditioned bus: This type offers a direct transport service to Chanthaburi or any other destination specified (such as Pattaya or Trat).
Second-class air-conditioned bus: This bus type typically makes frequent stops along the way to pick up passengers. Consequently, the travel time on a second-class bus is longer than in the first-class.
Upon entering the terminal, you will see rows of ticket counters for different operators. The routes and schedules, along with ticket prices, are shown on the counter windows, so checking and comparing them is straightforward.
A minivan, which carries fewer people and is faster, will cost around 600 Baht ($18). You might do better to get the bus or a taxi, as minivans can be dangerous. Drivers on schedules, overworked and tired, tend to drive too fast.
You can catch a bus or minivan to Chanthaburi every two hours from 5:30 AM to 5 PM. Expect to pay around $7-8 for your ticket. Journey time will be at least 4 hours.
Although buses to Chanthaburi are frequent, booking a ticket in advance is ideal during holidays and peak season. See below.

City of Gems
The City of the Moon as much is more commonly known to foreigners as the City of Gems.
Chanthaburi and the neighboring province of Trat are well-known for their mines, which date back to as early as the 15th century when the villagers discovered gemstones as they planted crops.
The 19th century saw a booming mining industry for both provinces and western Cambodia.
Fast forward to today and Chanthaburi remains a gemstone haven to traders and shoppers alike. You'll find local gems but also those from other areas of Asia and the world.  Unsurprisingly, this trade has helped Chanthaburi acquire a title as one of the wealthier provinces of the country.
If you want to experience the gem trading, head to Si Chan Road and Trok Kachang where you will see plenty of gem shops.
Many of these shops are open during weekdays, but nothing beats the experience of visiting the street market on weekends. The street market is open from morning to late afternoon, so you will have plenty of time browse.
Please be careful though. Unless you know your stones, don't buy expensive gems. I believe you can have stones certified professionally within the town, but unless you know what you're doing spend cautiously.
Top 10 (Cheap) Things to Do in Chanthaburi
Fringing the Gulf of Thailand, Chanthaburi is blessed with dense forest, waterfalls and mountains in parks, and sandy beaches lined with coconut trees.
If you're visiting from Bangkok then you've probably had enough of day tours and fancy putting together your own itinerary and taking things at your own pace.
So here is a list of things to do in Chanthaburi that will cost very little.
1. Namtok Phlio National Park
If hiking and nature excite you, you should check out Namtok Phlio National Park. After a short trail through the forest, you will be greeted by the divine waterfalls –  teeming with a species of freshwater fish called soro brook carp.
Take a dip to refresh your mind and body.
Here, you'll find Along Khon Chedi, a pagoda built by King Rama V in 1876; and Pra Nang Ruar Lom, a memorial stupa where the remains of Princess Sunanta Kumari were buried.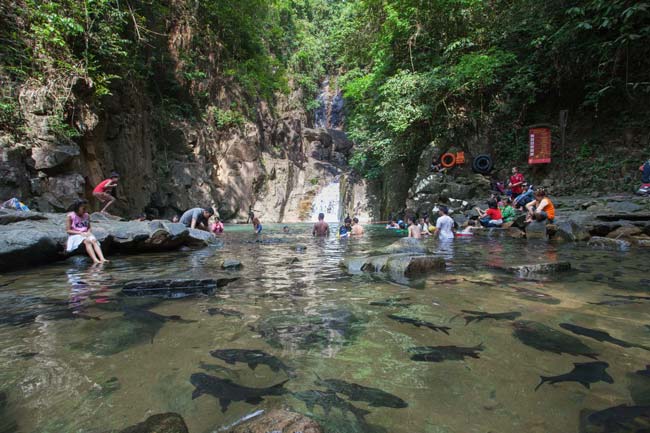 2. Khao Khitchakut National Park
Khao Khitchakut National Park is among the smallest national parks in the country is. But small does not mean less amazing.
The park covers vast, rich forestland that is home to a variety of flora and fauna, including wild elephants. The main attraction of the park is Nam Tok Krathing, a waterfall especially magnificent after the rainy season.
Swimming in the pond is allowed, as well as camping in the park.
Head to the top of the hill to see the Kitchakut temple where, according to Thai beliefs, there is an actual footprint of the Lord Buddha.
It is believed that visiting the footprint is to appear before Lord Buddha, and those who make the trek are granted a wish.
Between February and April, people flock to the temple to worship and wish for prosperity.
3. Ao Krating
With a small yet calming beach, Ao Krating is the perfect place to relax.
Take your picnic basket and enjoy the beautiful, unspoiled view.
The beach is lined with tall pine trees so that you can sit comfortably on one of the provided benches or even take a nap without being roasted by the sun.
4. Hat Laem Sing
Another small beach in the area is Hat Laem Sing.
Although not as spectacular as other beaches in Thailand, Laem Sing beach offers a quiet spot for travellers who wish to recharge.
Aside from the beach itself, you can also visit historical sites in the area such as Tuek Daeng (Red Building) near Khuk Khi Kai.
This the site of the Phikhat Patchamit Fort built in the reign of King Rama III – which was subsequently turned into a military command post by the French during the French occupation of Chanthaburi between 1893 and 1903.
Also close by and of interest might be Laem Sing Shipyard, a gem of interest to anyone interested in ancient shipbuilding techniques.
5. Khuk Khi Kai
A lovely seaside spot close to Hat Laem Sing, Khuk Khi Kai was built in the late 1880s to serve as a prison where Thai rebels in the province were taken captive by the French government.
But despite it being a pretty place to take pictures today, it comes with a sad story. Khuk Khi Kai is a square-shaped structure that does not have windows, only holes for ventilation.
The name literally means chicken poop prison.
The first floor of the prison contained Thai rebels of Chanthaburi who rebelled against the French occupation, and the second floor was a large chicken coop.
The grated floor ensured that prisoners were constantly subjected to chicken poop. This was a form of torture for the inmates. The story is not so well known and certainly deserving of its own post (1).
6. Cathedral of the Immaculate Conception
Known to many as the grandest and most beautiful Christian church in Thailand, the Cathedral of the Immaculate Conception is among the top tourist spots in the city.
It's worth just seeing the splendid Virgin Mary statue outside the building. The statue was given to the church by the community of Christian gem dealers in Chanthaburi.
7. Wat Mangkhon Buppharam
Also known as Wat Leng Hua Yi, this Sino-Buddhist temple is highly revered by locals of Chinese decent in Chanthaburi in the same way that Yaowarat's Wat Leng Noei Yi is an important focal point for the Chinese community in Bangkok.
There are three of these temples in Thailand and the Chanthaburi one, (built in 1977), is perhaps the most stunning.
The art at Wat Leng Hua Yi tells the story of Mahayana Buddhism, the teachings of which came to Thailand centuries ago when Chinese immigrants first began to settle here.
In Chanthaburi, Mahayana Buddhism is as influential as Theravada Buddhism, which dominates in the rest of Thailand (2).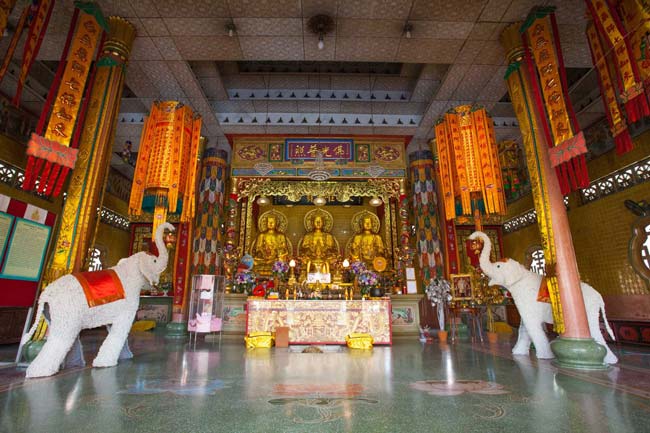 8. Khung Kraben Bay Royal Development Study Centre
The Khung Kraben Bay Royal Development Study Centre houses, preserves, and protects the mangrove forest that serves as an important source of food for different aquatic creatures.
As an eco-tourism site, this centre offers an opportunity for travellers to learn about the ecosystem and the importance of mangroves. There are canoes available to paddle through the lake.
9. Chao Lao Beach
Close to the Khung Kraben Bay Royal Development Study Centre is Chao Lao beach, so planning to visit these two in a day is possible.
Chao Lao beach offers a low-key tropical experience as it is not as crowded as in other beaches.
Marvel at mother nature while the sun sets in the background, then grab some local Thai food in the evening.
10. Chantaboon Old Town
If you are interested in the history of the places you visit, the Chantaboon Old Town might well be the highlight of your Chanthaburi experience.
Also known as the Chantaboon Waterfront Community, this small, old town is found in the middle of the city by the banks of the Chanthaburi River.
The timeworn structures boast Chinese and Western architectural influences and span wooden homes, temples, and a church.
The town's most famous building is the Baan Luangrajamaitri Historic Inn, a Sino-Portuguese building that was turned into a hotel and museum.
Where to Stay in Chanthaburi
Being a tourist destination, Chanthaburi has accommodation for all traveller types.
Whether you are looking for a budget room with a bed and simple breakfast, or a high-end hotel with a pool, restaurant and all the frills, you won't be short on choice.
Here's some recommended options.
1. Premium Accommodation
Hotel D Varee Diva Rimnaam
This 4-star hotel offers proximity at its finest. It is located near top attractions such as the Cathedral of the Immaculate Conception, Old Town, and Wat Phai Lom.
The hotel offers free Wifi in all rooms and public spaces, and has a swimming pool, fitness centre, garden, and bar and restaurant.
Peggy's Cove Resort
Situated 25km away from the city centre in a quiet village, Peggy's Cove Resort offers fantastic facilities and services, including an outdoor pool, hot spring bath, and massage.
Visitors can choose from their 38 rooms, each of which exudes a harmonious and tranquil ambiance.
2. Mid-budget Accommodation
Baan Lug Chang
A hotel in the heart of the city, Baan Lug Chang makes for a comfortable home for when visiting Chanthaburi.
Apart from the usual services offered, expect clean, spacious rooms donned in minimalist design.
Yaibua Hotel
Just 5km away from the city centre, Yaibua provides accessibility to town attractions and facilities. Each bedroom is designed with peaceful ambiance to facilitate an invigorating sleep.
3. Low-Budget Accommodation
Bedgasm Hostel
This budget hostel is conveniently located in the city centre, close to many attractions.
They have private rooms and dormitory rooms.
To ensure a pleasant stay for guests, they have concierge services, Wifi in rooms and public spaces, and a shared lounge area.
Bansabai-Raiwan Resort
Also situated in the centre of the city, Bansabai-Raiwan Resort is another great place to stay at low cost. This hostel offers wireless internet access in all rooms and cable TV in selected rooms.
Getting Around Chanthaburi
Chanthaburi is generally a very walkable city.
The majority of tourist spots that peak your interest can be covered by foot.
Thailand can be super hot and humid, though. So no doubt you will want a ride occasionally.
Motorbike taxi: You can find motorbike taxis and songthaews almost everywhere. They are regularly parked at the bus terminal and in front of the Thetsaban Market. Fares within town vary, but should be within the range of 20-75 Baht for local trips.
Songthaew: Fares for songthaews are usually 20-40 Baht per person, but can be negotiated with the driver if it's a long way.
Going to places outside the city centre, Songthaew travel is far more expensive:
For round trips, prepare to pay around 500 Baht to Nam Tok Phlio, 800 Baht to Laem Singh, and 1,000 Baht to Khao Kitchakut or Chao Lao. Most hotels and hostels will arrange songthaew services for you.
Moped: As always, moped rental is a popular way to get around Chanthaburi. You can rent one for around 200 Baht ($6).