In this age of digital devices, one can quickly and easily record moments and share them on social media and other platforms.
But there will always be something special about doing it the old way: jotting down your thoughts on a piece of paper for you and others to reminisce over in the years to come.
Travel journals are an intimate, personal way to preserve your memories: the emotions you feel, the places you visit, the people you meet, and the weird and wonderful experiences you have.
Time tends to erase memories, and social media posts get lost in the digital ether. Travel journals, on the other hand, are a tangible way of keeping your memories alive.
They're also super useful for noting things down before you forget!
For under $25, and in most cases a lot less, you can get an awesome travel journal to carry with you in Thailand and any other part of the world you visit.
Here's 15 of the best travel journals I found to store your memories forever
Best Travel Journals for Under $25
Amazing Office: The World Map Refillable Journal
This faux leather journal is embossed with a world map, inspiring you to jot down your travel adventures as you go.
One of the most popular travel journals on the market, this notebook is easy to carry and will conveniently fit inside a small bag.
Moreover, if losing pens is a bad habit of yours, don't worry as it has a pen holder.
Featuring a classic tan-coloured hardbound and a secure magnetic clasp, this journal comes with 100 sheets of lined paper – and is refillable. The paper is also thick enough to prevent bleeding through pages when using an ink-heavy pen.
Size: 5.5 x 8 inches
Price: $24.99, Refill – $12.99
=> Click to see The World Map Journal
Luckiest of London: Scratch Map Travelogue
The first of its kind, the Scratch Map Travelogue by Luckiest of London allows you to mark off the places you have visited and where you plan to go.
It features eight different scratch maps coated in gold foil, each representing a different region of the world. When you are back home, you can take the maps out and put them up on the wall to remember your traveling days.
The Travelogue contains 64 pages and has small compartments inside – perfect for storing boarding passes, ticket stubs, etc. The journal is handy enough to fit into a small bag or purse  and even a generously sized pocket.
Size: 8.9 x 0.8 x 6.7 inches
Price: Blue – $25; Brown – $15.75; Red – $20.94
=> Click to see Scratch Map Travelogue
SohoSpark's Compass Journal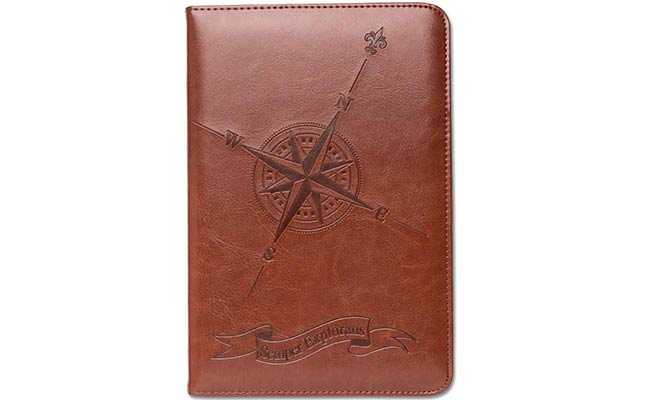 Looking for a classic style journal to accompany you on your adventures?
SohoSpark's Compass Journal is padded with vegan "leather" and embossed with a compass design.
The paper prevents any bleed-through, even when using a fountain pen. It contains 240, numbered A5-sized pages.
The pages are refillable and come in different patterns: blank, dot-grid, and lined. If you're looking to give a travel journal as a gift, this is a good bet as it comes in an elegantly branded white box.
Size: 8.75 x 6 x 0.9 inches
Price: $24.99
=> Click to see the Compass Journal
You Are Here: A Mindful Travel Journal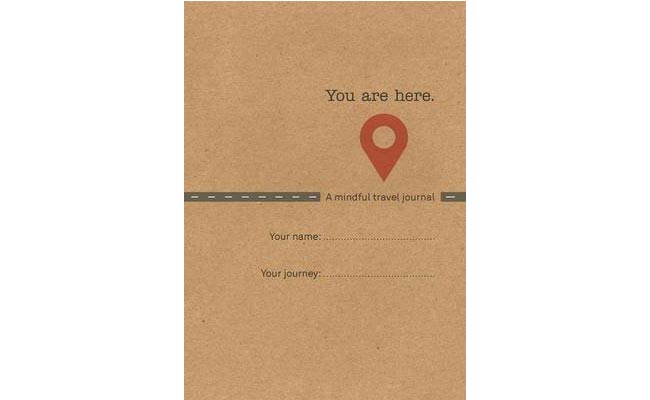 Wherever you go, there you are. Live the present moment with this mindfulness inspired travel journal.
You Are Here is much more than a bunch of empty pages to pen your thoughts and experiences, it guides you to learn ways to develop a peaceful mind.
Expat on a week-end break to Phuket or backpacker on route to Chiang Mai, You Are Here helps you through mindfulness exercises to enjoy your experiences as you experience then in the NOW.
Every moment is valuable, and every page of this journal will not just record your exciting trips and adventures – it will also reflect you as you discover more of yourself!
Size: 5.8 x 0.4 x 8.3 inches
Price: $13.46
=> Click to see the Mindful Travel Journal
BookFactory's Travel Itinerary Journal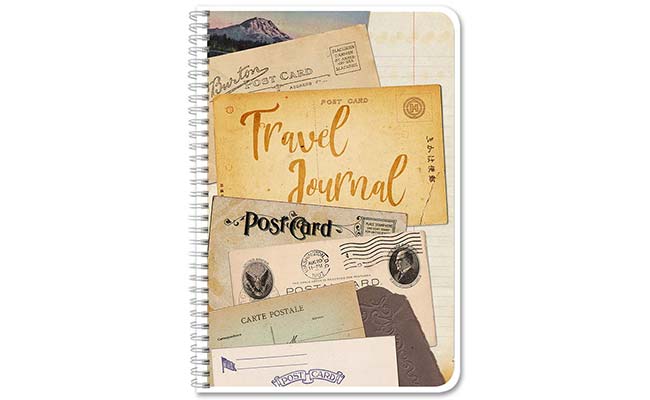 This neat travel itinerary journal by BookFactory is great for storing travel inspiration and suggestions such as exciting places to eat, explore, and visit.
The journal features unique spaces to enter personal information and details on travel accommodation, itineraries, and transportation, as well as emergency contacts.
Containing 100 pages, this travel itinerary journal is proudly made in the USA.
Size: 8.9 x 6.2 x 0.3 inches
Price: $9.99
=> Click to see the travel Itinerary Journal
WANDRD's The Travel Journal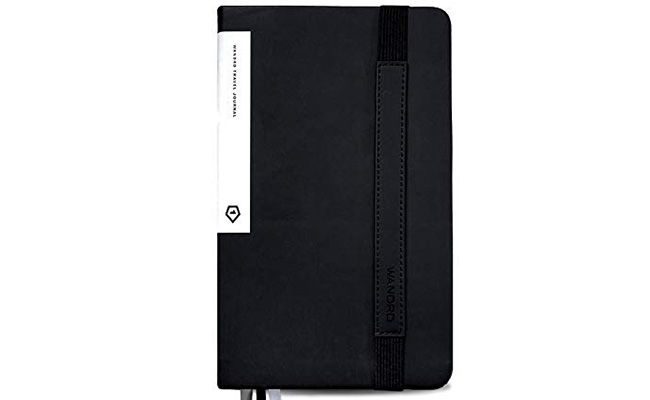 The Travel Journal by WANDRD boasts a hardbound cover made of durable material and a secure elastic strap closure, so you can be sure that it will withstand the test of your adventures.
It includes a slot for your pen and comes with 240 pages of premium, sustainably-sourced paper crafted to perfection – soft to touch but still thick enough to prevent bleeding.
Featuring space for 12 dedicated adventures – three for long trips, three for medium trips, and six for short adventures, The Travel Journal includes a world map and logs meant for itineraries, checklists, and general planning.
What's unique about this journal is that it also has a space dedicated to show universal communication symbols – useful for traveling in a foreign country. It also has a pocket to store keepsakes.
Size: 8.8 x 5.3 x 1 inches
Price: $19.99
Belle City Gift's Travel Journal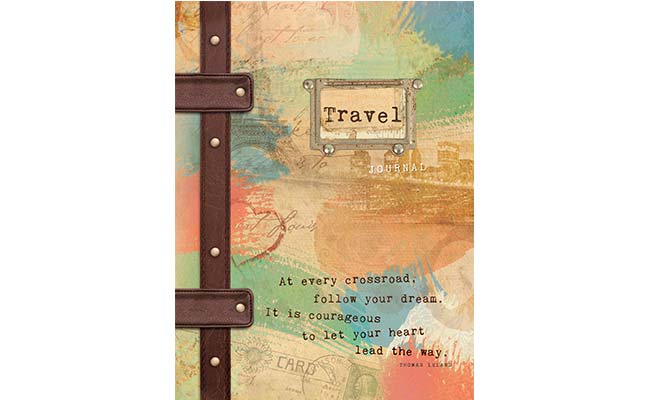 Whatever roads life leads you down, capture your memorable adventures in this contemporary journal.
Stylish and easy enough to carry in your day bag, it contains 160 lined pages that are ideal for jotting down plans, itineraries, and experiences.
Size: 6 x 0.4 x 8 inches
Price: $14.99
Our Family Travels: Journaling Together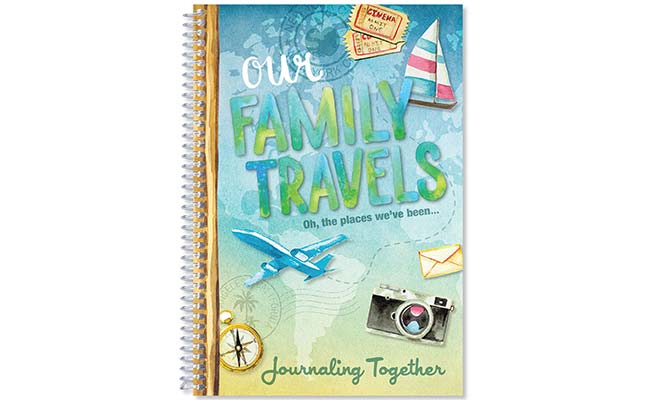 What better way to travel than with your loved ones, and this is what the Our Family Travels journal is all about.
This fun and imaginative travel journal is designed to encourage families not only to go on a trip together but also to plan, share, and record the memorable moments from their adventures.
Featuring a spiral-bound cover, the journal contains 64 pages filled with stylish prompts such as strange sights, your best and worst memories, the weather, and the the things you like.
Size: 5.4 x 0.5 x 7.8 inches
Price: $12.00
=> Click to see the Family Travel Journal
Travel Stub Diary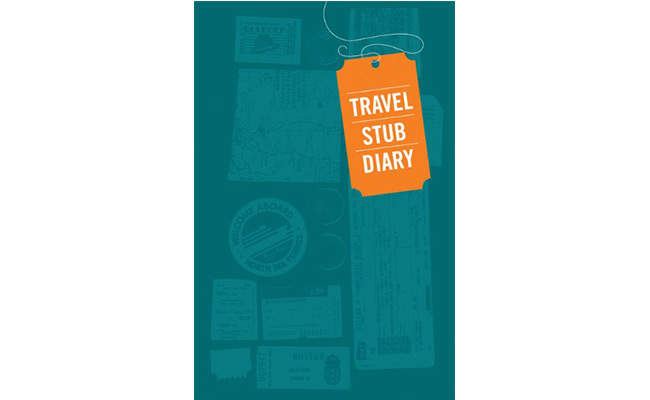 A diary-cum-album/scrapbook, the Travel Stub Diary helps you store paper memorabilia of your adventures and trips such as photos, ticket stubs, maps, and postcards.
The diary features plastic protective sleeves in two different sizes and space in the margins for writing down notes and captions. Its 48 pages are toxic-free, so you can be sure that your keepsakes will be preserved for many years to come.
Size: 6.5 x 1.2 x 9.8 inches
Price: $12.67
=> Click to see the Travel Stub Diary
'And So The Adventure Begins' Travel Journal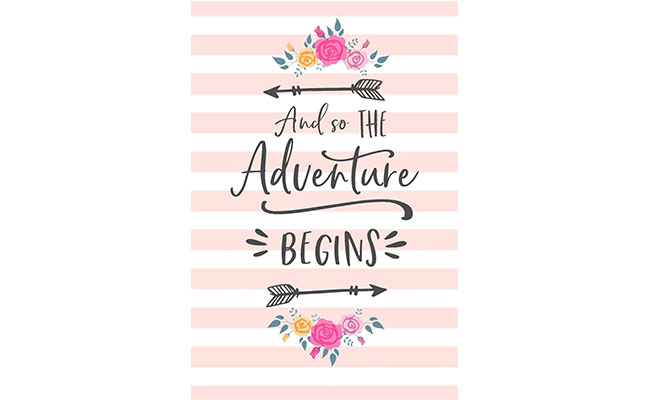 And So The Adventure Begins contains four different types of page, each designed for a different purpose:
ruled pages that contain a date space for your daily notes;
graph and blank pages ideal for drawing, doodling, and sticking photos and paper memories;
divided ruled pages for listing your favorite moments;
pages dedicated to addresses, contacts, to-do lists, etc.
This 126-page travel journal has a soft cover with a charming floral design, and is another that would make a nice gift.
Size: 6 x 0.3 x 9 inches
Price: $9.75
=> Click for 'And So the Adventure Begins'
Peter Pauper Press: Travel Life Journal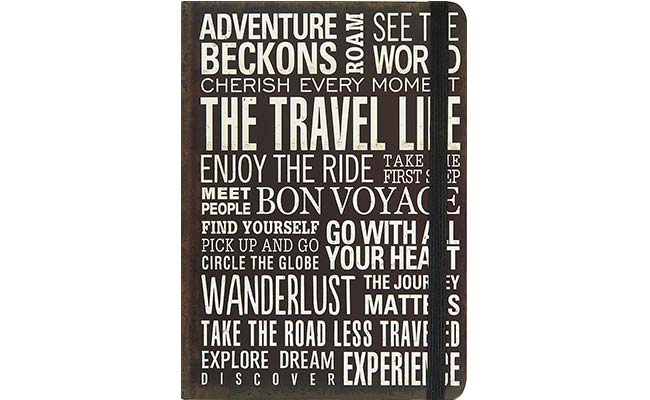 Adorned with glossy, embossed travel-related words and phrases and enclosed with a black elastic band, this journal contains 160 lightly-lined pages.
The acid-free paper enables writing without feathering or bleeding.
Additionally, the back cover includes a pocket for holding business cards, notes, and pictures, etc.
Size: 5.9 x 0.7 x 8.8 inches
Price: $9.89
Peter Pauper Press: Old World Journal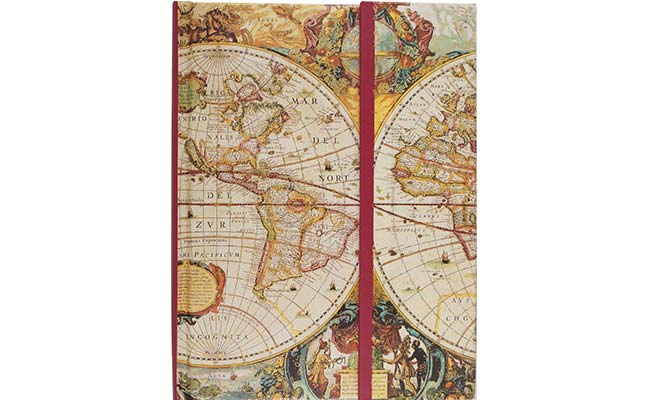 Another offering from Peter Pauper Press, the Old World Fold-Over Journal is for those who love a classic look.
Featuring a hardcover that takes inspiration from an ancient map – with gold foil tracings of continents and navigational lines, this timeless travel journal also makes a great personal diary.
The journal features a magnetic closure that secures the journal and anything kept inside, and the inside is adorned with inspirational travel quotes.
The journal contains 160 cream colored pages made of premium-grade ivory paper. The acid-free paper guarantees easy-to-read writings, even after many years.
Size: 6-1/4 inches wide by 8-1/4 inches high.
Price: Hardcover – $7.90, diary – $13.24
=> Click to see the World Journal
I Was Here: A Travel Journal for the Curious Minded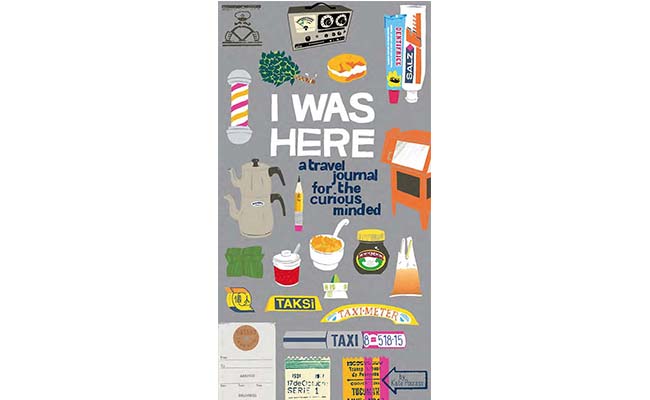 A guided travel book that contains colorful illustrations and prompts, I Was Here motivates you to explore and document the little things and wonderful details of your trips.
Containing 128 pages, there's ample space for jotting down addresses, itineraries, lists, tips, etc.
A special feature of this travel journal is a reference section that includes measurements, time zones, and other relevant information. There's also a neat back pocket for collecting travel mementos.
Size: 4.8 x 0.5 x 8.5 inches
Price: $10.86
=> Click to see the I Was Here Journal
Travel Journal
Last but definitely not least is the aptly named Travel Journal.
Featuring a soft cover displaying an old-fashioned map design, this journal is the perfect companion for jotting down and preserving memories from your adventures and travels.
Complete with 150 pages, it can be used as a diary or travel journal.
Size: 6 x 0.3 x 9 inches
Price: $6.99
=> Click to see the Travel Journal
Tips to Start Planning Your Trip Now:
Don't Forget Travel Insurance
Travel insurance protects you against illness, injury, theft, and cancellations. I never travel without it. I've been using World Nomads for 15 years. You should too.
Book Your Flight
Find a cheap flight to Thailand using Momondo. This is my go-to search engine.