You may be a little apprehensive about solo female travel. Taking off on your own to a distant land is a big deal.
Whether it's your first time going to Thailand or whether you've been before, it's likely that family and friends are worrying you with stories they've read, or simply their own fears and anxieties about your trip.
Traveling alone can be a little daunting at times, especially when you land at a new destination and you need to navigate the local landscape – the language, the customs, the infrastructure.
To help ease your fears, boost your confidence, and ensure you avoid any problems, here's a female traveler's guide full of useful tips to help you have a rewarding journey.
And most importantly, to help you stay safe along the way.
Contents: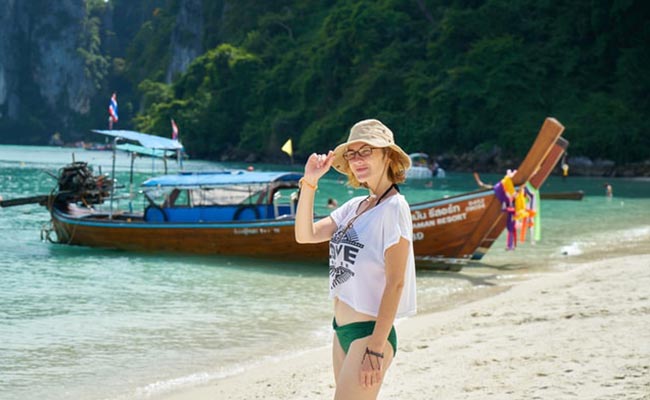 Research Your Destination
Wherever you're traveling to, get familiar with the place before you arrive.
Doing so will mean you won't waste time trying to figure things out on the fly.
Consider the following:
How will you get from the airport to the hotel?
What currency do you need and how much cash?
What sights do you want to see?
Is it hot or rainy season?
Is there a special holiday during your stay (can mean closures)
This isn't just about places to go or the climate but also the locality and the culture
Also consider:
Dress code.
Emergency numbers you might need.
Internet access.
Cultural dos and don'ts.
Official taxis vs. touts (safe travel)
Be Prepared
Like a good Girl Guide, be prepared. It will help you make better choices when you arrive at your destination.
First up and most important of all, get travel insurance to protect you from unforeseen circumstances.
Where possible, book accommodation and tours ahead of your trip. The last thing you want to be doing is walking around late in the day looking for a place to stay, or simply accepting the recommendation of a tout at the airport or bus station.
Always carry some cash (not too much when out and about), and keep the address and phone number of your accommodation on you at all times.
The cash will come in handy if there are no ATMs around, and the address will help you get home if you are lost.
Make digital copies of your travel and identification documents and have them on your phone. You can also carry hard copies in your backpack.
Pro tip: Carry backup ID on your phone.
Pack Only the Essentials
Less stuff, less stress. Period.
Dragging a heavy suitcase around, plus a backpack and a handbag, is not a good idea. There won't always be someone there to help you out and it may make you a target for theft.
Heavy luggage is restrictive and isn't conducive to running to catch that bus, train, or plane.
Write a checklist that covers a few tops, bottoms, and dresses that you can easily layer or mix and match.
Limit your footwear to three or even just two pairs by having a pair of sneakers, a pair of sandals, and maybe a pair of trainers or boots depending on the climate of your destination.
The key to efficient packing is to visualize the necessities you will use on a daily basis.
Also consider what you can buy at your destination, if you need it.
Clothes are generally quite cheap in Asia, as are toiletries, so you'll be able to buy things you need in an emergency.
Having space in your bag also means space to bring back shopping and gifts.
Packing light saves you time, effort, and money.
Make the Flight Comfortable
Long-haul flights can make you feel groggy and tried and a little down.
Make the flight more comfortable by freshening up. Pack a hairbrush, deodorant, and a toothbrush, and prepare for bed as you would at home.
For a better sleep, try to sleep on the plane during the time it is nighttime at your previous destination.
On the flight, it's best to wear slip-on shoes and leggings or loose pants. You can slip your shoes off easily, and your clothing will allow for good air and blood circulation.
Take some entertainment too, such as a book and an mp3 player with your favorite albums on. Once on your travels, you can write in a journal on the plane too.
Pro tip: Carry a blow up travel pillow to feel more comfortable.
Stay Healthy
It's pretty easy to get rundown when traveling. What with jet-lag and late nights and drinks, you can get over tired.
So it's important to recognize when you need an early night and some extra nutritional focus.
Stay hydrated, get sufficient sleep, and keep a balanced diet that includes lots of fruits and vegetables.
You'll need the energy as you hop from one place to another, especially when you're walking a long way and its 35+ outside in the sun.
If you do become poorly, don't lock yourself in your room; seek medical help first to make sure you haven't caught anything more serious than a cold.
Once you have a diagnosis, you can rest up in your hotel room. Stay in regular contact back home, and seek medical help if your symptoms deteriorate.
Tip: Avoid drinking tap water too. Always buy bottled from a local store.
Don't Sleep the Day Away
Make sure you're getting enough rest, but don't sleep in until lunchtime, or you'll be wasting valuable time on an activity you can do back home.
To avoid this, don't stay out until the small hours every night, and lay off the alcohol.
Going on day trips is a good way to ensure you're up bright and early, as these usually start around 8.30-9am.
You should be making more memories, not getting more sleep than you need :).
Pro tip: Get over jet lag using these tips.
Accomplish a Goal a Day
To ensure a productive trip, give yourself an assignment for each destination, and where possible each day.
It can be as simple as visiting a famous restaurant, or hanging out at a specific beach location.
It might even be something daring like asking a local for directions in the native tongue. Or something fairly standard like taking a picture at a popular landmark.
It can also be something more meaningful such as doing some volunteer work.
Setting personal goals will give you a sense of daily fulfillment and make you feel as though you've conquered your destination.
Connect with Other Female Travelers
It's likely that you won't be the only solo female traveler at your destination, or at the very least you will meet a group of girls with whom you can connect.
The best way to meet other female travelers is by staying in hostels rather than hotels.
It's cheaper and not as plush, but travelers tend to be on more of a budget and hostels provide good value.
Hostels usually have a common area for socializing, and tend be situated in areas where there are lots of young folks and bars and restaurants, creating the perfect meeting ground.
It may be that you want to be alone sometimes, but certainly don't be too shy to say hello and talk with other female solo travelers.
Sharing experiences is fun, and you may end up making friends with interesting people from different countries; friendships that may end up lasting way beyond your trip.
Connect with Locals
It can be difficult to know who to trust for local advice, particularly because many people you come across will be trying to sell you something.
The best locals to speak to for tips are expats who live in the local area, or staff at your hotel.
Many expats own bars and restaurants and have insight as to the best beaches, tours, trips, places to eat, and places to avoid.
They will also let you know if there are any local scams to be aware of.
Hotel staff have an interest in you having a great stay, so they will want you to have a good experience outside the hotel too.
Sites like Trip Advisor can be helpful, but there's no one better to ask than those who live in the locality.
Cultural Immersion
Sticking to the path most trodden is safest, but won't always give you insight into the day-to-day living experience of the locals.
Immerse yourself in local culture by visiting markets – not just the tourist night market – eating at locally-recommended restaurants, and attending any local events that may be taking place during your stay.
Take a Break From Social Media
There's a natural compulsion to want to share your memories with your friends on social media, but there's also some blissful escapism to be found in disconnecting from your phone/tablet and truly living in the moment.
Too often, we miss the beauty in the moment because we're too busy thinking about creating the best photo opportunity for Facebook or Instagram.
I understand that at times, when you feel alone in a foreign country, social media is a good way to virtually connect with friends and family.
But endeavor to strike a balance between updates on your channels and taking time to truly disconnect and live in the real world.
Pro tip: do switch off social media but always carry your phone, making sure it is fully charged.
Be Flexible & Adaptable to Change
Be prepared for the unexpected, and be prepared to change your plans if necessary.
Sometimes the weather stops play, or a particular attraction is closed, and you'll need to make other plans.
Don't be disappointed; this is all part of the experience and, quite often, the new pathway brings with it something unexpectedly fun.
It may be you who ends up changing plans. It could be that you want to stay a couple of days longer in a particular place, or that you decide to go somewhere with a group of solo female travelers.
Remember, there is fun in being spontaneous. Having fewer expectations from your initial plans gives you more freedom to enjoy the unexpected.
Keep a Journal
Documenting your journey will help you relive the memories later down the line. You will visit so many places, and memories will get blurry as time passes.
A journal is a wonderful keepsake to remind you of this golden time in your life, and also a useful pastime at the bus station or airport where you might have to wait a few hours.
A journal will also serve as a prompt when telling your tales of travel back home to friends and family.
Pro tip: See the best travel journals here
Travel Safety Tips
1. Pick Safe Spots to Travel
Women are more vulnerable than men, particularly in SE Asia.
Pick your destinations sensibly by going to low-crime areas that are frequented by families, as these tend to be safer.
Less travelled to places are attractive but are naturally more isolated. Do some research online as to how female-friendly an area is and whether others have experiences to share.
Your trip is about relaxing and having fun, not worrying about pickpockets or sketchy people.
You can also ask at your hotel/hostel reception. In Thailand, female staff will be more than happy to advise you. They will know from living locally which areas or streets you might choose to avoid in the evenings.
If you ever find yourself in a situation where you are attracting unwanted attention from males, simply go into a shop or cafe or bar and ask a female member of staff for help.
A simple "can you help me" will be greeted by a sympathetic ear.
Never be afraid to ask. Most women in Thailand do not tolerate unruly men, and will be happy to inform someone of higher status who can help.
2. Regularly Update Relatives
Whenever you arrive at a new destination, update your closest relatives and friends on your current location. Where possible, share your itinerary.
You should also choose one person to regularly message with your whereabouts. For example, if you're off to a particular temple in Chiang Mai for the day, text your mom and let her know.
It's human nature for your loved ones to be concerned, given the fact that you're a woman traveling alone. You might get frustrated at them for being overly worried, but take it as a positive showing of love.
3. Avoid Oversharing Information
Avoid checking into places publicly online on Facebook or elsewhere.
Check your privacy settings on your social channels to make sure you aren't accidentally sharing anything publicly beyond close friends.
You might choose to set up a separate page to share your travels with just a select few people.
4. Carry a dummy purse
Carrying a dummy purse with a little bit of cash and a couple of fake credit cards may come in handy.
If you are ever mugged, you can hand over this purse and protect your real cash and cards, which are actually concealed in a bad under your clothes, or back at the hotel.
Smart, huh?
5. Wear a wedding ring
Whether you're attached or straight or not, pretending that you're in a relationship can prevent unwanted attention.
A fake wedding ring will make people think you are married, and that your husband is most likely on holiday with you.
You might choose to do this when shopping alone in night markets, or when out at bars.
6. Avoid heavy drinking
Partying is fun but usually comes hand in hand with alcohol.
Bars and hostels have this friendly vibe that can be enticing, but know your limits when it comes to drinking.
Thailand is known for the Full Moon Party, and for fish bowls and shots.
But getting intoxicated will leave you vulnerable, especially if you have to walk back to the hotel or take a taxi. You could be attacked, or fall and injure yourself.
You can still enjoy your trip by sharing experiences with other travelers that don't involve drinking in excess.
Sure, have a couple of drinks, but never feel pressured to take part in drinking games or to go past your limits.
7. Trust your intuition
We women are very intuitive :). If your instinct tells you that something doesn't feel right, trust your sixth sense.
If someone seems insincere, a price feels way too high, or a place feels unsafe, walk away and err on the side of caution.
Always listen to that little voice in your head that tells you something just doesn't feel right.
Follow Dress Codes
We mentioned this earlier on but it's worth going over in more detail.
You need to be aware of the dress code for the place you're visiting, otherwise you may cause offence.
For example, if you're visiting a temple in Thailand, the general rule is that the shoulders and knees should be covered; a practice that applies to both men and women.
Women should opt for knee-length shorts, a skirt to the knee or beyond, or a dress.
A shawl is a helpful and versatile piece of clothing in this scenario because it can cover the shoulders easily, and is light enough to wear even in the most blazing heat.
Pro tip: More on dress codes in Thailand here.
A Last Word of Encouragement
I often get asked how I manage to travel so confidently on my own. Well, I just go for it.
Of course I get a little anxious, and a little lonely on those tired, rainy days when I'm stuck at the hotel or hostel. But the next day always brings something new and exciting into my life.
I have met so many wonderful people and explored places I never would if I had waited around for someone else to go with me.
Travel is more than travel: it's about overcoming fears and insecurities, building confidence, becoming independent, and growing as a person by experiencing different people, cultures, and places.
Don't get swept up in the fears of others. Family and friends will tell you about all the horrible stories they've read and how dangerous "these places are".
But if we live our lives fearing these things will happen then we'll end up never leaving the house!
Crime happens everywhere. If you use your smarts and the tips in this post you can avoid being a target and make your trip much safer than others would have you believe.
You only live once; cliche maybe, but true.
Push the boundaries a little. Be confident. Throw overthinking out of the window and live a little.
Solo female travel is life-changing, for the better. I love it, and you will too.
Believe in yourself and plan that trip. You go, girl!
———–
Guest post written By Shiela Bayucan, a seasoned female traveler from the US.
Tips to Start Planning Your Trip Now
Don't Forget Travel Insurance:
Travel insurance is a must. I never travel without it. I've been using SafetyWing for years.
Planning a Trip to Thailand?
You will find this this guide super useful.