Watching Netflix in Thailand is as simple as logging in. But when you do, you'll quickly discover that you only have access to the Thai provided content.
You won't be able to watch content from your country: I'm potentially talking about series like Sex Education, Narcos, re-runs of The Office, Stranger, Breaking Bad, or Better Call Saul.
But don't worry. In this post I'll show you how in just a few steps you can watch your favorite series on your laptop, phone, or tablet from your beach bungalow.
How to Watch Netflix in Thailand
To be clear, the Thai Netflix will have some English speaking content but you'll be shocked when you see just how much is missing from your account.
In short, you will need a VPN. But the good news is that it is super easy to get and use.
A VPN is a Virtual Private Network that enables you to bypass GEO restrictions, such as those put in place by Netflix, Prime Video, Hulu / Disney+, BBC iPlayer, and other streaming content providers.
The reason you can't access your usual content in Thailand is because the Netflix policy states the following:
4.3. You may view the Netflix content primarily within the country in which you have established your account and only in geographic locations where we offer our service and have licensed such content. The content that may be available to watch will vary by geographic location and will change from time to time.
A VPN gives you online privacy and keeps you anonymous. Netflix won't even know you are bypassing the restriction because you will appear as if you are in another location.
The not so great news is that you're going to have to pay a little to do this.
You see, a VPN masks (keeps private) your IP address, known as your Internet protocol (IP) address. This makes anything you do online untraceable.
A VPN connection is secure, and will give you even greater security than a secure Wi-Fi hotspot.
This means that not only can you stream Netflix while on holiday but you can securely login to your bank account online, chat on forums and social media safely, and do anything online without the fear of prying eyes or hackers.
Will US and UK Netflix Work in Thailand?
Yes. Whether you are from the US, UK, Canada, Australia, Switzerland, or anywhere else, you can get access to Netflix content and watch your favorite series.
A good VPN provider will have lots of different server locations in different countries. You can connect to any one of these serves and pretend to be in another country and city.
Here's how to do it.
How to Login and Get Streaming
What you do is this:
Register an account.
Download and install the software to your device (computer, phone, or tablet).
Close your browser (Safari, Chrome, or Firefox).
Login and select a server location (choose your home country, or one not restricted by Netflix).
Press connect and open your browser.
Go to Netflix and login.
Voila! Any service you connect to thinks you are in that country. So, for example, if you connect to New York, the Netflix server thinks you are in New York.
What's the Best VPN for Netflix?
You want a VPN that provides a steady, uninterrupted connection and offers good server speeds on a daily basis.
Forget free ones. Sometimes computer and phones come bundled with a VPN, but these generally offer poor connections and limited server locations. Free apps are no better.
You want a specialist company that has an ongoing commitment to ensure the service works at military grade, and provides good customer service – should you need it.
I use Vypr and have done for years. I use it for all my internet activity in Thailand and anywhere else I travel to.
Getting in the habit of using a VPN means you're privacy is protected at all times, on mobile or desktop.
What if Netflix Blocks the VPN?
This can happen with a VPN, particularly the free ones and the weaker ones. You'll often read reports of this happening.
And that's one of the key reasons I recommend Vypr  – because they use Chameleon technology. This is a specific technology designed to defeat VPN blocking and censorship.
The new Chameleon 2.0 is the most advanced VPN protocol ever made, giving users the power to dodge VPN blocking more efficiently than ever before
A professional grade VPN unlocks geo-blocks and lets you stream Netflix whenever you want without limitations, no matter what part of the world you may be in.
Once you connect, streaming services such as US and UK Netflix or Netflix Canada are available to you on demand.
VYPR VPN Benefits Overview
As you can see from the screenshots, I genuinely use this service. I recommend it to all my readers. I use a VPN for work purposes too, so I need a really reliable service.
Here's what Vypr offers:
Vypr is the first publicly audited no-log VPN. Other services may be leaking your data.
Vypr owns all its own servers and hardware, which makes the service very reliable and non-reliant on third party companies.
They have 73 server locations operating in 64 countries.
They offer a 30-day Money Back Guarantee.
Subscriptions available. 1 Month Plan. Annual Plan. 2 Year Plan.
Chameleon technology: a proprietary protocol which helps users in countries where VPN traffic is blocked via Deep Packet Inspection.
Native apps for Windows, Mac, Android, iOS, a Command Line Interface for Linux, and a router applet for Tomato Routers.
VyprDNS – offers further protection from malicious, snooping 3rd parties and operates exclusively on the VyprVPN network.
24/7 x 365 support via Live Chat.
Incorporated in Meggen, Switzerland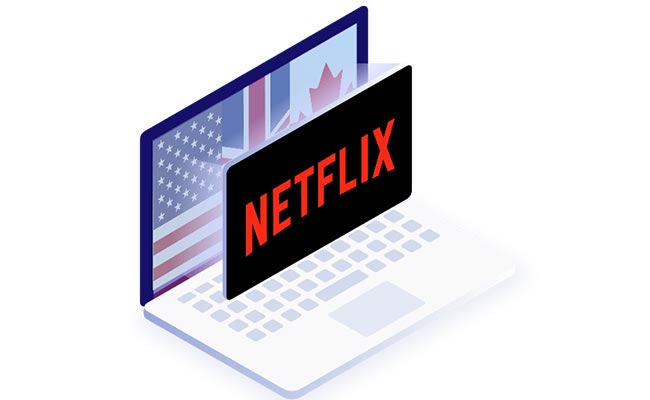 No Logs – Privacy Guaranteed
You'll see on the list above that Vypr is the first publicly audited no-log VPN. This means they do not log your activity.
So let's say you went onto a website that you'd rather no one in the world knew you were visiting, like one of those naughty movie sites.
Not even Vypr would make a log of this. Your activity would be totally anonymous.
How Much Does a VPN Cost?
The cheapest option is a 1-year plan that works out $8 a month.
However, if you are on holiday and solely want this for watching Netflix in Thailand then maybe you just want a month for $15.
> Chose the plan you want here
Can I Stream Amazon Prime or Hulu / Disney+?
If you have an Amazon Prime subscription too, and the kids have Hulu / Disney+, you can access this content, too.
In fact, you can access any subscription service.
I'm from the UK so I regularly want BBC iPlayer. The same goes for reading news sites blocked in certain countries.
For example, the Daily Mail is blocked in Thailand, so I can connect to my VPN and read that if I wish.
Can My Wife and Family Watch Netflix Too?
You get 5 devices on the VYPR subscription, so you can be watching Netflix on your laptop while your wife watches it on her tablet and the kids can watch Hulu on theirs.
Remember though that Netflix states:
The number of devices on which you may simultaneously watch depends on your chosen subscription plan and is specified on the "Account" page.
So you can watch on multiple devices via your VPN, but how many will depend on your subscription with Netflix.
The only thing you need is a decent local connection, which in Thailand generally isn't a problem in hotels. The local 4G connection is good too.
Will I Experience Connection Buffering Though?
It's true that not all VPNs are fast enough to keep up with Netflix streaming, but this usually depends on the server being used.
Vypr owns its equipment / infrastructure, which means they can guarantee your connection is fast and fully secure.
Other companies piggyback on the equipment of third party providers, which is not ideal because the secure connection is being handled by multiple parties and if one party has a problem the whole system is affected.
Vypr operates a global network of 700+ dedicated streaming servers to make sure they are always fast and optimized for streaming, without interruptions or buffering problems.
What About Data Limiting by the Local ISP?
This can be a problem too and something many VPNs don't have an answer for.
Sometimes when you stream or download big files online your Internet Service Provider (ISP) sees this and limits your Internet bandwidth. This usually happens during peak usage hours, or if they see too much traffic going to streaming services such as Netflix.
VyprVPN protects you from this ISP monitoring and any interference with your streaming.
In Summary
To watch Netflix in a foreign country and access the same documentaries, TV shows, and series you do back home you need a VPN (virtual private network).
You don't need any technical know-how. It is literally register, download, install, and start. It takes two minutes.
It's worth it on so many levels:
Safe, anonymous watching.
Simple download and install.
Available on all devices.
Up to 5 connections at one time.
Access Netflix, Amazon Prime, Sky Go, Hulu, and more with zero hassle.
Be secure online.
Do banking, social media, naughty sites, and more.
Once you become familiar with a VPN you'll begin to understand why they are so popular. It isn't just streaming services they facilitate, but complete end-to-end security.
Consider when you are using WIFI in public places. If the router is compromised in a cafe or airport, then so is your data. This is one way a computer can be hacked.
Consider internet service providers that log your location and activity and pass it to government authorities.
If you want secure, private browsing, a VPN is the way to go.