If you're planning your journey from Bangkok to Phuket, flying is the most convenient option. The flight duration of just under 90 minutes makes it a quick choice, with numerous flights available from Suvarnabhumi and Don Mueang airports. The good news is that airfares usually fall within the range of THB1,000 to THB2,000, making it one of the cheapest island flights around.
Several airlines offer flights from Bangkok to Phuket:
Thai Airways
Thai Smile Airways
Bangkok Airways
Thai AirAsia
Nok Air
Thai Lion Air
Alternatively, if you're up for a scenic overland adventure across 850 km. The connecting bridge between the mainland and the island enables a direct bus journey. While the travel time by bus takes between 12 and 14 hours, it's an ideal option for budget-conscious travelers.
Ticket prices start at around THB600.For those intrigued by train travel, consider embarking on a train-and-bus journey via Suratthani. Despite the absence of a railway station in Phuket, this route offers an interesting option. However, it's important to note that this journey's total travel time can be quite long – typically not less than 16 hours.Let's explore some of these options further.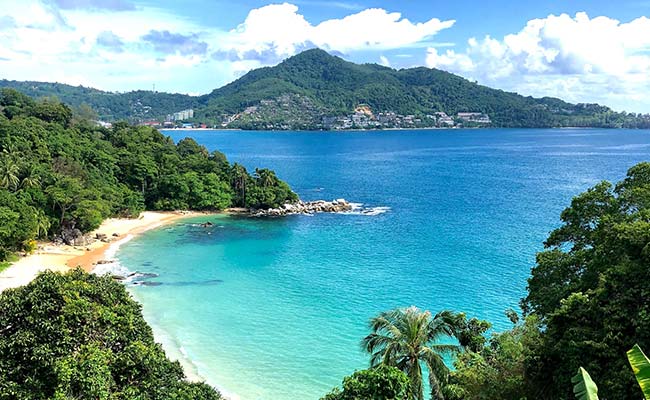 From Bangkok to Phuket by Bus
Departing from the Southern bus terminal, known as Sai Tai Mai, buses from Bangkok to Phuket run daily. Situated on Phutthamonthon Sai Road in Thonburi district, on the western bank of the Chao Phraya River, this terminal is best reached by taxi. Buses are offered by companies like Phuket Travel and Bus Express.
You can choose between express buses (priced at approximately THB660-THB690) or opt for a more upscale experience with VIP24 buses (priced at THB1000). Notably, VIP24 coaches feature three seats per row, affording more legroom and elbow space for your comfort.
Onboard amenities include snacks, air-conditioning, and cozy blankets. Regular pit stops are integrated into the route, typically at spacious gas stations equipped with convenience stores, cafes, and restrooms. If you're an early riser, buses are available at 6.30am and 6.40am, and a multitude of afternoon and evening departures ranging from 2.30pm to 9.30pm.
All these buses cover the distance between Bangkok and Phuket in approximately 13 hours, ensuring an efficient and enjoyable journey. For those wanting to depart from the Northern bus terminal in Bangkok, Morchit, you have convenient options as well.
Arriving in Phuket, buses make their stop at the recently established Bus Station 2 Bo-Ko-So Terminal, situated about four kilometers north of the center in Phuket Town. This terminal not only serves arrivals from Bangkok but also facilitates travel connections to and from various other southern cities in Thailand.
Pro tip: During peak travel seasons, it's highly advisable to secure your tickets in advance, ensuring a smooth and hassle-free journey.
From Bangkok to Phuket by Train
When considering a train journey from Bangkok to Phuket, it's important to note that there are no direct routes. The closest transfer point is Suratthani. Trains depart from Hua Lamphong train station in Bangkok, which is conveniently accessible from the MRT subway system (closest station is Sam Yan).
Among them, the night train – #85 – stands out as the most convenient, leaving at 7.30pm and arriving in Suratthani at 7.10am. Both 1st and 2nd class sleeper accommodations are available, both of which are air-conditioned. The fare for these classes is approximately THB1,550 and THB1,000, respectively.
Upon reaching Suratthani, you'll find the train station located in the town of Phun Phin, situated around 15 kilometers away. Regularly scheduled buses depart from this station to various southern destinations, including both Suratthani and Phuket.
Your journey can be tailored to your preferences; you can either design your combination journey independently or opt for a convenient train-and-bus joint ticket. If you choose the latter, a joint train-and-bus ticket will grant you access to a 7.45am standard air-conditioned Phantip Travel bus heading to Phuket, with a travel time of around 4 hours and a fare of THB250.
It's important to consider that a combined train-and-bus journey from Bangkok to Phuket does entail a longer travel duration compared to a direct bus from the Southern Bus Terminal in Bangkok (15½ hours as opposed to 13 hours). However, the added comfort and privacy of a train journey may make it a more appealing choice for some travelers.
Getting Around in Phuket
Taxis and Public Transport
Navigating Phuket's transportation options can be a challenge. Taxis on the island are known for their high, fixed rate fares, leaving travelers feeling the pinch. Metered taxis are available, but for longer rides the drivers usually try to arrange a fixed price with you. Fares start from 50 baht for the first 2 km and 8 baht per additional km.
Public transport is somewhat limited and often takes the form of large trucks (Songtaew), mainly shuttling between Phuket Town and the beaches. This arrangement proves inconvenient, especially when moving between different beaches requires passing through Phuket Town, resulting in lengthy journeys.
Hiring a Motorbike
For a more flexible approach, motorbikes and scooters are a popular choice. However, be prepared for rental shops to request your passport as collateral until the vehicle is returned.
Beware of instances where rental shops may claim 'damage' to their scooters, prompting additional charges. To avoid any complications, meticulously inspect the rented vehicle for scratches and document them with photos before committing. Daily scooter rental rates hover around THB200-THB300. Additionally, larger bikes are available for rent to cater to varied preferences.
Please also ensure that A. your driving license covers you to ride a motorbike, and B. your insurance covers you to ride a motorbike.
Car Hire
Opting for a rental car presents a better alternative, offering both freedom and greater safety. Generally, car rentals are priced at approximately THB1,200 per day, with rates sometimes dipping below THB800 during low seasons. You can easily find budget-friendly car rental companies along Thanon Rasada.
While local companies often boast better rates, it's worth exploring online promotions from global operators when making your booking. This way, you can secure an affordable and convenient mode of transportation for your exploration of Phuket.
Why Visit Phuket?
Despite being the largest island in Thailand, Phuket often defies the conventional notion of an island – even the journey to reach it from the mainland doesn't require traditional sea travel. The remarkable 700-meter Saphan Thepkasattri bridge, completed in 2011, seamlessly connects Phuket's northernmost tip to the Phang Nga Province on the mainland.
Its parallel counterpart, the smaller Saphan Sarasin, was constructed in 1967 to replace the ferry connection to the island and now serves as a pedestrian bridge, symbolizing the island's evolving connectivity with the mainland.
Some say the Pearl of the Andaman is over-developed, too commercialized, too trendy, even. But Phuket is a big Island, and there are plenty of wonderful beaches and hotels that enable you to escape crowds and tourist hotspots – if that's what you want.
I've visited Phuket 5 times and enjoyed all my holidays. It's the same as any popular tourist place. If you want the nightlife and the local talent, so to speak, you will be staying in a noisy, bustling part of town, heaving with tourists. If you want a family-style resort suitable for kids, or a tranquil spot nestled away from popular haunts, it's all here. Just do your research.
Phuket's allure lies in its pristine sandy beaches, captivating diving sites and upscale dining establishments. The possibilities for exploration are boundless – from snorkeling and surfing ventures to trekking, elephant sanctuary visits, and leisurely yachting and kayaking excursions.
Phuket Town is worth a visit, too, with its independent coffee shops, art galleries, trendy yet affordable guesthouses, and elegant Sino-Portuguese architecture.
+ Where to stay in Phuket? Read this
Island Hopping from Phuket
There is ample opportunity to visit neighboring islands. When it comes to Koh Phi-Phi, there are frequent ferry options during the peak season, with 5 to 6 ferries available daily to transport you to the pristine paradise. Despite ongoing development, the captivating natural beauty of Phi Phi remains breathtaking.
For explorers with an interest in Koh Lanta, the Trang islands, and Koh Lipe, ferries connecting Phuket to these destinations typically pass through Koh Phi-Phi. This journey may involve transitioning from one boat to another.
While Phuket may occasionally lack the traditional island ambiance, it offers a valuable opportunity to explore some of the other authentic island experiences.
If you want to leave Phuket for another island altogether, Lomprayah provides a convenient combined bus and high-speed ferry service to the Gulf islands. The journey spans 6½ hours to Koh Samui, 7½ hours to Koh Phangan, and 8¾ hours to Koh Tao.
A helpful tip for those susceptible to seasickness is to ensure you have the necessary medication to avoid a bad journey.
Tips to Start Planning Your Trip:
Book Your Accommodation
Book your accommodation in Phuket at a discounted rate on Agoda
Don't Forget Travel Insurance
You will need solid travel insurance, especially if you want to ride a bike. Most of us use SafetyWing.
Reserve Bus and Train Tickets
If you want to take a bus or train trip, reserve your tickets on 12GoAsia.com.