Chiang Mai Airport (CNX) receives over 2 million passengers each year, and 130 flights a week.
This 24-hour international airport is conveniently located near the city center and acts as gateway to many northern provinces such as Chiang Rai, Pai, and Nan, though these places also have smaller airports of their own.
The airport is fairly small, with just two floors, but it's very easy to navigate and to get to. Flying in and out is always a pleasure.
If you're planning a trip to Chiang Mai, perhaps flying directly or coming in from Bangkok or one of the islands, you've probably got a few questions like "can I fly directly from my country into CMX", and "From where in Thailand can you fly domestically to Chiang Mai?"
All this is answered, and more, in my quick-fire Chiang Mai Airport guide below.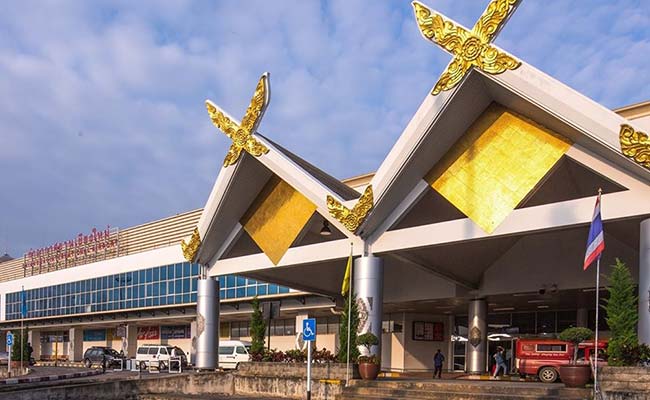 Which airlines operate out of Chiang Mai Airport?
The airlines in operation are as follows:
Thai Airways
EVA Air
Singapore Airlines
Bangkok Airways
AirAsia
Nok Air
Thai Lion
Cathay Dragon
China Eastern Airlines
China Southern Airlines
Sichuan Airlines
Which international flights operate from Chiang Mai?
From Chiang Mai, you can fly to the following international locations:
San Francisco (SFO)
Seattle (SEA)
Chicago (ORD)
Los Angeles (LAX)
Luang Prabang (LPQ)
Kuala Lumpur (KUL)
Mandalay (MDL)
Shanghai (PVG)
Beijing (PEK)
Kunming (KMG)
Changsha (CSX)
Guangzhou (CAN)
Xian (XIY)
Nanning (NNG)
Kaohsiung (KHH)
Hong Kong (HKG)
Macau (MFM)
Yangon (RGN)
Hanoi (HAN)
Seoul (ICN)
Where can you fly domestically from Chiang Mai?
From Chiang Mai, you can fly to the following domestic locations:
Bangkok Suvarnabhumi Airport (BKK)
Bangkok (DMK)
Krabi (KBV)
Phuket (HKT)
Khon Kaen (KKC)
Surat Thani (URT)
Udon Thani (UTH)
Hat Yai (HDY)
Utapao (UTP)
Note: if you're going to Samui, you can fly to Surat Thani and then catch the ferry across. More on that in this getting to Koh Samui post.
What is the code for Chiang Mai Airport
Airport codes arose out of the convenience that it brought pilots for location identification in the 1930s. In case you need the codes for CMA, here they are:
Chiang Mai airport's IATA code is CNX
Chiang Mai airport's ICAO code is VTCC
How do I get to Chiang Mai Airport?
I presume you mean from Bangkok? You can fly from Suvarnabhumi Airport (BKK) or Don Muang (DMX) in Bangkok, or take a mini-van. To get to Chiang Mai Airport from Chiang Mai city center, simply take a taxi.
How much does a taxi cost to the airport or city?
A public taxi via the Super-Highway will set you back around 100-150 Baht. First though, check with your hotel to see if they provide a transfer; it's usually free.
You can also take a private car, or limousine. This will obviously be more expensive, probably in excess of 500 Baht.
How far is the airport from the city center?
Chiang Mai Airport is 4 kilometers southwest of downtown Chiang Mai. The airport is just 10 minutes drive from the city centre.
How long before my flight do I need to get to the airport?
For domestic flights, you need to arrive 1-hour before departure, and for international flights the standard 2-hours before departure rule applies.
Chiang Mai Airport Map
Here's a Google map of the location. Use the plus and minus cursor to zoom in and out.
Can I store my luggage at Chiang Mai Airport?
Yes. If you have a long wait you can go to bag deposits on the first floor. See below for more information on the floor plan.
Are there restaurants and cafes at CNX?
Yes. The airport has two coffee shops and a number of food outlets, including a Burger King that opens at 6AM on the 2nd floor (yuk!).
You will also find a handful of shops selling fresh produce, handicrafts, and souvenirs.
The departure lounge has additional food outlets and shops selling bits and bobs.
Tip: I you have time to spare, there's a Central Plaza Mall near the airport, with 5 floors of shopping and plenty of eats.
Can I rent a car from Chiang Mai Airport?
Yes, though during busy periods such as high holiday season and Songkran you will need to book in advance.
The local and international car rental companies operating at Chiang Mai International Airport include Budget, Avis, Hertz, Sixt, Europcar, Thai Rent A Car, Chic Car Rent and Bizcar Rental.
What other amenities does the airport have?
There's two floors at CMX. You'll find the following things on each:
Floor 1:
Bag deposits
Drug stores
Tourist desks
Travel agents
Floor 2:
Emergency medical care (08:00 – 23:00)
Book shops (1st and 2nd floors)
Food
Can I get to Chiang Mai from Bangkok by bus or train?
Yes. It's a 9 hour bus ride and 11-13 hours by train. Read this Bangkok to Chiang Mai post.
In Summary
It's pretty small and isn't highly rated, no doubt because it is dated (unintentional rhyming skills – still got it!) But I've only ever had good experiences flying out of CNX.
It's so easy to get to from town, which makes a huge difference if you're running late, it has a mall close by for shopping if you are very early for your flight.
There are places to eat, shops for small gifts, and a massage service on offer. What more do you want?
Tips to Start Planning Your Trip Now:
Don't Forget Travel Insurance
Travel insurance protects you against illness, injury, theft, and cancellations. I never travel without it. I use SafetyWing. You should too.