Bangkok airport to Pattaya is a very common route, and most people jump in a Taxi or private hire car.
But if you're on a budget, or simply prefer to catch a coach, the good news is that if you're coming into Suvarnabhumi Airport, which is the main airport of Bangkok, you can get a bus from Bangkok to Pattaya with ease.
If you're traveling alone, this option might be a preferred one too, because it doesn't require you to travel into central Bangkok, and there's the added bonus of potentially meeting others traveling to the same destination.
In this post I'll cover everything you need to know to take this journey successfully.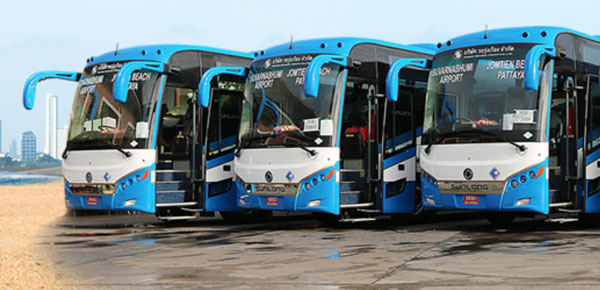 Bangkok to Pattaya by Bus – A Traveller's Guide
1. Where Can I buy a Ticket?
You can buy a ticket at the airport counter by going to level 1, gate 8, in the arrivals hall .
2. How Much is a Ticket?
Tickets cost between 120 and 300 Baht each, depending on the service you use.
3. What Times Does the Bus Leave?
Departures start at 7am and run on the hour up until 10pm.
4. Where Does the Bus Stop?
The bus stops at the North (opposite Bangkok-Pattaya hospital), and South Pattaya (opposite Big C) intersections, and then goes onto Thappraya Road where it stops at the company office.
Please see the map locations below. The map for the final stop is later down the page.
Note that the bus that leaves at 9 and 10pm only stops at North Pattaya Bus station. They say this is for your own safety and probably to do with tourists becoming targets for thieves at the other station at this time of night.
5. How Long Does the Bus Take?
The bus takes 2 hours from Bangkok Airport to Pattaya. The same is scheduled for a return journey.
6. What is the Baggage Allowance?
You are allowed one small piece of hand luggage that will fit in the overhead compartment, and one standard checked-in suitcase of no more than 20kg. If you go oversize or overweight or have extra bags you will have to pay extra.
TIP: Label your bags with your full name, number and destination address.
Do not leave valuables in stowed baggage. Put valuables in a small body satchel or handbag that is kept on you at all times.
7. Can I a Book a Ticket Online in Advance?
Yes. You can book with Bell Travel. Choose from the fleet of coaches that seat up to 40 people and mini vans which seat up to 10. Select your dates below to see availability:
This can save you time in a busy departure hall. The only set-back is if you get a flight delay. It might be a good idea to give yourself 2 hours between arriving on the plane and catching the bus. You can buy them here.
8. Are Coaches Insured?
Yes. By law all private buses are insured for third party claims. This covers 100,000 Baht per person in case of medical expense, death or loss of a bodily organ. 100K Baht is approximately £2,000, which isn't a lot of money. Make sure you have travel insurance. For affordable cover that's ideal for Thailand click here.
9. Can I Book a Baby/Child Seat?
No, your child has to sit on your lap. You can then fasten your seatbelt around your child.
10. Can I Order Food or Alcohol on Board?
No. Alcohol is not permitted on the bus, and neither is smoking. There is no food on board, so take some snacks for the journey.
11. Do I Get Compensation if the Bus is Late?
No. Expect delays too, this is Thailand and the roads are very busy in the rush hour.
12. Where Can I Buy a Return Ticket From Pattaya to Bangkok Airport?
You can purchase a ticket at the 389 Bus Station on Thappraya Road. Please see the Google map below for the location.
13. I'm Flying into Don Muang Airport, Can I Catch a Bus From There?
No, the company doesn't operate a bus service from Don Muang.
If flying in to Don Muang, you can transfer to Suvarnabhumi airport. Jump in a taxi, which will cost approximately 200-350 Baht, or get the public bus – numbers 555 or 554 (cost 37 Baht).
You could also go to either the Eastern Bus Station (Ekkamai) and the Northern Bus Station (Mo Chit) and catch a public bus to Pattaya, but if you're new in town, I'd make it easy for yourself and just go to Suvarnabhumi airport for the easy coach transfer.
If you feel like exploring, Ekkamai Bus Station can be reached via bus and the BTS (overground) train service, and Mo Chit Bus Station is best reached by taxi.
There's also the option of a train, but it takes 5 hours, so I'd go with the bus from Suvarnabhumi airport
—–
If you have any other questions about the Bangkok Airport to Pattaya bus service, leave them below.
Tips to Start Planning Your Trip Now:
Book Your Flight
Find a cheap flight to Thailand using Momondo. This is my go-to search engine.
Don't Forget Travel Insurance
Travel insurance protects you against illness, injury, theft, and cancellations. I never travel without it. I've been using World Nomads for 15 years. You should too.