Foodpanda is Thailand's popular on-demand food delivery service.
They deliver restaurant food, groceries, and everyday essentials to your doorstep.
From street food to popular restaurants and even supermarket goods, it's a really convenient service.
Whether you're an expat or a tourist on holiday, you can have food delivered to pretty much anywhere.
Here's all the information you need to start ordering.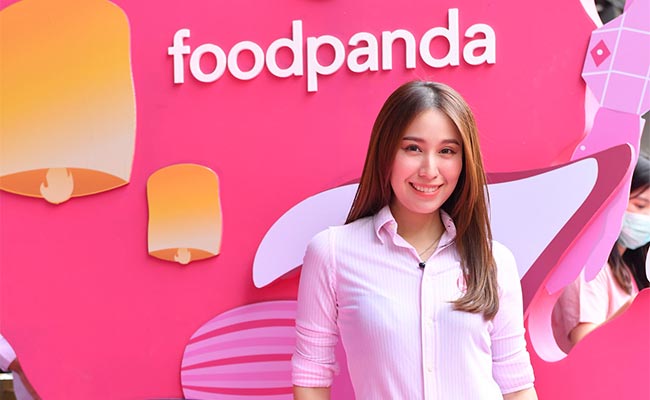 Where Does Foodpanda Operate in Thailand?
Foodpanda operates in pretty much every province in Thailand, including:
Bangkok
Phuket
Surat Thani
Chonburi
Nonthaburi
Chiang Mai
Khon Kaen
Udon Thani
Nakhon Ratchasima
Buriram
Kalasin
Krabi
and many more.
It's everywhere, even in places you probably never heard of like Satun and Nakhon Nayok!
How Can I Order Food from Foodpanda?
You can use the website or mobile application found on Apple App Store and Google Play Store.
Simply select your location and find the restaurants and shops that deliver.
Select either restaurant food for delivery or self-pick-up, or shops for daily groceries.
Choose your food, and proceed to checkout for payment.
You'll get an email and SMS confirming your order and delivery time.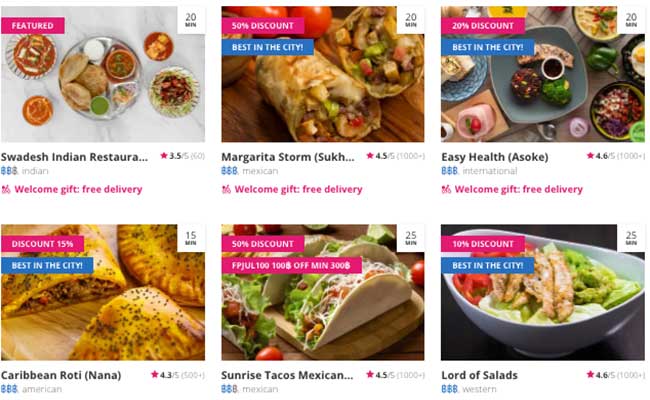 + Click here to see food options near you
What Cuisines Does Foodpanda Offer?
Foodpanda covers pretty much every type of food you can think of, including but not limited to:
American
Asian
Bakery & Cakes
Beverages
Bubble tea
Chinese
Desserts
European
German
Halal
Indian
Italian
Japanese
Korean
Mediterranean
Mexican
Middle Eastern
Pizza
Sandwiches
Street Food
Thai
Vegetarian
Vegan
Vietnamese
Western
And more…
What Grocery & Essentials Shops Can I Order From ?
Popular shops that offer home delivery via Foodpanda include Lotus's, Big C, Tops Market, Makro, FamilyMart, Boots, and Watsons.
Just type in your address on the website or app to see what's available in your area.
How Much Is the Delivery Fee?
It depends on the location and the shop or restaurant you are ordering from. You will see the delivery fee before you checkout, so you will know what you are paying.
Some restaurants offer free delivery. You can filter by "free delivery" on the website or app.
How Long Does the Food Take to be Delivered?
Each restaurant and shop offers an approximate delivery time in the top right-hand corner on the search page.
But that's just an estimate, and probably the best one at that. The delivery time depends on how busy the restaurant is and how many orders are in the queue.
Can I Order Food for Tomorrow?
Yes. You can order food for today, tomorrow and the day after tomorrow.
Can I Pick-up My Food Instead of Having it Delivered?
Choosing delivery means that a Foodpanda rider will collect your order from the restaurant and deliver it to your chosen address.
If you choose Pick-Up, you can self-collect your food and save money on the delivery fee. Pick-Up orders are available for restaurants only.
What Time Does Foodpanda Open and Close?
It doesn't. It's 24 hours. However, a lot of restaurants and shops will be unavailable for late night delivery. You'll see what's open when you search in your location.
The good news is, the Panda also deliver groceries 24 hours a day through Pandamart, their own supermarket, which you'll find on the website and app.
+ Click here to order food now
How do I Pay for My Food with Foodpanda?
You can pay using a credit or debit card or PayPal. You can also pay cash on delivery (COD).
Can I Order Foodpanda for a Friend?
Yes. It's easy. Just use your friend's name and address in the checkout. Note that orders placed to a wrong address are not eligible for a refund.
Does Foodpanda Have a Minimum Order Amount?
Some of the vendors require a minimum order value ("MOV") before an order can be placed. The good news is that you can pay the extra to meet the minimum. This is a sensible idea for times when it's just you ordering and you only want one or two dishes.
What If I Need to Change My Order?
If you realize you've made a mistake, you can quickly jump on the LiveChat and they can let the restaurant know before it starts preparing the order.
You can also email in, but that may not be read immediately and mean your order is processed before you get a response.
Double check your cart before you checkout. It saves time and hassle.
What If I Want a Refund from Foodpanda?
Found a cockroach in your food? Don't tell everyone, they'll all want one! Ha, such a dad joke. But seriously, for refunds you need to contact Foodpanda and not the restaurant.
My Partner Has a Shop, Can He/She Join Foodpanda?
Yes. You just sign up on the website to list your menu and product online. Foodpanda will then help you process orders, pick them up, and deliver them to your customers.
Foodpanda Coupon Codes
Here are Foodpanda coupon codes for the latest promotions0:
Please pay attention to the dates to make sure you are using the correct code at the right time.
April 2023 Coupons:

1. Baseline Offer:
Valid From: 1-4-23 – 30-4-23.
Discount: Get an extra 20% off*
Coupon Codes: SAVEMART
* Min. spend ฿500, max. discount ฿100.
2. Ice Cream Month:
Valid From: 1-4-23 – 30-4-23.
Discount: Save up to 40% and get 1 free Ben & Jerry's ice cream with orders of ฿300+
Coupon Codes:  Automatically applied
+ Use this link to make sure the codes work.
In Summary
Available to locals, expats and tourists, Foodpanda lets you order food from top restaurants across a variety of cuisines. In addition, you can also order groceries and daily essentials to your doorstep.
Enjoy food delivery from over a thousand of the best restaurants in your area.
Order your groceries, drinks, beauty products, tech, pharmaceuticals and more.
Order specialist food like vegetarian and vegan options.
Pay with credit card, PayPal or pay with cash on delivery.