I have been on the lookout for a good desktop Thai-English dictionary for some time. I had a free one previously which was pretty limited and never updated by the developers. I started using Google translate when I needed to explain something technical or conceptually difficult to my partner, but unless it is basic language Google seems to get things mixed up and my partner always says "I get what you mean but in Thai this doesn't make much sense". With that in mind it is pointless learning Thai from Google or using it to type emails.
Well, long story short, I came across an awesome website with 6 language programs for download. A few of them can be downloaded on trial but will run out after a few uses. I ended up buying the Spoken Thai English Thai dictionary because the phonetics are great and you can use Thai script too.  The site is a little confusing and I spent some time mulling over the differences between each. I deduced that ClicktoThai, QuickThai, and EngThaiSearch are variations on the comprehensive package I bought, and PasaThai and ThaiWrite are more focussed on writing and offer ready-made sentences.  I think I will get these two next because they are only $25 and $30, respectively. The Spoken Thai to English dictionary package  includes the following:
A word to word Phonetic dictionary of over 10,000 words with Thai script.
High quality 20,000 Audio files of useful sentences/words arranged by 129 subject categories.
Basic Thai learning e-book with 100 lessons and over 1,200 sentences using the Text Colors system.
Bilingual Dictionary with Thai script, Phonetics, fast search and multi-results (Eng-Thai / Thai-Eng).
Thai to English phonetic dictionary with 20,000 words and a fast search.
Thai Script Writer for quick writing Thai script without the use of  keyboard.
The Basic Thai learning e-book includes 22 chapters of learning Thai script for advanced students.
Lao Language speaking Dictionary- (Bonus).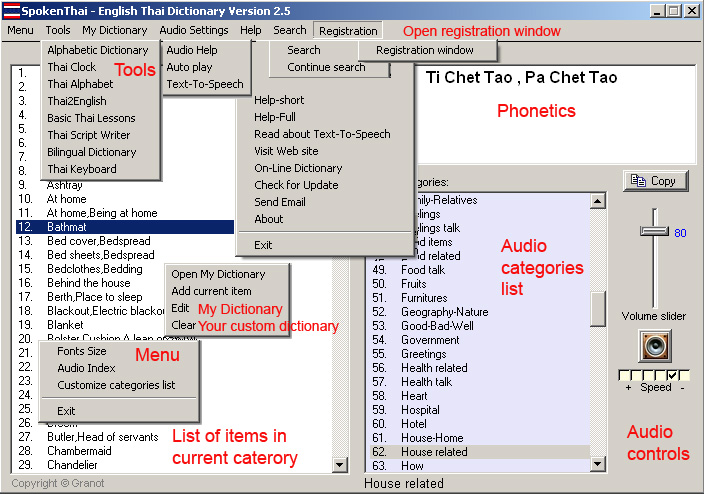 There are 3 buying options as set out below. I went for the "Register with CD" because the download only allows registration on one computer, so getting the CD means I can then use it on other computers in the future.
1. Register – No CD
$50
Download files – not including CD
Registration for use on one computer
2. Register – With CD
$62
One CD sent by air-mail
Registration for use on one computer
3. Register – CD Only
$ 12 us
One CD sent by air-mail
For the money this really is a great learning tool that will never stop becoming useful, even at an advanced level. It is super if you have a Thai girlfriend/friend and want to improve communications in person or via email; even over the phone because you can use the human voice to play stuff back. Sadly it is only PC compatible at present so I can't use it on the Mac :(. Well worth the investment though. Check the website out here.