Teaching in Thailand is a great way to broaden your horizons: to live in another country, to experience a different culture, to travel, and to gain experience teaching.
And in my opinion, SEE TEFL is the best company to take a TEFL course with in Thailand.
I have personal experience with them, and a number of my readers have graduated and gone on to have fruitful teaching careers in Thailand.
In this post, I'll share what life could be like for you living and taking the course in Chiang Mai, the benefits of choosing this course,  job opportunities, and feedback from students.
Contents:
About SEE TEFL
Headquartered in Chiang Mai, SEE TEFL is owned by John Quinn. Over the years, John has taught in language schools, colleges, universities, and for the British Council.
John is the Academic Manager of the EFL Learning Centre, and Senior Trainer for SEE's TEFL certification program. He has also been a language examiner for The University of Cambridge's ESOL examinations since 2004.
It is also worth noting that Shouvik Mukherjee, SEE TEFL's Lead Trainer, won The Chiang Mai Excellent Teacher Award in 2015.
SEE offers a 120-hour 4-week program, with 6 1-hour observed teaching practices in local schools. This enables graduates to teach anywhere in the world.
SEE also offers a 4-month teaching Internship, which provides an opportunity for students to train as English teachers in Thai schools in rural areas of the country.
SEE is accredited by the Thai Ministry of Education and is ISO 9001:2008 compliant.
Courses are hugely popular and often over subscribed.
So if you want to secure a particular training date, booking early is advised – and doing so will get you a $200 discount.
Teaching in Chiang Mai – A Hub of Culture
It goes without saying that Thailand is still numero uno when it comes to teaching English as a foreign language.
The food, the people, the weather, the weekend getaways, the availability of locations to teach, the list goes on.
Studying in Thailand presents a wonderful opportunity to learn the culture, the language, make friends, and travel while studying.
There are fewer better places to put your feet down than Chiang Mai.
This Northern gem puts you right in the middle of arguably one of the best places to live and breath Thai culture.
The temples, ancient walls, moats, wildlife, parks, street markets and local customs make this one of the world's most popular tourist destinations.
With its prominence in history and politics, Chiang Mai is the most culturally-significant city in Northern Thailand.
This 700-year old Thai city is a regional hub for travelers, digital nomads, holiday-makers and expats.
It is also situated close to Myanmar and Laos, giving you the opportunity to travel to these fantastic destinations too.
The people of Chiang Mai are well-known for their friendly and easy-going character, which is another reason you will fall in love with Thailand once you set foot in Chiang Mai.
Why sit at home in a gloomy room studying online, when you can study right here, in Thailand, in 'the land of smiles'?
Studying with SEE TEFL
Right, let's get into the details:
SEE offers two options: a 4-week TEFL course, and a paid internship.
The 4-Week TEFL Course Structure
The 4-week course involves TEFL certification, cultural awareness training, and Thai language instruction.
Full TEFL Certification (120 hours).
Thai Ministry of Education accreditation.
ISO 9001:2008 certification ensures world-wide recognition of SEE's TEFL program.
Six 1-hour observed teaching practices with real students at a range of levels and ages in local schools.
Cultural awareness training (1 day).
Survival Thai language instruction (10 hours).
There is no age limit for the course, and all nationalities are welcome.
The Paid Internship
These teacher training + paid internships are offered twice per year, at the beginning of the Thai school semester.
The internship includes the following:
Pre-arrival classroom familiarization training.
2-week face-to-face classroom skills and cultural awareness induction training in Chiang Mai.
4-5 month paid contract that follows training.
Placements are in government run Thai schools.
Eligibility Requirements
The SEE TEFL course requires you to be a native English speaker, or to at the very least have strong English language skills.
You will need to be comfortable using Microsoft Word or OpenOffice Writer, and possess good character skills: e.g. being friendly, patient and flexible with the ability to adapt to new and unpredictable situations.
For the internship placements, only native English speakers and holders of passports from Australia, Canada, Ireland, New Zealand, United Kingdom, South Africa or the United States, aged between 21 and 50, are eligible.
You do not need a bachelor's degree, though this will come in handy when looking for a job, as some do stipulate this requirement.
For the most part you just need to be mentally fit, adaptable, and flexible.
SEE TEFL 2023 Course Schedule
Below is the course schedule for 2023. You can choose the best study date and then pay a deposit to secure your place.
Booking early gives you a chance to prepare other important aspects of your trip such as your flight, backpack and vaccinations.
+ Click here for further course information
Job Prospects After Your SEE TEFL Course
One benefit of SEE TEFL is the job guarantee offered to graduates after completing the 4-week TEFL course, and a placement for those doing the internship.
95% of Tefler's find work within two weeks of finishing.
But I wouldn't worry about job prospects at  all. Trust me, there's a ton of teaching jobs here and, if you're ever short of one, see my job board.
There are 4 types of paid TEFL teaching jobs available in Thailand, as follows:
Full-time at a formal government or private Thai school.
Teaching at a college or university.
Teaching part-time/full-time at a language school.
Freelance teaching and teaching via the Internet/online/home.
If you're an older student and worried about job prospects, read this article for older teachers.
How Much Will a Teaching Job Pay Me?
Like any job, you start off on a basic, usually 30-35k Baht per month. But the smart teachers I've met get into private teaching and double that after 18 months.
Moreover, my good friend Scott, who started out teaching in Chiang Mai 4 years ago, is now earning around 5k USD a month teaching in Vietnam! Go figure.
Good teachers are in demand, always.
With SEE TEFL, each internship participant usually receives a guaranteed job with a salary no less than 25,000 Thai Baht (THB) per month.
Be shrewd though. From the outset always be seeking to better your wage and find new opportunities.
Sure, 25k is less than the 30k standard in Bangkok, but as a first (guaranteed) job, and living in Chiang Mai, you can get by with smart living.
Your TEFL Qualification
A full TEFL certification will be granted upon the completion of the SEE TEFL program.
This qualification is fully recognized throughout Thailand and around the world, and equivalent to a Cambridge CELTA and Trinity CertTESOL.
You aren't restricted to Thailand either.
SEE TEFL graduates usually teach in Asia, Europe, Central and South America and in the Middle East.
The ISO 9001:2008 certification ensures full world-wide recognition of SEE's TEFL program.
SEE TEFL Course Pricing
For the experience and the opportunity, it is great value.
The program fee is $1,595. But you can enjoy an early bird discount of $200 if you register 6 weeks in advance.
You need to pay a deposit to secure a place on the course, and the balance is payable by the end of the first day of training.
+ Reserve your place early & save $200!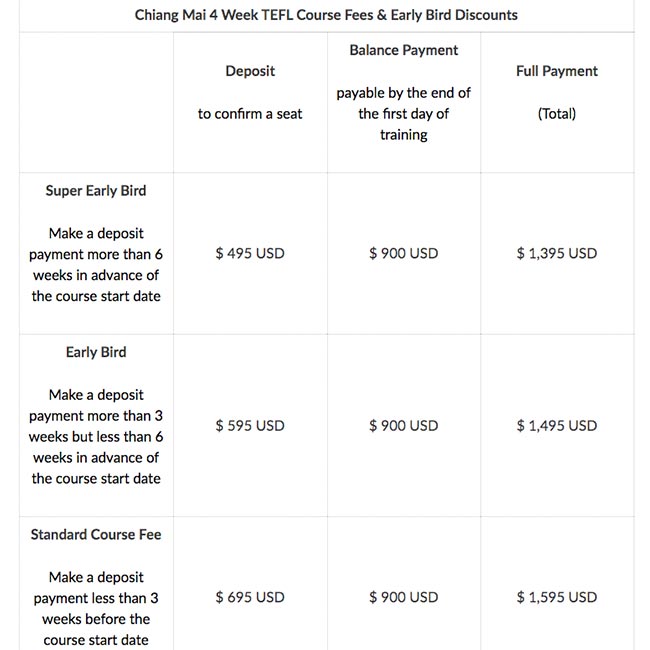 The standard fee of the TEFL internship is $ 1,295.
This includes the two week's of Teaching Essentials training and comfortable resort accommodation (shared) during the 2-week course in Chiang Mai.
Payments can be made by the following ways:
Bank Wire Transfer or S.W.I.F.T. transfer.
PayPal (doesn't require an account).
Western Union.
MoneyGram.
Cash (never send money to Thailand though!)
Course Accommodation
There are plenty of options for accommodation in Chiang Mai.
Most students sort out their own accommodation, but to save you the hassle, SEE TEFL can make reservations for air-conditioned rooms in the near by area.
It might be a good idea to book into a hotel a week before your course starts, and then look for a cheaper guesthouse to stay at while completing the course.
Trust me, there are tons of guesthouses and hostels available in Chiang Mai.
5 Benefits of Studying TEFL in Thailand
Here's a quick run down of the 4 key benefits of studying for your TEFL in Thailand. As if you didn't need any further persuasion; your bag is half packed already!
1. Culturally Diverse Environment
Enjoy a rich and culturally-diverse study environment while developing an international network that will last many years to come.
This comes top of the list for me. Why?
Because the friends and people you meet along your journey will shape your life forever and leave you with fantastic memories. You'll meet other students from all over the world.
Also bear in mind that this international experience will make your CV stand out from the crowd and put you on good footing for future job openings, be that back home or elsewhere in the world.
2. Amazing Life Experience
Thailand is a country where hundreds of thousands if not millions of foreign nationals have enjoyed a wonderful life experience.
And what a place to study!
You will be exposed to different customs and traditions formed over many centuries.
From amazing life experiences, stunning natural environments, diverse cuisine and super low living costs, you will have the time of your life.
3. Learn a New Language or Thai Boxing!
Often overlooked by Tefler's, not only are you learning to teach English, you have the opportunity to learn to speak another language.
So make use of your time  in Thailand by learning Thai, or even taking classes in Buddhist meditation or Thai massage, learning how to cook delicious Thai cuisine or try out Thai boxing!
4. Study, Travel, Work, Then Travel Again!
From the beaches of the South to the cuisine of the North and the shopping in Bangkok, Thailand offers it all.
So study first and then travel a bit before you settle in to teach.  Once you start teaching, you can travel at weekends and during holiday periods.
See the tropical islands like Koh Samui and Phuket, and experience the bustling modern metropolis which is Bangkok.
5. Affordable Cost of Living
The cost of living in Thailand is relatively low compared to that of other major international cities.
For example: it is between 2-5% cheaper than Jakarta and Kuala Lumpur; between 85%-100% cheaper than Singapore, Tokyo or Hong Kong; and around 100% cheaper than London, Sydney or New York.
You can enjoy high exchange rates from major world currencies. Fluctuating around 32 Thai Baht to US$1 and 35 Thai Baht to 1 Euro.
Rent, food and clothes are all super cheap in Thailand compared to the UK, US, Australia and other countries in the West. This makes Thailand the perfect destination for studying on a shoe-string budget.
Visa Information for Your TEFL Course
This is pretty boring, so I saved it until last.
You might be wondering whether or not you'll need a visa to study your TEFL course in Thailand.
There's a few options available to you, all of which SEE TEFL will help you out with if need be.
Here's a quick run through of those options:
Visa-Exemption on Arrival
The majority of foreign nationals are given permission to stay for 30 days, depending on nationality, without a visa.
This can also be extended to a further 30 days by visiting a Thai Immigration office.
The 2-week internship can be done on the 30-day visa exemption on arrival.
Tourist Visa
You can get a Single-Entry Tourist Visa (valid for 60 days) at the Thai embassy of your home country, which means once inside Thailand you can stay for 60 days straight.
Or you can get a Multiple-Entry Tourist Visa (valid for 60 months, but you have to leave every 60 days).
For the METV, a second or subsequent entry can be activated by leaving and returning to Thailand via land, sea, or air after 60 days. You can also do a 30-day extension of this visa for 1,900 Baht at a local immigration office.
The METV offers the longest stay and is the most flexible visa option, though it requires exiting and re-entering Thailand every 60-90 days.
By being the holder of this type of tourist visa, it is possible to travel around Thailand, complete short study or training course such as the SEE TEFL 4-week teacher training course, as well as seek work (interview and sign contracts).
Non-immigrant ED (Education) Visa
The validity period of the ED visa is 90 days. It is issued to foreign language students, foreigners studying in a Thai school or university, and to foreign students attending a short training course.
The visa can be extended if a valid reason is given for extension such as continuing education beyond 3 months.
As the requirements to support visa applications vary between different consulates and embassies, you should speak to SEE TEFL to discuss this on a case by case basis.
Strictly speaking, any visa or visa-exempt permission to stay allows anyone to study in Thailand.
In Summary
In short, if you want to do a TEFL in Thailand, SEE TEFL is one of, if not the best option.
It's affordable, set in a great location and fully certified to give you a globally recognized qualification.
Having been in Thailand for a number of years, and lived in Chiang Mai, I know the owner of SEE TEFL personally.
I've introduced around 20 students to John and his staff over the years and all have really enjoyed it.
He is a nice, honest guy, and truly in the business of helping students have an enjoyable, safe study experience.
I think what makes the course so good is the help offered to students from start to finish.
From flying out to accommodation, right through to graduating and getting a guaranteed job, it's a great route to teaching english as a foreign language.
I hope this SEE TEFL review has helped you decide if this is the right course for you.
If you have a dream to live abroad a while and need a way to do it – this is a realistic, affordable pathway.
Life's just too short to wait.