Over the past year a number of people have contacted me asking me my opinion on TEFL Heaven and whether it is worth considering their program in Thailand.
I've since interviewed the owners, checked out one of their schools in Phuket, and now penned this review to give anyone interested a complete run-down on what to expect.
Straight of the bat I can say they are a fully reputable company. Registered in England, and a member of Social Enterprise UK, which is a collective of companies committed to promoting ethical business that serves people, as opposed to blindly chasing profit, TEFL Heaven is one of the fastest growing TEFL certification companies.
With 7 years of successful recruitment, placement and TEFL certification under their belts, TEFL Heaven has a fair bit of experience recruiting interested teachers and placing them in 11 different paying teaching programs around the globe.
The company operates 11 programs in 10 different countries, including two programs in Thailand and one each in China (Shanghai), Vietnam (Ho Chi Minh City), the Czech Republic (Prague), Spain (Madrid), Argentina (Buenas Aires), Costa Rica (Manuel Antonio), Guatemala (Antigua), Mexico (Puerto Vallarta) and Peru (Cusco).
For this review I'll obviously be focussing on the Thailand program.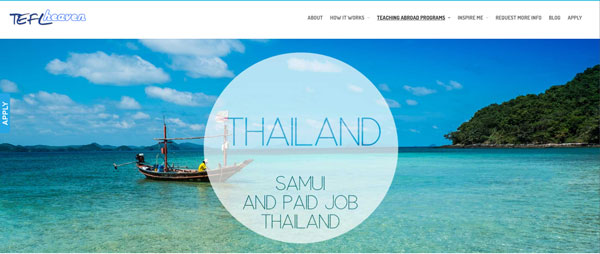 Courses On Offer
TEFL Heaven offers a Paid Internship program. Training takes place over three weeks in a tropical Thai location (Koh Chang, Krabi, Koh Samui, Phuket, or Koh Phangan), after which TEFL Heaven will place participants in schools around Thailand based on individual preferences.
This program comes with the assurance that they have never failed to place a teacher at a school and is labeled as an "internship" to reflect the large amount of support offered to participants, though the position itself will be a full time, paying job that lasts anywhere from 4 to 5 months, with the option to stay on if the teacher is inclined.
Participants who wish to be placed with a friend are guaranteed dual placement. Expected salary is 30,000 THB per month.
TEFL Heaven also offers a course for those without degrees as well, but the job guarantees are not the same, so enquire within if you fall into that category.
Eligibility:
Native Speakers
Native English Speakers (NES) with a degree, who are defined as anyone whose first language is English and has a passport from: the UK, Ireland, America, Canada, Australia and New Zealand, are eligible.
South Africans are not considered NES by the Thai government and an English proficiency test (either the TOEIC, TOEFL or IELTS) is required for South African applicants. NES are generally preferred as teachers, but it is possible for non native speakers to get hired.
Native English Speakers with a Bachelor's degree are guaranteed by TEFL Heaven to find a paid job in Thailand after the TEFL certification.
Non Native:
There is an optional 3-week TEFL course for non-native English Speakers, but this does not come with the job guarantee.
Course Dates:
The Paid Internships Thailand program runs twice annually in April and October. The spring date for the 2018 season is already finalized for April 19, 2018.
The TEFL certification for this year runs on April 17, 2017, May 15, June 12, August 21, September 18, October 23 and Nov 20.
Locations:
TEFL Heaven runs its programs in Koh Samui, Koh Chang, Koh Pha Ngan, Phuket Patong, Krabi and Phuket Kata. Guaranteed job placements for the paid internship program are located around southern Thailand, Bangkok or an area of the participant's choosing.
What Qualifications Would I Receive?
There is a lot of confusion surrounding the types of TEFL certifications and what each means. TEFL certifications are either CELTA, CertTESOL or TEFL/TESOL. The first two, CELTA and CertTESOL, are accredited by prestigious universities in England- namely Cambridge and Trinity. This type of certification is typically quite expensive and pursued by more career-orientated teachers.
TEFL/TESOL certificates are much cheaper and generally for those who may be looking to teach short/medium term, as opposed to someone who wishes to make teaching their career. If you aren't sure you'll still be in teaching in 5-10 years time then TEFL is perfect for you.
With the certification from TEFL Heaven, participants are qualified to teach English all over the world, as the 120 hour course and 8 hour practicum is internationally recognized.
What Are My Job Prospects After the Course?
The Paid Internship program guarantees a job placement following completion. With the TEFL Certification program, TEFL Heaven promises their assistance in finding you employment. If you have a bachelor's degree, TEFL Heaven guarantees employment.
What Other Countries Could I Teach in Apart From Thailand?
Your TEFL will give you teaching opportunities in China, Vietnam, the Czech Republic, Spain, Peru, Mexico, Argentina, Costa Rica and Guatemala.
Pricing:
The Paid Internship in Thailand fees are 1,095 GBP / 1,365 USD. You'll receive a 120 hr TEFL certificate, a guaranteed teaching job, full time assistance, visa help and accommodations for the 3 week TEFL certification period.
The TEFL Certification in Thailand is priced at 1,140 GBP / 1,435 USD. You'll receive 4 weeks of TEFL training, guaranteed job placement, preparation assistance and visa help.
What Visa Will I Need?
TEFL Heaven will assist you with obtaining a Thai visa. You'll need to email the program a month before your departure for advice on which visa to apply for, which is a 'non B' if you've already been placed, or a 'tourist' visa if your placement is still pending.
Your visa should be applied for at a local Thai consulate prior to arrival in Thailand.
Accommodation & Settling In
TEFL Heaven will provide help and guidance in every step of your journey. Where accommodation is concerned, you'll be offered either housing during the training period or assistance in finding a place to stay.
How Can I Apply?
Interested applicants can apply through the TEFL Heaven website, and it's fairly straightforward:
Native English Speakers must submit a completed application form, resume or CV, a photo and an optional YouTube clip.
Non Native English Speakers must submit a completed application form, a resume or CV, a photo, a YouTube clip introducing him/herself, and a 250 word essay about the applicant's mastery of the English language.
A Skype interview is also part of the screening process, so applicants should expect that as a first step.
5 Key Benefits of Studying on Location vs Online:
You're probably weighing up whether to do an online course from home or to catch that plane to Thailand and do one on location with other students. While sipping coffee in front of your computer at home is appealing, there are some great benefits to on-location training. Here's 5 to consider.
Focus: Studying on location can be far more motivating than studying online. You are more likely to study harder with the knowledge that your job placement is just around the corner.
Friends: Studying on location will allow you to make friends who will be located in the region. Whereas studying for a TEFL online is a bit isolating.
Support: One of the benefits of an on location program is the immediate support you'll receive from program leaders, something you may have to wait for with an online program.
Experience: TEFL Heaven offers an 8 hour practicum portion of the TEFL certification that allows teachers to try their skills in a real classroom. This kind of preparation is invaluable and something you won't get online.
Culture Shock: Studying on location provides you with a gradual 'ease-in,' allowing you to experience the culture in a safe and comfortable environment. This is far easier than diving in straight off the plane, like those with an online certification have to do.
TEFL Heaven, in Summary
TEFL Heaven is an excellent option if you are considering a teaching position in Thailand. You can choose to study on the paid internship program or the TEFL course in a paradise location, depending on your eligibility.
I like the fact that you have to apply and take a Skype call to show your eligibility. This shows that the company is not just genuine but serious about taking on students who are right for the course or internship.
You get comprehensive support on everything from visa applications, flights, placement suggestions and accommodation too. If you fancy a TEFL course on one of the islands then this is definitely one to consider.