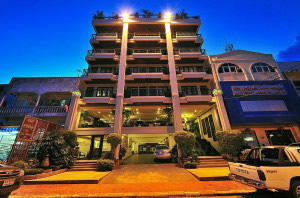 After a terrible experience staying at the InterCity Hotel last year, I referred back to the names of a few hotels I'd noted walking around the city.
I really like the classic wooden finish hotels, with traditional Laos interior design, but there's only a few hotels in Vientiane with this theme and not all make the grade.
The Laos Orchid Hotel, however, does.
Let me just say, if you're backpacking on a budget, there are plenty of guest houses and small hotels for under $15 per night. I even saw a few for $2-3 a night ($100 Baht or so).
But if you're travelling with your family, or simply don't want to risk a cheap n' not necessarily cheerful experience, read on…
The fact is, you will not get a decent hotel in Vientiane for under $40 a night (1,200 THB) (you will in Luang Prabang).
And by decent I mean good customer service, decent hygiene standards, fairly modern looking and a good breakfast.
In fact, you'll struggle on $50, which is why I went for the Laos Orchid at $65 (not to be confused with the guesthouse of the same name).
It meets all of the aforementioned requirements, and more.
However, when considering what you could get in Bangkok or one of the Thai islands such as Samui, the Laos Orchid, and hotels in Vientiane in general, are over priced. But such is the nature of this quiet riverside city.
The Location
The Laos Orchid Hotel is a stone's throw from the river, and nicely situated within walking distance of shops and restaurants. It's also directly opposite a temple, which makes for a spiritual balcony experience in the early mornings.
The night market is ten seconds away, and if you want a beer there's plenty of watering holes within walking distance, as are massage shops, minimarts and other conveniences.
Facilities/Decor
The Laos Orchid doesn't have a pool, but it has a relaxing lobby area and a restaurant-cum-lounging area where you can chill, read and eat and drink.
The water feature that leads up the stairs is a nice touch that provides a calming ambience when sitting in the restaurant area.
The decor has been well conceptualised in a sort of Laos-zen style. It's minimal feel incorporates a number of beautiful murals and pictures bought from the Lai Gallery just down the road (well worth a visit).
The restaurant/bar area is open air; so if you are visiting at a particularly hot time you might need to request a fan for your table. These are readily available.
The Room
The rooms don't seem that big, but this is probably because I was in a double and the bed was huge. It was very comfortable too, and this feature alone will make you glad you stayed.
A decent sized bathroom with walk in shower accompanies the room, along with a roomy balcony (at the front) to view the river and city.
There is a desk with desk lamp provided for working, and the TV boasts a number of English speaking channels, as well as all the main Thai TV channels too.
Internet Access
With the shockingly slow and frustrating internet found at many of Vientiane's cafes, the internet is another huge bonus of the Laos Orchid Hotel.
I used the WIFI in my room consistently, and sat in the cool, beautifully decorated lobby too on a number of occasions  Each room is equipped with an ethernet cable socket too, and there are three PCs for use in the lobby if you don't have a laptop.
The Breakfast
You'll read many a complaint about breakfast in hotels throughout Laos – eggs and bad coffee – but the Laos Orchid Hotel spread is great: fruit, cereal, Thai/Lao dishes, great coffee, juice, toast and more.
Like the bed, the breakfast will make you glad you booked
The Staff
From the maid to the reception staff and barman, all employees were helpful and polite. They all spoke great English too.
In Summary
In short, you won't regret staying at the Laos Orchid Hotel.
$65 will seem pricey in Laos for what is essentially a 3*, but when you see how dingy some of the other hotels and guest houses are you'll be thankful for that comfy bed, hearty breakfast and air conditioning that doesn't make you unwell.
=> Click to book Laos Orchid at a discounted rate
You'll see that the hotel has fab reviews and is well appreciate by the majority of guests.
It's central, clean, comfy and has a cultural vibe to complete the experience. What more do you want!
Check out my video below to get a vibe of the room and lobby.
Don't Forget Your Visa!
Don't forget that to visit Laos, either Vientiane, Luang Prabang, or elsewhere,  you do need a Visa.
Unlike Thailand, whereby the majority of countries (55 to be precise) can enter using visa on arrival, otherwise known as an exemption stamp, Laos requires you to have a visa.
Now, you can get your visa on arrival at the immigration desk, but this is fairly time-consuming. It requires you to pay cash and fill out the application form on site.
During busy times this can really extend the amount of time you have to spend at the border, and potentially delay any connection you have on the other side taking you to the city centre.
Fortunately, a couple of years ago Laos immigration created an eVisa system, whereby you can apply online prior to travelling. You can then print out your document and hand it over to immigration on arrival. Simple.
It's a much easier and more convenient way of handling what can be a fiddly process.
—
Laos is a wonderful country to visit and no doubt you'll want to return or even continue your stay. If you want to go elsewhere in Laos I highly recommend Luang Prabang.