Jim Thompson was an American entrepreneur and businessman who played a pivotal role in reviving the Thai silk industry in the mid-20th century. His life and legacy have become the stuff of legend, thanks in part to his mysterious disappearance in the Malaysian highlands in 1967.
Today, his legacy is preserved through the Jim Thompson House, a museum and cultural center in Bangkok that celebrates his contributions to the Thai silk industry and his love for Thai culture.
His iconic house, located in the heart of the city, draws thousands of visitors each year to marvel at its traditional Thai architecture and lush gardens. But beyond its aesthetic beauty, the Jim Thompson House serves as a tangible reminder of Thompson's remarkable life and enduring legacy.
Having visited his house in Bangkok twice, I can assure you that it's definitely worth the trip. Besides the impact he left on Thailand and his impressive collection of artwork, the enigma surrounding his disappearance is intriguing.
Over the years, Thailand, particularly Bangkok, has lost many emblematic buildings, making the preservation of its history a major concern. Fortunately, the Jim Thompson house has a foundation supporting it that is working towards preserving this historical landmark and other facets of Thailand's cultural heritage
In this article, I delve into the captivating story of Jim Thompson and explore the significance of his house in Bangkok.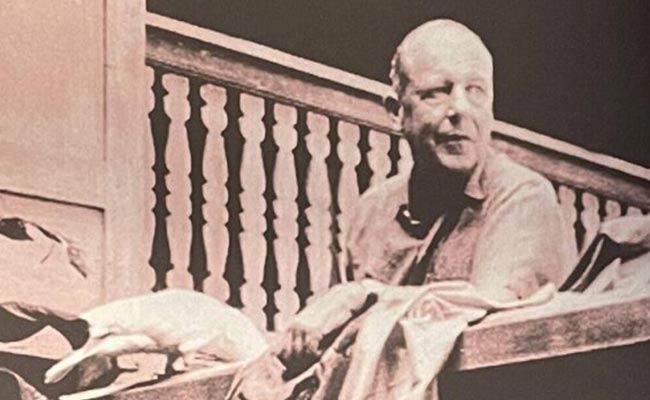 The Early Years
James H.W. Thompson was born in Greenville, Delaware, in 1906. He was the youngest of six children, and grew up in a family that valued education and travel. After graduating from college, Thompson worked as an architect in New York and later as a military intelligence officer during World War II.
In 1945, Thompson was posted to Bangkok as part of the US Office of Strategic Services (OSS), the predecessor to the Central Intelligence Agency (CIA). While in Bangkok, Thompson became enamored with the beauty and craftsmanship of Thai silk, and began to explore ways to help revive the struggling silk industry in the country.
Thompson also amassed an impressive collection of Southeast Asian art, including Buddhist artifacts, ceramics, and paintings, which he housed in his Bangkok home. Today, the Jim Thompson House Museum showcases his art collection, providing visitors with a glimpse into his fascination with the region's art and culture.
The Silk Business
In 1948, Thompson left the OSS and established the Thai Silk Company, which quickly became one of the most successful silk businesses in the country. Thompson's approach to silk production was revolutionary at the time, as he sought to modernize and streamline the production process while still maintaining the traditional methods and high quality of Thai silk.
Under Thompson's leadership, the Thai Silk Company became known for its vibrant colors and intricate patterns, which drew inspiration from traditional Thai art and culture. The company's silk fabrics were used to create clothing, upholstery, and other high-end products that were sought after by customers around the world.
Thompson's success in the silk business earned him a reputation as a shrewd businessman and savvy entrepreneur. He was known for his attention to detail and his commitment to quality, and was widely respected in both Thai and international business circles.
The Disappearance
Jim Thompson went missing on March 26, 1967, while on a hiking trip with friends in the Cameron Highlands of Malaysia. The group was staying at the Moonlight Cottage, a resort owned by one of Thompson's acquaintances.
On the day of his disappearance, Thompson went for a walk alone in the surrounding jungle and did not return. Despite extensive searches, no trace of him was ever found.
There are many theories about what happened to Thompson, ranging from the plausible to the outlandish. Some speculate that he was murdered by a jealous lover or a business rival, while others believe that he was kidnapped by communist guerrillas or that he simply got lost in the dense jungle of the Cameron Highlands.
The Jealous Lover Theory
Thompson was a prominent figure in Bangkok's expatriate community and was known for his charisma and charm. Rumors circulated that he was involved in a love triangle with two other men, one of whom was a former lover.
According to this theory, the jilted lover may have killed Thompson out of jealousy or revenge. However, there is no concrete evidence to support this theory, and it remains just one of several possibilities.
There is evidence to suggest that Jim Thompson was gay. Although homosexuality was not widely accepted during his time, he had several close relationships with men and was rumored to be involved in a love triangle at the time of his disappearance. However, Thompson was a private individual and did not openly discuss his sexuality, so it is difficult to determine the full extent of his personal life
The Envious Business Rival Theory
There is speculation that Jim Thompson may have been killed by a business rival due to his success in the Thai silk industry. Thompson's Thai Silk Company was a major contributor to Thailand's economy and helped to put Thai silk on the international map.
Some have suggested that his success may have threatened the business interests of others, leading to his possible assassination. Additionally, Thompson was known to have had conflicts with some of his business partners, leading to further suspicion.
The Communist Guerrillas Theory
It is theorized that Jim Thompson may have been kidnapped by communist guerrillas due to his connections with the US government and the Thai monarchy. At the time of his disappearance in 1967, Thailand was in the midst of a communist insurgency, with communist guerrilla groups seeking to overthrow the government.
Thompson had previously worked for the US government during World War II and had close ties to the Thai royal family, both of which may have made him a target for communist kidnappers seeking to make a political statement.
Furthermore, his disappearance occurred during a time of heightened political tension and instability in the region. However, as with all theories regarding his disappearance, there is no concrete evidence to support this possibility.
The CIA Theory
Another theory suggests he was connected to the Central Intelligence Agency (CIA) and that his disappearance was linked to his involvement in espionage activities.
While Thompson did work with the CIA during World War II and the Korean War, there is no concrete evidence to suggest that he was actively involved in intelligence work at the time of his disappearance. It is also worth noting that Thompson was not the only American living in Thailand at the time who had connections to the CIA.
Despite the lack of evidence, the theory that Thompson's disappearance was linked to the CIA has persisted over the years, fueling further speculation and intrigue around the already mysterious circumstances of his disappearance.
The Lost in the Jungle Theory
While it is theoretically possible that Jim Thompson may have gotten lost in the jungle and succumbed to the elements or been attacked by a wild animal, it is considered unlikely due to Thompson's experience and knowledge of the region.
Thompson was an experienced hiker and had spent many years familiarizing himself with the Jungle terrain and wildlife. Additionally, he was accompanied by a knowledgeable guide at the time of his disappearance.
If he had become lost or separated from his guide, it is possible that he could have been rescued, as search and rescue efforts were launched soon after his disappearance.
However, despite extensive searches and investigations, no evidence of his fate has ever been found. As a result, his disappearance remains one of the most enduring mysteries in Southeast Asian history.
The Guide
Jim Thompson was accompanied in Malaysia by a local guide named Chalermsak, who was reportedly familiar with the area.
It is unclear who exactly reported Jim Thompson missing. According to some accounts, Thompson's hiking companions searched for him after he failed to return from his walk, and when they were unable to locate him, they alerted authorities.
It is also possible that Chalermsak may have been the one to report Thompson missing, as he was the last person known to have seen him. However, the exact details of how and when the authorities were notified remain unclear. It is unclear whether Chalermsak provided any useful information to the police or the search parties that were looking for him.
According to some reports, Chalermsak was questioned by authorities and initially claimed that he had seen Thompson heading into the jungle alone and that he had waited for him to return, but Thompson never did. However, some investigators have raised doubts about Chalermsak's account, as it reportedly changed over time and contained inconsistencies.
Ultimately, no concrete evidence was found to implicate Chalermsak in Thompson's disappearance, and the case remains unsolved to this day. Thompson's disappearance has captured the imaginations of people around the world, and has inspired numerous books, movies, and documentaries over the years.
The Jim Thompson House
Today, Jim Thompson's legacy is preserved through the Jim Thompson House, a museum and cultural center located in the heart of Bangkok.
The house, which was once Thompson's residence, has been beautifully restored and converted into a museum that showcases Thompson's collection of Southeast Asian art and artifacts.
You can expect to see a beautiful Thai-style house with lush gardens and an impressive collection of art and antiques. You'll learn about the life of Jim Thompson, his passion for Thai silk and the mysterious circumstances surrounding his disappearance.
The house is filled with traditional Thai architecture, intricate wood carvings, and stunning silk displays. You'll also get a glimpse into the local way of life with demonstrations of silk weaving and traditional Thai dance performances.
The museum's beautiful gardens and traditional Thai architecture make it a peaceful oasis in the heart of bustling Bangkok, and its rich history adds an air of intrigue and mystique to the experience.
How to Get There
The Jim Thompson House is located in the heart of Bangkok, Thailand, in the Siam area, near the National Stadium BTS station. It is easily accessible by public transportation, including the BTS Skytrain, taxis, and tuk-tuks.
To get there via BTS, take the train to the National Stadium station on the Silom line. From there, take Exit 1 and walk straight for about 5-10 minutes until you reach Soi Kasemsan 2. Turn left onto the street, and you will see the entrance to the Jim Thompson House on your right.
If you prefer to take a taxi or tuk-tuk, simply tell the driver to take you to the Jim Thompson House, or provide them with the address: 6 Soi Kasemsan 2, Rama 1 Road, Bangkok, Thailand.
The Jim Thompson House is open daily from 9:00am to 6:00pm, and guided tours are available in English, Thai, Chinese, Japanese, and French.
Entrance fees: Adult 200 Baht, visitors under 22 years 100 Baht (ID required), free entry for children under 10 years of age when accompanied by an adult.
In Summary
Jim Thompson's story is one of innovation, entrepreneurship, and adventure. His contributions to the Thai silk industry helped to revitalize a once-struggling industry and put Thai silk on the map as a luxury product coveted by customers around the world.
His disappearance remains a mystery to this day, but his legacy lives on through the Jim Thompson House, which serves as a fitting tribute to his love for Thai culture and his many contributions to the country.
Thompson's story also serves as a reminder of the importance of preserving cultural heritage and supporting local industries. His commitment to quality and tradition helped to elevate Thai silk to a new level of prominence, and his work laid the foundation for the vibrant silk industry that exists in Thailand today.
For those interested in learning more about Thompson's life and legacy, a visit to the Jim Thompson House is a must-see experience. The museum offers a glimpse into the world of one of the most fascinating figures in Thai history, and provides a window into artistic cultural traditions that continue to thrive in Thailand today.