Despite the on-going COVID-19 situation, an increasing number of foreign nationals are being allowed back to Thailand.
All those returning, however, are required to have a COVID-19 travel insurance policy, with protection of at least $50,000 USD (1.75 million THB).
In this FAQ, I'll cover all the commonly asked questions regarding the requirements and give you all the information you need to obtain your policy.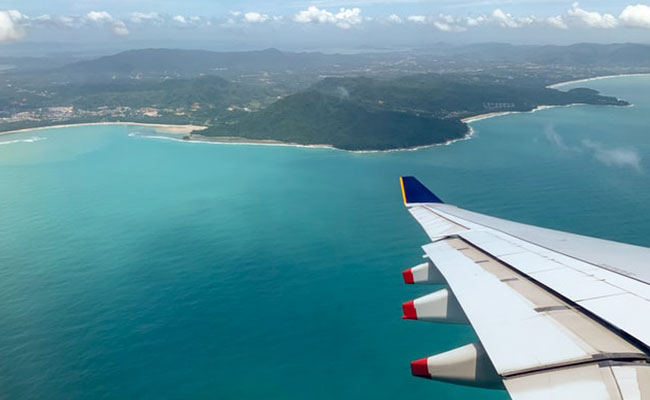 Who Needs COVID-19 Insurance?
This is a compulsory requirement for every foreign national entering Thailand, as announced by the Office of Insurance Commission (OIC) in Thailand. There are currently no exemptions.
What Does the Insurance Cover?
The policy covers both medical expenses and costs associated with death of COVID-19, and other illness and accidents. It's essentially medical insurance, but with a focus on COVID-19.
The policy also covers repatriation to the person's country of origin, and funeral expenses.
How Long will this Requirement Last?
At the present time there is no end date, although one would assume it is likely to be a requirement throughout 2021.
It will most likely be removed once the "pandemic" is declared officially over by the World Health Organization.
Why Does Thailand Require This Cover?
The official line is to help visitors avoid having to pay bills out of their own pocket, which makes sense.
But I think we all know that the authorities fear that hospitals will end up picking up expensive bills for those who become ill with infection and can't pay.
While we know that infection is largely symptomatic and generally affects those above 60 and/or with underlying health conditions, should a person become hospitalized, he or she may require a hospital stay for two weeks or more. And that can rack up a fair tab.
Can I Use My Normal Travel Insurance Instead?
You can, but you will still need COVID-19 coverage, which is something that many policies don't currently cover.
Many people have existing travel insurance as part of a bank account benefits package or medical insurance policy.
You can still use this, but you will need to ensure it covers you for COVID-19. If not, you will need to buy this as an additional policy.
Where Can I Buy an Insurance Policy?
16 Thai insurance companies have partnered with the initiative to offer COVID-19 insurance protection to foreign nationals.
The insurance can be purchased online and begins immediately upon arrival in Thailand.
The best place to buy a policy is Mr Prakan. This is a comparison site that searches a number of companies for  the best priced policy.
How Much Does the COVID-19 Insurance Cost?
The good news is that it is not too expensive, if you're from a low risk country that is.
The higher the risk of your country of origin, the higher the premium. And of course your age is a factor, too.
Sure, this is something none of us want to pay, but if you're desperate to get back to Thailand, then you'll be pleased to know that a policy isn't out of financial reach (for most).
I'm from the UK, which is of moderate risk (currently), and the policy was reasonable.
Let's have a look at a quote I got based on a 90-day stay. I entered my age as 54 years old (1966, the year England won the world cup), and as traveling from the United Kingdom.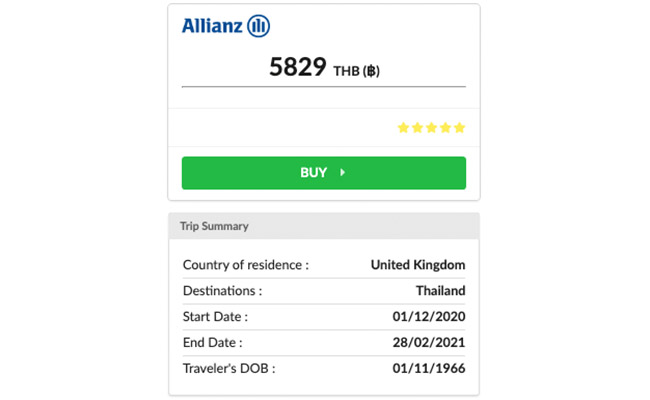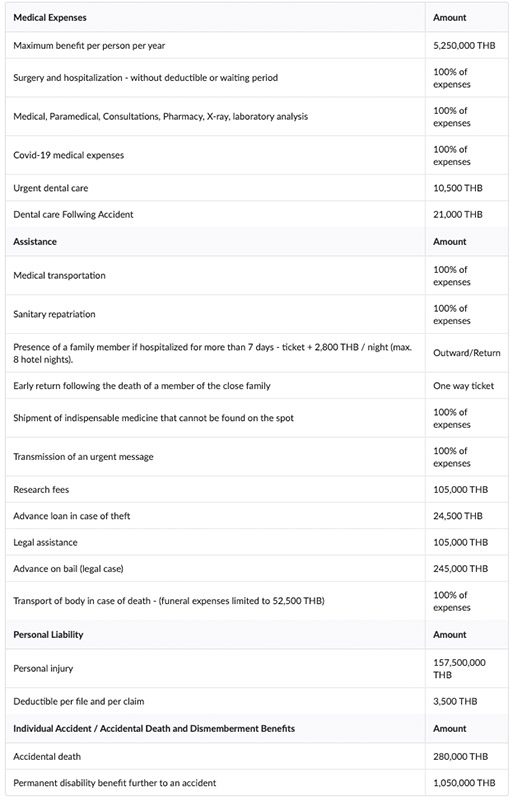 The policy came in at just under 6,000 Baht.
If you are 10 or even 20 years younger, the price drops accordingly. If you're lucky enough to be in your 20's and from a low risk country, you'll be looking at around 1,500 – 2,000 cheaper than my quote for 90 days.
I'm Over 65. Can I Get This COVID Insurance?
Yes, but you might need to use AXA or another company.
Mr Prakan would only return quotes for me up to the birth year 1955. The policies are supposed to be available up to 75, though.
Bubba (a reader) sent in the following information from AXA, which notes that they provide insurance for those age 1-75.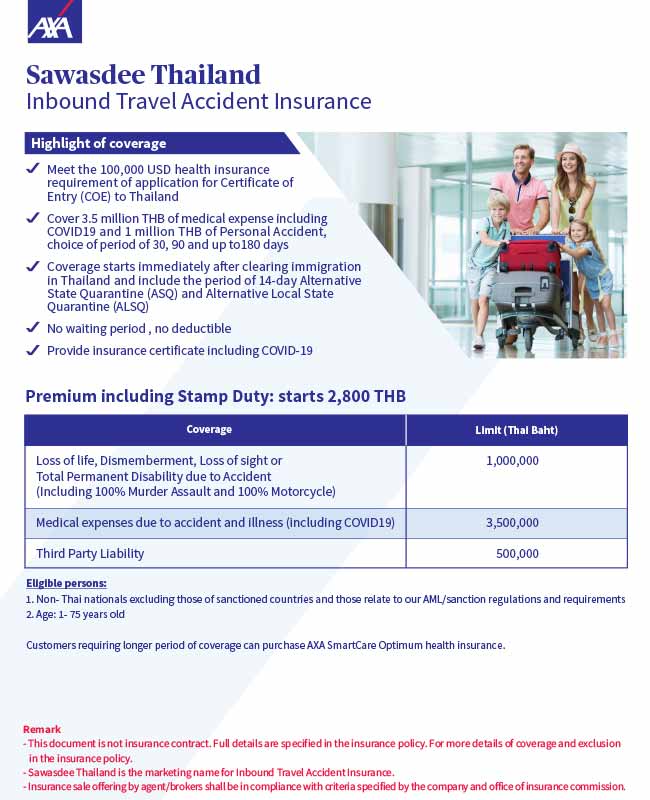 The rates are more expensive than my quote from Mr Prakan, but at least there is this option for the 65-75 age category.
If you're over 75, it seems there isn't an option.
Here's a list of other companies you might choose to try:
Assets Insurance Co Ltd
Chubb Insurance Company Limited
Navakij Insurance Co Ltd
Pacific Cross Health Insurance
Falcon Insurance Co Ltd
East Insurance
Asia Insurance 1950
Bangkok Life Assurance Ltd
Thailand Life Insurance
What Else Does the Insurance Cover?
In addition to C-19 cover, You will receive the following additional coverage.
Medical expenses cover
Accidental cover
Urgent dental care
Repatriation cover
Third-party cover
Luggage insurance
24/7 emergency assistance coverage
How Long Can I Get a Policy For?
Policies range from 30-days to a year. My quote was for 90 days, but simply select the duration you expect to stay for in the drop down menu on the quote form.
How Does Immigration Know I Have Purchased My Policy?
When you buy your insurance, you will receive your policy and certification for COVID-19 coverage. You will show this to immigration when entering Thailand.
Keep a print out and a copy on your phone, just to make sure you don't leave home without it.
What Other Requirements Are There to Enter?
Once you meet the requirements and have your flight confirmed, you will be issued with a certificate of entry (COE).
In addition to the insurance cover, you will need to provide a Fit to Fly Health Certificate upon entry, and a negative RT-PCR swab test, both valid within 72 hours of your flight.
A Final Word
While this is touted as a special COVID-19 policy, it's actually a general insurance policy that covers COVID-19.
It may be that your existing policy has this cover included, so as long as it meets the $50,000 threshold you'll be good with that.
Safetywing, for example, has offered COVID cover since August on both the Nomad and Remote policies.
They offer comprehensive, cross-territory cover, and therefore it is more expensive. More on Safetywing here.
The only other policy requirement, which is mostly standard anyway, is that the policy must allow for direct billing, which means the hospital can send bills straight to your insurer.
So do explore your options. But to be frank, if you want the cheapest cover, and only want medical insurance for Thailand until this COVID thing has passed, try Mr Prakan.
+ Get a COVID Policy Quote Here