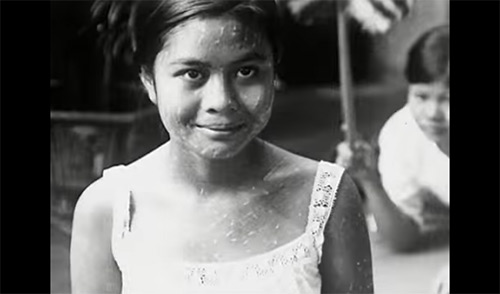 From low hanging electricity cables to ancient ruins, street vendors with decrepit carts and old trucks pumping out fumes darker than burning coal, Thailand sometimes still feels like something out of the middle of the last century.
That is until you see a Tesco or 7-Eleven, jump on the BTS in Bangkok, or see a school kid with an iPhone.
While many traditions and remnants of the past remain, Thailand has changed drastically in the last 20 years, let alone the last 100.
Deforestation, urbanization, and of course tourism have erased a lot of memories that most of us are sadly too young to remember.
While time travel has yet to be invented, a magical portal called YouTube has given us the opportunity to enjoy the next best thing.
So join me as I travel back through the decades and take a look at old Thailand through the lens of 10 amazing videos.
1. Thailand in 1953
Produced by American film director and producer Carl Ward Dudley, this short travelogue is a wonderful insight into Thailand 70 years ago.
The narration is classic 1950s and the footage really quite something.
From the khlongs to the airport to Thais playing Takraw and football, so much of what is seen here is still familiar today. Most notably, however, is how much more rural parts of Bangkok seem to be.
2. Bangkok in the '70s
A year before I was born, this is Bangkok in the '70s.
On the face of it things don't seem that different, except now we have bigger traffic jams, more shopping malls and more taxis. One might say that the city is "same same but different."
3. Thai High-Society in 1919
This time capsule delivers a glimpse in to the social interactions of Thai high society back in 1919.
This fascinating black and white video shows a number of staple cultural courtesies that still exist today, including taking shoes off before entering homes and wai'ing one another as a greeting of respect.
4. Chiang Mai in 1984
Chiang Mai is one of the most refreshing cities in Thailand. It is less busy than Bangkok, pleasantly rural, and temperatures can drop to single digits from December to February, giving you a respite from the hotter months.
This video begins in a more rural part of Chiang Mai, filled with laughing children, stray dogs and roosters.
It then sets off to show a much younger Wat Phra That Doi Suthep, one of Chiang Mai's most visited temples, along with others that scatter the mountainous countryside.
5. North Eastern Thailand (Isaan) 1977
This educational video offers a really interesting glimpse at life in North Eastern Thailand in the 70s.
While much of the region has undergone massive regeneration in the last 36 years, including the arrival of Tesco's, big cinemas, retail parks and decent roads, outside of the major cities there are still people living in fairly similar circumstances today, though with more clothes on and a smartphone in hand.
6. Koh Samui in 1987
Chaweng Beach in Koh Samui has changed a hell of a lot since this home video was taken in 1987.
The shaky camera work is a little annoying, but seeing such few hotels and buildings in general is really refreshing.
This less commercialized version of the popular island may be lacking tourists, but it is certainly not lacking in delightful scenery.
While hotels right down to the sand is definitely convenient, it is hard not to appreciate what Chaweng Beach was like 28 years ago.
7. Siam in the 1940s
Thailand was given its name on July 20th, 1948. Before that it was known as Siam.
In this video we get a glimpse of Siam during the rule of Field Marshall Plaek Pibunsongkram.
The Grand Palace and Wat Phra Kaew make yet another appearance in this video, which dates back to the 1940s.
We also see Victory Monument, which was, until 2016, one of Bangkok's most popular transportation hubs.
This black and white video is of low quality, but what's immediately noticeable is how spacious everything is compared to the modern day.
8. A Pattaya Slideshow: 1960-1990
The Playboy Disco Club and Bunny Club seen in this video may be gone, but the flashing neon signs, bar girls and go-go dancers can still be seen in Pattaya's Walking Street today.
These pictures show a far less built up Pattaya, and a much cleaner beach 🙂
9. Pattaya Slide Show 2
For those trying to avoid fellow foreigners in Pattaya, one must travel almost 60 years back in time.
You'll be hard pushed to see a hooker on Beach Road in this video, or an elephant being pulled down a sidewalk to entertain tourists for cash.
Sex and animal exploitation aside, one of this video's most recognizable features is of Khao Pattaya View Point on Pratumnak Hill, and the lack of selfie snappers certainly makes for a better view.
10. Bangkok Sidewalks in 1965
We finish up our time travel on the streets of Bangkok. It looks to me as if the person taking the video is doing so for the well-dressed foreign lady and her Thai friend, though I may be wrong.
This video, shot in 1965, shows a number of American cars on the roads, which is in stark contrast to the number of Japanese cars we see in Thailand today.
One thing that has clearly remained the same is the way food is openly sold on all corners of the street, freely exposed to the elements.
Another staple is the Tuk Tuks. "20 Baht. Go anywhere you want"!