Bangkok's main airport, Suvarnabhumi, received a fair bit of negative press last year for allowing scammers to operate within its grounds. The dishonest airport was thrown into the limelight with the emergence of the zig-zag scam, a scam that involved popular Bangkok duty free shopping company King Power. Customers were being accused of
shoplifting after deliberately not being given a receipt, or charged for products they presumed they had legitimately purchased at the counter. Unwitting customers were then searched and questioned, and even though no real proof was presented, the notion of doubt was aroused and the accused were asked to pay an extortionate fine to the conspirators, which included members of staff and a dubious liaison officer named Tony.
One couple in particular made the BBC headlines in the UK. Mr. Ingram and Ms. Xi were told they had to pay £8,000 to be released without further charges relating to theft from the prestigious Bangkok duty free store. Video footage apparently showed Ms. Xi putting a wallet in her bag, the search proved her innocence. The couple's passports were withheld, and they were moved to a squalid hotel within the airport perimeter until the demanded fee was transferred to Tony's bank account. A local lawyer said they should fight the notorious Tony in the courts, although he also explained that this could mean months in prison while the trial was prepared. Mr. Ingram decided to pay the money, instead choosing to return home in time for his mother's funeral.
Aside from watching out for the zig-zag scam, there are a few other things to be aware of when arriving at Bangkok airport. For a start you need to watch out for the taxi touts that offer you a fixed fee ride in an unlicensed taxi for triple what you would pay in a public taxi. You should also refrain from using the unscrupulous hotel agents who show you flattering pictures of awful hotels at silly prices. I myself had a tough old time a few years ago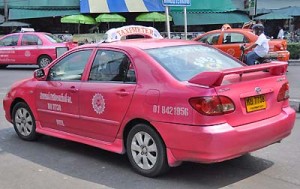 getting my money back after booking a hotel at the airport, only to arrive and find a hotel room that resembled something more like a hostel. I was told I would have to get my money back from the agent at the airport. Of course I didn't budge until I had a full refund.
Because I am fully aware of how vulnerable Thailand newbies are to Bangkok scams, I always tell friends flying into Bangkok airport to turn left out of arrivals and follow the signs for a public metered taxi without deviation. However, this bullet proof way to avoid a scam was shattered this week when a friend arrived from the UK. Being his first time in Thailand he followed my advice. He got in a metered taxi avoiding all the "where you go sir" questioning. However, 45 minutes later he arrived at my apartment block explaining that the journey had cost him 1000 Baht instead of the usual 250 Baht. "How is that possible"? I said, baffled. "You had the meter on, right"? "Yes". "And he took the toll way?" "Yes". "So WTF"? My friend hadn't a clue and neither had I.  All he could say was that when he handed over that crisp 1000 Baht note the driver was beaming from cheek to cheek.
Later that day we got in a taxi to go to the Grand Palace, and after a few minutes all became apparent as my friend remarked, "The meter on my taxi from the airport wasn't going that slow, in fact it was more like triple the speed". He went on to explain that even in traffic the meter was moving like a cheetah and the controls on the top section of the meter were covered up for some reason. All I can think of was that the meter had been tampered with, or had been fitted with two settings; the legit setting and the "fresh off the plane farang" setting.
This entire affair really got to me. Okay, I know taxi drivers don't make a packet, but most expats I know and friends on holiday always tip on long drives and most do on shopping trips, too. Yet it seems every time a friend comes to see me here they get ripped off in the first couple of days, often more than once. My last visiting friend back in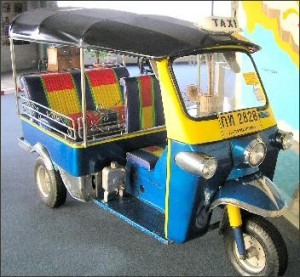 March was duped by the 20 Baht Tuk-Tuk scam. The driver said, "Anywhere you want to go 20 Baht". Great she thought, telling him she wanted to meet me at Asok Station, to which he replied, "Which one"? The long and short is, he drove her and her boyfriend around in circles and eventually charged them 200 Baht for the pleasure.
The Thai authorities need to tighten up and cut out all this scamming, or maybe visitors need to be more aware and a little bit smarter. That said, it isn't nice to visit a country and have to constantly be on guard presuming every native might be a rip-off merchant. These scammers do no favours for the image of the country, and many people are put off coming back for good. Okay, tourist scamming isn't exclusive to Thailand, but it is rife here and unethical to say the least. Just because foreigners may have more money doesn't mean it is okay to rip them off. It only makes visitors want to tip less, and that means the honest people working in the tourist industry make less money.
Of course I don't blame those who deceive to achieve, no taxi driver grows up thinking, when I grow up I want to rip people off. No, chasing a lifestyle that will always be beyond a person's reach drives people to steal and become dishonest. These horrible happenings are a by-product of a system we are collectively responsible for. It can't be easy watching all these foreigners shop till they drop after jetting in from their luxurious lifestyles abroad. Yet it still doesn't make it right.
Luckily my friend has met a couple of my Thai friends and has seen what pleasant, generous people Thais generally are, and I am glad he isn't the type to go back home and spout negativity regarding all Thai people being money hungry scammers…but, that said, I can often see why people do, and, unfortunately, our day of encountering Bangkok scams didn't stop there. Make sure you read my next post concerning the latest Grand Palace scam.