There are many great reasons to visit Thailand. It is rich in culture, history, nature and cuisine – and the large majority of people who visit have a fantastic time.
A select few of us get to visit such exotic places in serious style. Some are able to book 5-star hotels, and others fly first class and enjoy the creature comforts of one's "living room" on the plane.
And then there are those who charter a private yacht.
Long associated with the superrich such as Russian oligarchs and Arabian princes, private yachts have become more affordable in the last decade due to higher availability and a number of packages where shorter hire durations are available and the price can be shared among a group.
While I have been on a private speedboat in Thailand, I've not had the privilege of being aboard a chartered yacht.
During my last trip to Phuket, as I was staring out from the beachfront at Bang Tao, I could see a number of amazing boats anchored between myself and the horizon.
This got me thinking…
Just how easy is it to hire a private yacht in Thailand?
How much does it cost?
Can you hire a skipper and crew?
Can you do combined diving trips?
Do you sleep on the boat or do you come into a hotel at night?
What areas of Thailand can you visit?
If you're a seafaring enthusiast and fancy taking a holiday in Thailand yachting round the Gulf, sipping champagne on deck and visiting private beaches and bays with crystal clear blue waters,  this post will provide you with all the information you need to start planning a trip.
Why Charter a Yacht?
Although the yacht charter industry in Thailand is still fairly young, it is undoubtedly booming and growing year-on-year.
People are continually seeking a more individual holiday experience, one away from crowded beaches, typical tourist hotspots and regimented tours that rush you around and cram you into boats and minibuses.
Being on a yacht gives you the chance to swim, snorkel, dive and explore bays and limestone caves – and generally personalise your time in any which way you want it.
1. Choose a yacht to suit your needs
There are many types of yachts to choose from; just pick the ideal one according to your needs.
Whatever your specifications are — be it the right cabin size, a certain number of guests, or specific crew needs, chartering a yacht gives you the freedom to tailor the experience to your needs and not have to simply accept whatever comes with standard both hire.
2. Do whatever, go wherever, whenever you want.
Thailand has hundreds of islands: some small, some big, some uninhabitable, some very private and rarely visited.
By chartering a boat, you can visit islands other holiday makers can only dream of. And of course there is no fixed itinerary or time, meaning  you can spend as long or as little as you want at any particular destination.
In addition, you have the experience of your yacht captain to give you advice on the best places to visit. Most of the time, captains know where to find the most hidden beaches and best entertainment and food.
3. Enjoy in private
Perhaps you are someone who leads an extremely busy life, surrounded by people all the time. Perhaps you're just a quiet person who enjoys a more secluded lifestyle. Perhaps you and your partner want a holiday where you are free to be intimate, or sunbathe topless.  Or perhaps you're famous?
Whichever category you fall into, chartering a yacht gives you privacy and exclusivity. You will be away from crowds and prying eyes
4. Options for every budget
If you're reading this and thinking, "I could never afford to do that",  You might be surprised.  There are many different levels of boat, and if you are part of a group the hire will work out far cheaper. Liveaboard group diving holidays are now a very popular option.
5. Travel safer
Chartering a yacht with an experienced captain is generally a lot safer than hiring a boat yourself, or taking day trips with local companies.
Yacht chartering companies tend to be run by experienced boatsman. A reputable yacht chartering company will be fully insured too, and their vessels will be up to international standards.
Consider that yacht chartering companies deal with the rich and famous, so it is generally an industry noted for high standards.
Types of Yacht
There are three types of yachts that are predominantly chartered in Thailand. Once you know what kind of vessel you want, you can then choose the type of charter that you want.
1. Sailing Yacht
Often associated with freedom and romance, sailing yachts offer a unique experience of sailing through the seas.
Instead of a motor, such vessels primarily rely on wind power. Many sailing yachts are equipped with a low-power engine, which is advantageous during difficult maneuvers.
2. Motor Yacht
Motor yachts are the most popular types of vessels chartered across the globe. Compared to sailing yachts, you can expect motored yachts to offer greater space, although they come in a range of sizes and shapes.
Motor yachts usually offer luxurious amenities such as entertainment systems, hot tubs and swimming pools.
3. Catamarans
Catamarans are multi-hulled vessels with two hulls instead of one. A catamaran boasts of greater stability compared to other types as it doesn't heel or roll. The fact that they are much more stable means they are a wiser choice for families with kids.
Catamarans are also large enough for more onboard space, full-size cabins, and luxurious amenities. Like sailing yachts, they are mainly catapulted by wind power; but compared to the former, catamarans travel faster.
Types of Charter
1. Luxury Yacht Charter
If you're after comfort, glamour and style, a luxury yacht is the ticket. Complete with deluxe amenities and outstanding service, there are several charter types to choose from: Luxury Crewed Motor Yacht, Luxury Crewed Sailing Yacht, and Luxury Crewed Catamaran.
2. Bareboat Yacht Charter
If you are a skilled sailor and love the adventure of being in charge, you might want to consider a bareboat charter.
Chartering a bareboat yacht means you will be responsible for all your provisioning, sailing, navigation and mooring. Of course you have the option to hire a personal skipper or a hostess to help you with all these tasks.
You can charter a bareboat sailboat or bareboat catamaran depending on your needs or preferences.
• Bareboat Sailboat – price ranges from $1600/week to $3000/week
• Bareboat Catamaran – price ranges from $2700/week to $6900/week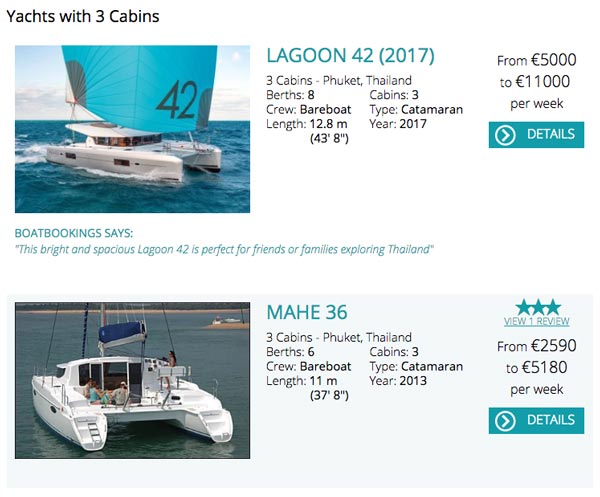 3. Crewed Yacht Charter
If you want to be pampered without sacrificing comfort and privacy, a crewed yacht charter is the best option. As implied, you will sail with a crew who will tend to your needs, so all you have to do is relax and enjoy the luxurious ambience – similar to a top hotel.
The crew dedicated to your yacht will be responsible for cooking, cleaning, maintenance, and sailing. A crew is even more helpful if you want to visit and explore tucked away places.
According to your needs, consider the different types of a crewed charter: Crewed Catamaran, Crewed Sailing Yacht, and Crewed Motor Yacht.
• Crewed Catamaran – price ranges from $5700/week to $37,500/week
• Crewed Sailing Yacht – price ranges from $27,700/week to $130,000/week
• Crewed Motor Yacht – price ranges from $4100/day to $130,000/week
4. Day Yacht Charter
If you love the sea but don't intend to spend your entire vacation sailing, or you're looking at those prices above thinking, "woah! that's going to be an expensive 4 days" chartering a yacht for a day is the perfect solution, especially split between a group.
Explore some of Thailand's secluded beaches, appreciate the sunset on a dinner cruise, then go back to your hotel and put your feet on terra firma.
Try a Liveaboard Diving Experience
If you want something with a diving experience built in to the trip then go for a liveaboard diving holiday. These tend to be cheaper too because there's a bigger range of boats to choose from (see the 28 below).
Liveaboard diving in Thailand offers enough to tempt any serious diver, with healthy reefs, schools of fish, barracuda, whale sharks, and manta rays. But the country's food, people, and landscapes put the icing on the cake.
Thailand is filled with some of the world's best dive sites, the most popular being Koh Tao and Koh Samui in the Gulf of Thailand, Koh Phi Phi, Koh Lanta and Phuket in the Andaman Sea.
The Similan Islands, Richelieu Rock and its whale sharks, Mergui Archipelago and its undisturbed Burmese waters, and the southern pinnacles off Phuket promise dramatic underwater topography and a wealth of marine life.
The relative closeness of these destinations to the Thai mainland makes Thailand the perfect country for a short or long liveaboard dive safari to the Similans or southern destinations like Koh Phi Phi, Koh Lipe, and Koh Lanta National Marine Park.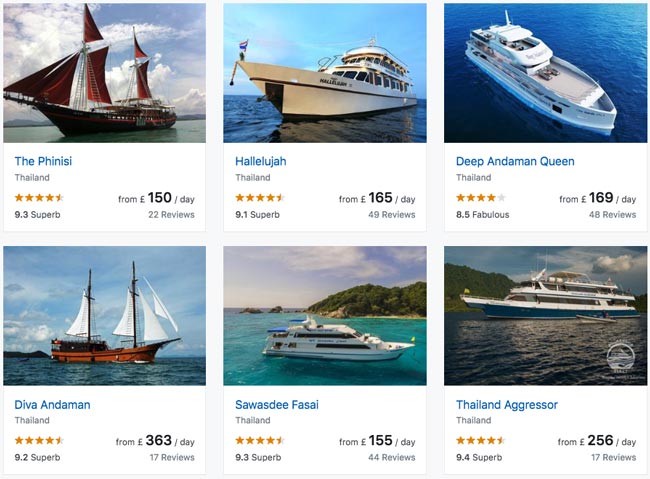 => Click here to see 28 Liveaboard trips here
Where You'll Yacht in Thailand
Where you'll sail really depends on the boat you hire and from where. But there are staple sea areas in Thailand sailors tend to cover.
If you have been to Phuket then you have probably seen luxury yachts passing up and down the coastline. It's the main destination for chartered yachts in Thailand,  and for good reason.
It's the country's largest island, with plenty of space to moor. Naturally it has an abundance of beaches, and its proximity to other visit-worthy islands. Not to mention there's plenty of lively nightlife.
From Phuket, you can also visit the following:
Andaman Sea:
1. Phang Nga Bay
With more than a hundred islands, each offering marvelous sights of turquoise waters, limestone cliffs, and rock formations, Phang Nga Bay is not to be missed. Among these islands is Khao Phing Kan, also known as James Bond island because of its feature in the 1974 Bond film 'The Man With the Golden Gun'.
2. Krabi
On the southern mainland's west coast is the relaxed town of Krabi. It is characterised by mangrove forests and limestone cliffs and is also a popular site for diving and snorkeling activities.
3. Phi Phi Islands
The Phi Phi islands are awash with classic tropical beaches, stunning rock formations and vivid turquoise waters, all teeming with colourful marine life.
A group of six islands, the two main islands are Phi Phi Don and Phi Phi Leh. The larger is Phi Phi Don, which is inhabited and attracts hundreds of visitors to its shores. The smaller is the uninhabited Phi Phi Leh, which includes the world-famous Maya Bay, where The Beach (with Leonardo Di Caprio) was filmed.
4. Similan Islands
The Similan islands are known for clear water and marine life — a heaven for scuba diving, snorkeling, and swimming maniacs out there.
5. Surin Islands
Comprising of five islands in the Andaman Sea, the Surin Islands are uninhabited. 60 km from the Thai mainland, these islands are surrounded by pristine waters, perfect for scuba diving and snorkeling.
The Gulf of Thailand
6. Koh Samui
From rainforests and coconut groves to palm beaches and luxury resorts, the second largest island of Koh Samui is a wonderful place. You'll definitely want to put this on your bucket list. See if you can anchor near Koh Som too – which is 20 mins from Koh Samui.
7. Koh Tao
Although a rather remote island, Koh Tao provides the best spots for diving and snorkeling in Thailand. There's accommodation and restaurants too.
8. Ang Thong National Marine Park
Ang Thong National Marine Park remains untouched by modernisation and is under preservation. It boasts breathtaking limestone monoliths, tropical beach areas and hidden coves. It's a must see.
9. Koh Chang
Koh Chang is worthy or a few days. It's one of largest Thai islands in the Gulf of Thailand, complete with dense, steep jungle that forms Mu Ko Chang National Park, a preserve with hiking trails and waterfalls such as tiered Klong Plu.
The coast is blessed with coral reefs and dotted with beaches and villages including Bang Bao, built on piers. Hat Tha Nam (aka Lonely Beach) has a waterfront party scene that attracts backpackers.
10. Koh Samet
Another island on the Eastern Gulf Coast is Koh Samet. Named after the 'Samet' trees (Thai for cajeput trees), which grow on the island in abundance, its a popular getaway for Thai tourists due to its proximity to Bangkok. Spend a night and witness the fire-twirling show, and catch the beautiful sunset from one of its cliffs.
11. Koh Kut
Near the Cambodian border is Koh Kood, often spelt Koh Kut. Its a paradise for those who live for beaches, waterfalls, and jungles. You can also marvel at the sight of the largest, 3-level waterfall in the island, Klong Chao waterfall.
Thinking about chartering a yacht in Thailand?
=> Check out this amazing 8-day charter tour
Start the trip from the sparkling beaches of Phuket and end it in the pristine waters of Racha Islands.
Quick Fire Yachting in Thailand FAQ
To round this off, I thought I'd put together a quick-fire FAQ that explains some of the terms that may have gone over your head, or that I didn't explain properly. I've also included answers to other common questions that are likely to come up when talking about a boat trip…
Q: What is a bareboat charter?
A: As implied by the name, a bareboat charter includes a bare ship or boat, in which no provisions or crew are provided. You are responsible for taking care of everything you need during the course of your trip.
Q: What is a crewed charter?
A: In contrast with a bareboat charter, a crewed charter offers a more relaxed vacation where everything is taken cared of by the yacht's captain or skipper, a cook, and possibly a hostess – depending on the package.
Q: What does a skipper do?
A: A skipper is equivalent to a ship captain and is the person in command of the yacht and the crew. The skipper also provides information regarding your destinations, and is responsible for ensuring your safety.
Q: Do I need certification if I charter bareboat?
A: The answer to this varies depending on the country you are vacationing in. In general, however, you will need a day skipper license, an ICC or International Certificate of Competence, if you are chartering a power boat.
Q: How long can I charter a yacht for?
A: Most operators offer a yacht charter for a week, and a minimum of 5 days. There are also Day Charter yachts if you plan to enjoy a special day out on the water. Liveaboard diving trips are usually 4 nights.
Q: Are there any hidden extras that I'll end up paying for?
A: While yacht brokers tend to list the fees as completely as possible, there are some that may change depending on your needs, wishes and itineraries. The extra fees can be paid in cash to the skipper or as an APA (see below for definition of APA).
In general, here is a list of possible extras you may pay for:
1. Motor boats:
Fuel: depends on the fuel price but generally costs about €1.20 per litre, or approximately $3.00 per gallon
Mooring fees, if you plan to spend the night on an island
Any other requested provisions
2. Sailing boats:
Linen, if requested
Final cleaning fee: ranges from €50 to €150
Mooring fees
Any other requested provisions
Q: Why are only 12 people allowed on a yacht?
A: According to the International Marine Regulation, a yacht carrying more than 12 passengers, even if it is used for private events, is considered a passenger ship and should follow the Safety of Life at Sea (SOLAS) by the International Maritime Organisation.
If you are looking to charter a yacht for a large group, you can ask your yacht broker for ones that are licensed to carry more than 12 passengers.
Q: What is an Advance Provisioning Allowance?
A: Advance Provisioning Allowance or APA is basically an advance payment made for your provisionings during the charter. It covers fuel, food and drinks, and port fees.
Generally, 20% to 30% of the charter fee is allotted as APA. The captain will keep the APA and is responsible for keeping all receipts. He will also present a full account of your expenses and return any remaining amounts.
Q: Can kids sail with me/us?
A: If you are planning to spend a sailing holiday with your family (including kids), there are several things to consider. Aside from safety concerns, another major thing that parents worry about is the discomfort kids might feel during the charter.
Catamarans are great for family sailing, so they are highly recommended. They offer bigger space and run more smoothly so passengers don't rock back and forth as they sail.
It also helps to set guidelines for kids to follow during the charter. Help them adjust to sea life by exposing them to water and fish and teaching them how to snorkel before the sail.
Q: What is Liveaboard?
Liveaboard refers to a vessel designed for living on long term, but the word is synonymous with diving trips.
Liveaboard diving trips are for keen divers who want to have an optimal diving experience by having access to the best waters at the right times of day.
Q: Will my travel insurance cover me chartering a yacht?
A: Travel insurance is a must when traveling and going on vacation in any form.
There are several types of travel insurance, each covering different occurrences, so before you pack your bags and beach stuff, make sure your travel insurance covers your sailing trip outside the country by calling your provider.
=> See my insurance recommendations here
Taken a luxury yachting trip in Thailand? Tell me about your experience below.