Renting an apartment in Thailand is an exciting prospect. But before you start your search for the perfect condo, you'll want to read up on how the process differs from renting in your home country.
In this guide, you'll learn everything you need to know, from pricing to lease contracts to deposits to utility bills and more.
Grab a hot drink and let's get started.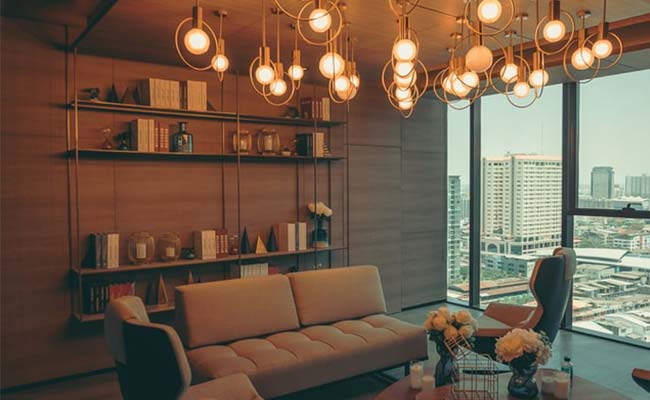 Types of Apartment
Modern: Built in the last 10-15 years, these are generally quite small, but obviously have nicer decor than their elder counterparts. The modern building trend is to create as many units as you can to maximize return.
Many modern apartment buildings have a gym (albeit usually small) and a swimming pool. Most have washing machine facilities, and some have a restaurant on site, too.
Older: Older apartments are cheaper to rent and usually larger when compared to modern apartments. However, they generally lack facilities like a gym or pool. The cheaper price can often attract some undesirable neighbors, too.
Serviced: Serviced apartments are pricier but come with the added benefits of regular cleaning and room service (if a restaurant is on site).
Condo Vs Apartment
Although these words are often used interchangeably, there is a difference in Thailand. Apartments are (usually) managed, in that they have a front office with help on hand to answer queries and address problems. Th apartments are all owned by the building owner.
Condos are privately owned units within a building and rented out by the owners individually. Therefore, any maintenance issues on the unit itself must be addressed by the landlord. If there is a front office, it will be there simply to direct visitors and field common residential queries.
I personally prefer apartment complexes because the owner owns the units and the building. This means everything is centrally maintained and there is one point of contact for all problems.
In a privately owned condo, let's say there was a problem with water leaking from an apartment next door or above, your landlord would have to contact the other landlord to get it sorted out. But then you might run into a situation whereby the landlord of the other unit says it's a building issue and that he/she needs to contact the owner of the building.
That being said, many of the nicer, modern blocks are private condo units, so whether you opt for an apartment or a condo will probably depend on your preference of unit, but also on where you look for a rental and the availability in that area.
Finding Your Perfect Rental
A good way to find an apartment is to put boots on the ground. That way you can really get a feel for the street and how close it is to shops, transport and other local amenities.
Once you know the area in which you want to live you can simply walk into apartment buildings that take your fancy and ask at the front desk if they have availability.
You can also then go on a property finder website and conduct a search in your area to find buildings of interest.
If you're relocating from abroad, you don't have this luxury of walking around, but you do have access to the Internet. Securing an apartment online prior to relocation isn't the risk it once was.
You can look at Google Maps and Street View, YouTube, and lots of user-generated images that will give you good insight on an area and what to expect.
That said, I think it is wise to do a short term stay somewhere and visit a few areas before committing to a 6-month or 1-year rental.
If you want to research rentals online, check out these property websites:
Rental Prices
There are a number of attributes that inflate the cost of rent on an apartment:
A new building with attractive furnishings.
Facilities such as a gym, pool, and restaurant.
Being near a tourist hotspot with lots of hotels and bars.
Living next to a BTS(overground) or MRT (underground) station.
Living close to the center of town.
Having a popular mall and other good shopping within walking distance.
However, it is usually quite easy to find some middle ground and stay within a reasonable proximity of convenience without paying the premium of having it right on your doorstep.
In terms of pricing, it's difficult to give exact numbers because pricing depends on the area and the demand for a particular building. But let's consider some examples in Bangkok:
16,000: New build 46 Sq.m studio, 500m to a BTS station, swimming pool, 5 stops from the center of town.
20,000: New build 35 Sq.m 1-bed, 600m to a BTS station, gym and pool, close to the center of town.
20,000: 12-year-old 60 Sq.m 2-bedroom, 500m to a BTS station, gym and pool, close to the center of town
25,000: New build 57 Sq.m 2-bedroom, 500m to a BTS station, close to the center of town (no pool or gym)
30,000: 20-year-old 112 Sq.m 2-bedroom, 1km to a BTS station, close to the center of town (no pool or gym)
30,000: 20-year-old 112 Sq.m 2-bedroom, 1km to a BTS station, close to the center of town (no pool or gym)
75,000: 15-year-old 75 Sq.m 2-bedroom, 2 Bathroom, gym and pool, in the center of town close to tourist area.
* (prices given are per month) and taken from PropertyScout.com
For every example given above, no doubt someone will tell you that you can find something cheaper in the same/similar area. And you probably can. But this gives you some idea of the prices you will be looking at.
Lease Contracts
There is no Landlord-Tenant Act in Thailand. The legal basis for a lease is governed by the Hire of Property section in the Civil and Commercial Code of Thailand.
Most contracts are for 12 months, but some residences offer 6 months. Again, it depends on the demand for the area and the building and the age of the property.
A lease tends to be a pretty simple document in Thailand; a one or two page document that you'll have to sign before moving in.
My last apartment lease was translated into English on the same page as the Thai, but crudely so and the translation was most likely inaccurate. Regardless, it was good enough to understand the basic terms.
Your lease might only be in Thai, though. You can request a translation but that will most likely be at your cost. At the end of the day it's pretty simple: pay your rent and don't damage the apartment, or else!
Seriously, though, overall I've had good experiences renting in Thailand. If you're a respectful tenant then you'll get respect in return. If you turn up at 3am, blind drunk with a hooker on each arm, singing "show me the way to go home…" you can expect to get a telling off, and to lose the respect of your neighbors.
Utility Bills
Water and electric bills are generally paid separately to your rent total. These should be billed at the government rate, but some complexes charge a higher rate and get away with it by claiming a form of surcharge.
Utility bills may be included in the rental price by a private landlord (condo unit owner), but if they are you can assume you are paying more than you would if you paid the bills yourself.
The price of electricity in Thailand is 4 Baht per unit (one kilowatt per hour (kWh) of electricity used).
The price of water for the first 10 units is 10.20 Baht per unit, with a minimum of 50 Baht (4 m³).
Paying a Deposit
You will have to pay a deposit on your place, so factor that into your budget.
It's usually 2 month's rent upfront, plus you have to pay your normal rent payment for that month.
However, if your landlord owns more than 5 units – because of a law passed in 2018 – you may only have to pay 1 month's deposit.
Will you get your deposit back? Yes, but maybe not all of it.
Some landlords will really scrutinize over damage, including marks on walls that will need painting. And don't forget that pretty much every owner will charge a cleaning fee when you move out, usually 500 Baht.
I actually have a whole post dedicated to deposit conflict avoidance and how to ensure you get yours back in full. You can read that here.
Building Security
The good news is that most residential buildings have a security guard on duty, night and day.
These unarmed, usually sleepy guards aren't there to tackle and arrest robbers, but they are a good crime deterrent and do log suspicious activity.
Many buildings have a traffic barrier at the entrance, at which the security guard checks cars in and out. CCTV is usually in operation, too.
Other than a guard, a front desk prevents unwanted visitors, and you'll have a lock on your door. Even the first floor windows of a residential block are too high for burglars, so you're very safe.
Transport Links
It goes without saying that transport is a big factor when deciding on a location to live.
In Bangkok, for example, you will want to be fairly near an MRT (underground) or BTS (overground) station. Within a 5 minute walk is ideal, since it gets hot and you don't want to arrive all sweaty to work or to meet a date.
Some upmarket residences offer a shuttle service to and from the closest station.
Another option is to take a motorbike taxi (10-20 Baht). If you live more than 5 minutes from the station, you will usually find a local taxi rank close to your apartment.
Noise
Noise is a big pain point for me. I'm a light sleeper; I mean really light, so much so I wear ear plugs.
The level of noise on a main road in Bangkok can be pretty high. The city never sleeps and there's always traffic.
Even on a side street you might have dogs barking, annoying teenagers on motorbikes with loud exhausts, or just people speaking loudly at all hours.
On the islands and in more rural places like Chiang Mai you may avoid some of the city-centric noise hazards, but instead of a loud exhaust pipe it might be a rooster that wakes you up at the crack of dawn.
Thais tend to rise early to get work done before the mid-morning heat arrives, so if you're a late sleeper beware that the hustle and bustle starts early.
With all this in mind, try to go for a building set back from the main road, at least a few streets. Narrow streets can be annoying for taxis to drive down but will mean less thru traffic during the day and night.
When viewing a residence, take a look around the immediate vicinity for potential noise hazards such as bars, train tracks, building works, etc.
Pets
My advice is not to acquire pets in Thailand. There are pet-friendly condos, but not many, and having a pet will hinder your range of choice.
Moreover, it's not very practical to keep an animal in a 30 sq. ft condo, and a hassle when you want to move or relocate.
If you want a cat or a dog you're better off finding a house to rent in a rural location.
If you're moving to Thailand with a pet, then you'll have to find a pet-friendly landlord prior to your move. Also consider that your pet can be quarantined for 30 days at the discretion of  a quarantine officer.
Disability
Some modern condo/apartment buildings have wheelchair access and most buildings have lifts.
However, disability isn't as considered as it should be in Thailand. So if you have a disability that prevents you taking the stairs, enquire as to what fire escape measures are in place for disabled persons should an emergency situation occur.
In Summary
Renting in Thailand is as cheap or expensive as you want it to be. But upon comparison, you will find it way cheaper than countries like the USA, UK, Canada, Australia, Germany, France, Switzerland, etc.
The size of some condos may come as a shock, particularly to my American friends, who tend to be used to bigger spaces. But if you up your budget 5-10k THB the space dramatically increases.
There are so many options, particularly in Bangkok. If there's too much noise, you're not close enough to the station, or your neighbor likes playing drums at 1am, just move somewhere else. It's that easy.
Have a look through thousands of rentals here on PropertyScout. This is the website I used to find my apartment. You can email them questions in English and arrange online viewings, and they don't charge you a fee.
——
Got a query? Drop it below.