If you're renting a condo or an apartment for more than one month in Thailand, you will have to pay a deposit.
Two month's rent paid upfront is standard, though the law states that landlords with more than 5 properties are only allowed to take a month's deposit. Whether they adhere to this law is a different matter.
The difference between a condo and apartment in Thailand is that an apartment block usually has a single landlord, one who owns the building and all the units. The block will have a reception/office where you pay your rent.
Condos, generally speaking, are individual units within a block, owned privately by different landlords.
Regardless, you will still have to pay a deposit for both.
Having rented numerous apartments over the years, I know the renting game in Thailand pretty well.
Depending on the rental fee, the deposit can set you back a big chunk of money, and getting it back in full isn't always the easiest thing to do.
No matter how clean and tidy you are it's easy to run into unexpected charges because you haven't understood the rules regarding the deposit, and the tenancy agreement in general.
Here's some top tips to help you manage the rental process, avoid conflict, and maximize the chance of getting your deposit back.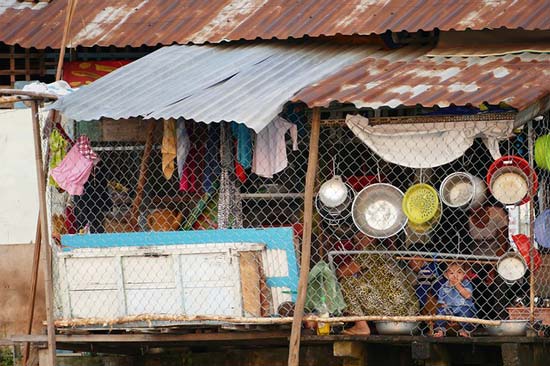 Moving In…
A deposit is a monetary guarantee against any damage losses incurred by the owner while renting you the property.
It therefore makes sense to ensure that you aren't accused of damaging anything that was already damaged before you moved in.
In this respect, it is advisable to take pictures of the apartment once the rental contract is agreed.
Strangely, people usually neglect to do this, probably due to the excitement of moving in.
It is best to do this when the key-handover takes place. That way the condo owner or apartment manager knows that A) you have taken pictures, and B) that you're an astute individual and not someone who is going to be messed around in the future.
Taking pictures on a phone is ideal because a date is embedded in the metadata of the image. It's advisable to back them up to your computer, Cloud drive or USB stick and print out copies for future reference.
When inspecting the property and taking your pictures, look out for the following and take snaps accordingly:
Cracks in walls
Broken cupboards
Broken tiles in the bathroom
Aged shower curtain
Burns, holes, wear and tear on the sofa and chairs
Stains on mattresses
Worn paintwork
Chips on skirting
Scratches on windows
Broken light fittings and plug sockets
Water damage in the bathroom and on ceilings
Get a Written Agreement & a Translation
It's almost unbelievable, but some people do hand over deposits without getting a written agreement.
Of course, reputable apartments will have agreements as standard, but private condo rentals may not and handshake agreements aren't uncommon.
Make sure you get a tenancy agreement that stipulates the rules of the deposit. Note that there might be a separate deposit agreement to the tenancy terms.
Check that the amount you have paid and the date it was paid on is included in the agreement and signed by you and the office manager or landlord.
Make sure you get a copy of all the documents and, if the text is in Thai, you really should consider getting a translation done.
It costs around 500 Baht per page to get an official translation done in Thailand, but for this purpose, you could get it done here on Fiverr.com for peanuts.
Knowing what the fine print says will help you understand exactly what is expected of your tenancy. This will save conflict later down the road.
For example, many apartment tenancy agreements include things like:
No noise after 10pm
No "extra guests" without notifying the office first
No smoking in rooms
No durian fruit inside the room
No chucking stuff off the balcony
No shoes left in the corridor
It's worth knowing what you can't do so that you don't break the rules and end up falling out with the management.
Ask for a List of Repair Costs (Apartments)
Most apartments will have a list of what it costs to replace something, should you break it.
If you don't get a list when you move in, ask if they have one.
This is important, because if you don't know what an item costs to replace, they can quote you any price they like when you break it.
When you see the list (if there is one), you will notice that a number of the items are things you could replace yourself for a third of the price.
For example, my old apartment management listed a cost of 3,000 Baht for a replacement shower curtain. Within a few months of me being there, the curtain started to get mildew spots due to poor ventilation.
I figured it probably had mildew on before I moved in but they had scrubbed it out. The thing with mildew is that the spores pretty much always reappear.
So instead of getting charged for a new one, I bought one for 100 Baht at a local shop and called in the office manager to show her I'd replaced it.
She could see why it needed replacing, and I wasn't going to wait until they went out and bought one because it presented a health hazard. She was fine with the replacement because the quality was as good and the color matched.
Swallow the Mandatory Cleaning Charge
You will never get your entire deposit back, quite simply because of the "cleaning charge".
This is pretty much standard everywhere in Thailand, and ranges from 500-1,000 Baht.
If you check your tenancy agreement, it will most likely say that you will be charged a flat fee for cleaning when you move out.
Even if you keep your apartment spotless, you can still expect to pay this charge.
The joke is, they don't pay for a special deep clean from a private company. No, it's just the same housekeeping lady they employ to clean anyway. And if you pay the apartment for a weekly cleaner, it's probably the same person.
I don't know about you, but when I leave an apartment or a hotel room, I always leave it clean and tidy. It's just how I was brought up.
My clean is really clean. So I do get frustrated by the cleaning charge because I know that the three-year-old mop they're going to use to clean the apartment will make it dirtier than I left it!
Anyway, you'll have to suck up the cleaning charge, so don't bother kicking up a fuss.
Be Upfront About Damage You've Caused
If you damage something during your stay, you're far better off being upfront about it, and here's why:
Honesty is usually the best policy. The fact that you owned up will go a long way in terms of maintaining a good relationship with your landlord. Moreover, you might even get away with a "mai bpen rai" (never mind), depending on how expensive the damage is!
If you wait until you move out, this will present the perfect opportunity to withhold a portion of your deposit.
Psychologically, taking a deposit is easy. It's like storing someone else's money. But giving it back feels like you're paying out of your own pocket, even though it isn't really yours. I believe this is one reason landlords are wired to hold onto as much of it as they can.
I've also found that it seems to be a bit of a chore for the office/landlord to get your deposit money out from the bank (see the next section). It's easier to find an excuse not to give you your money back.
The point here is, don't wait. If you damage something, own up and deal with it there and then.
Moving out is always a hassle anyway, so having this type of issue to deal with on a stressful move-out day is bound to cause some conflict.
Understand How Your Deposit Will Be Returned
Here's a final tip for you: Make sure you understand the process for paying the deposit back.
By this I mean, is it paid on the day you move out, or is there a waiting period? Is is paid into your bank or in cash?
I was in my last apartment for 3+ years, yet I didn't know that the deposit would not be paid back to me on the day I moved out.
I paid them a cash deposit when I moved in, but the day before I moved out it was revealed that the deposit would be forwarded to my bank account at the end of the month.
No way.  I was flying back to the UK on the same day I was moving out, so I wanted that cash back in my hand.
I argued the case that I had paid them cash, and also said I might not be returning to Thailand. Sure, I could have said I didn't have a Thai bank account for them to pay the money into, but that might have been a difficult lie to swallow since I'd been in Thailand so long.
Anyway, long story short, they arranged for me to have the cash on the day I moved out.
So take time out to double check that your deposit will be returned on the day you move out, and via what means.
In a country where you probably don't speak the language very well, and rules are rarely flexible, it makes a lot of sense to fully understand your tenancy agreement and the terms around the deposit.
All said and done, Thailand is a great country to rent a property and my experiences have been largely positive. But like renting in any country, you should always endeavor to fully understand your contractual obligations – and theirs too!
Where to Find the Best Rentals in Thailand
I've rented around 15 properties during my time in Thailand, some short term for a few months and others long term for 2-3 years. From Koh Samui to Bangkok to Chiang Mai, I know the ins and outs pretty well.
Probably half of those rentals were walk-in finds; that is I walked the local area looking for buildings that looked appealing and went in and enquired.
Once the trend of property websites came along, more often than not I'd do my research online. These websites enable you to find pretty much every rental property in a given area and filter by your preferences.
Such websites save a lot of hassle walking around in the heat, as you can arrange an in-person or online viewing, depending on your location.
One potentially beneficial aspect of using a property finder website is that you have an agent to come back to if there is a problem over the contract or deposit. It isn't in the best interests of an estate agent to advertise property for a problematic landlord, so arguably you are less likely to run into a problem this way, though it can still happen.
Generally these websites are free, though some may charge a fee for consultancy services for those seeking property from abroad.
Most, however, charge only the condo/apartment owner the fee for finding a tenant, meaning you pay nothing.
Two of the best sites in I've used in Thailand are:
Both have international teams, so you can communicate in English.
——
Got a question about renting, a deposit query, or a story to tell? Let me know down below.