Pretty much no one leaves a country in SE Asia without paying a visit to one of its malls, and Thailand is no exception.
Whether you just want to window shop, or you're looking for some new clothes to take home, going to a mall is part of the holiday.
MBK Centre Mall, short for Mah Boon Krong (MBK) is probably Bangkok's most famous mall.
It was named after the parents of its chief developer and is a go-to shopping place for Thais and tourists alike.
This popular mega-mall boasts an eight-story market-style layout and over 2,000 shops.
In 1985, MBK was dubbed as the largest mall in Asia.
And even though Thailand is now swamped with numerous malls of different sizes, MBK still holds a place in the hearts of many, mainly due to its competitive pricing.
Content:
MBK Opening Days/Hours
The MBK Centre is open every day from 10 am to 10 pm, making it the perfect place for a late evening shopping spree.
It's also a great place to spend the last day if you've checked out of your hotel in the morning and your flight isn't until late evening or the early hours of the next day.
You can eat, chill, and shop here – and easily kill an entire day.
The MBK Shopping Experience
Aside from its natural wonders and yummy cuisine, Thailand has another secret that attracts tourists and travelers – it's affordable fashion, beauty, and jewelry products.
In fact, I highly recommend traveling light so that you have plenty of space to bring stuff back home.
You will undoubtedly find some tees, pants, kicks and souvenirs to fly home with.
If you like the somewhat chaotic yet energetic vibe of street and night markets in Bangkok, you will certainly enjoy your shopping experience at MBK.
And better still, you can enjoy the air-con and not have to worry about getting soaked in sweat while walking from shop to shop.
You'll find all clothes and shoes in a variety of sizes too; so do ask if you don't initially see your size.
You can strike bargains at most stalls and shops and negotiate prices; wholesale is also widely available if that's your bag.
Note that brand name shops generally don't offer room for negotiation.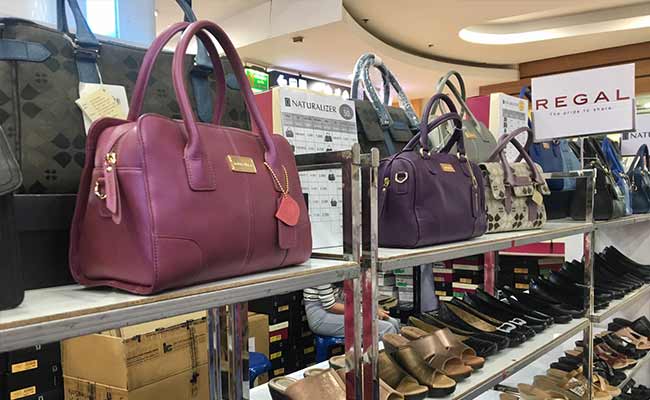 If you want fashion items and jewelry, stick to the lower floors.
I recently picked up some O' Neil swimming shorts at an outlet sale on the ground floor – so brand name bargains can be had.
These promotions vary from week to week, so it all depends what's on when you arrive.
For a general guide on what floor to go to for certain products, check out the Mall Layout section below.
The Mall Layout
Part of what locals and tourists like about MBK is its market-style layout. It has eight floors, with the 7th and 8th floors designed for entertainment.
Six floors of shopping can get a little confusing, and because some are packed so tightly with shops, getting lost inside the mall is a real possibility.
To help you navigate, there are electronic directories posted on most floors. Additionally, each shop/stall has color-coded alphanumeric signs to guide you around. See the complete store layout here.
Here's a look at what each floor offers:
First floor: Event space, fast-food restaurants, and the more luxurious official brand shops
Second floor: International and local fashion, trends, and jewelry
Third floor: International and local fashion and trends
Fourth floor: Electronics and gadgets
Fifth floor: Furniture, more affordable shops, and The Fifth Food Avenue
Sixth floor: Food Island (mainly local and traditional dishes) and Craft Village Zone, where you can buy cheaper products such as clothing and souvenirs.
Seventh floor: Entertainment – Internet cafes and gaming
Eight floor: Bowling complex, cinema, and karaoke booths
The Food Court
When someone says Thailand, everyone automatically thinks of food.
Indeed, Thai is one of the most popular Asian cuisines, and when in Bangkok you can indulge every day at a fraction of the price you'd pay back home.
If you want to try a variety of food, the food hall on the fifth floor is the place to go.
For the price, the quality of food here is generally good. If you're lucky, or not, however you may see it, there might be some live music playing as you chow down.
The food court options offer delicious local and international cuisines from the likes of Greece, India, Italy, Japan, Mexico, North Africa, and Vietnam.
If you go up a floor you can extend your gourmet experience on the MBK Food Island, which houses local street style food.
The payment system is typical of that in Thailand.
You scan the food court for what you want, and then go to the cashier and put an amount on a top-up card.
Then go to the food stall and make your purchase with the card. If you have money left on the card at the end, you can refund it.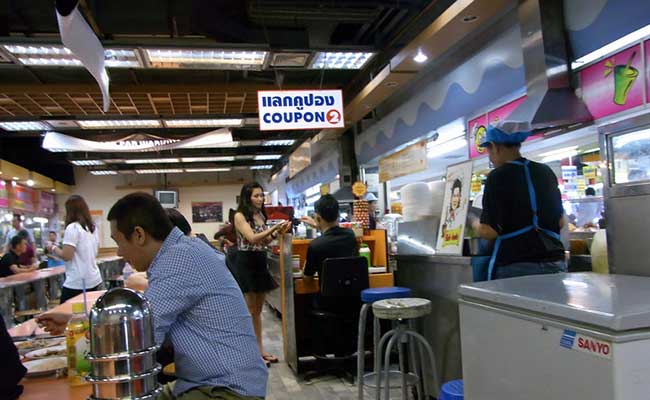 How to Get to MBK
Located at the intersection of Rama I Road (Sukhumvit Road) and Phaya Thai Road, MBK is accessible from Siam Square.
If you are coming from Siam Square, you just need to walk through the elevated pedestrian walkway that leads to MBK's second floor. Be aware that a security bag check, although not very thorough, is mandatory upon entry.
Whether you prefer a cab or taking public transport, getting to the mall is easy.
By taxi or tuk-tuk: You can ride a taxi or tuk-tuk straight to the mall door, but traffic in this area gets heavy so it pays to jump on the BTS. If taking a tuk-tuk, get your haggling skills ready to negotiate a fare, especially with drivers that are parked near tourist areas.
By public transport: You have two options: 1. Take the BTS Skytrain and alight at National Stadium station, then follow the signs leading to MBK; or 2. Go to Siam station, then walk 10 minutes west to the mall.
10 MBK Shopping Tips
Avoid the crowds
If you are serious about a shopping mission in MBK, it is best to go early and avoid the crowds. 10am-12pm is a good time to shop; weekdays also tend to hot up around 6pm as people flood in after work. Weekends are naturally pretty busy, particularly in the afternoons.
Drop off your luggage
If visiting MBK after checking out of your hotel, you can take your luggage with you and drop it off at the service center on the 6th floor. It is in Zone B, adjacent to the Food Island court.
The service counter is open every day during mall hours, and the first four hours are free of charge. After that, you will need to pay 100 Baht per bag.
Bargain/haggle prices
Although MBK is a mall, haggling is most definitely practiced. You don't get nothing without asking, so my mama said, but do so courteously. Don't be afraid to walk away if you can't get the price you want, but do be reasonable.
Watch out for fake products
You are shopping in a mall, yes, but that doesn't mean everything you see there is authentic. In past times MBK has come under fire for housing fake goods, but in recent years the mall is adamant that this has been eradicated. Still, if the price is too good to be true, then it probably is.
How to spot a fake?
Well, it isn't always easy, but look for flaws – in brand spelling, font, stitches, etc. To be sure you are buying genuine products, buy brands from official shops or outlets. Also, don't be afraid to ask: Is this real?
You will most likely see pirated movies and cracked software somewhere along the way. If you buy these, know that you are taking a risk, as the disc may not play or be of low quality when you get home, and software may be prone to crashing.
Know that not everything is cheaper here
Although MBK is well-known for its bargain prices, that is not always the case, especially when it comes to local handicrafts that are often bought cheaper from street markets.
That said, competition inside the mall is high, so you can shop around and haggle to bag good deals.
Tip: be patient and do not buy the first product you see, especially if the item is one that is sold in multiple shops. Consider that shops and stalls on the lower floors pay more for rent and are likely to have higher prices. So shop around first.
Don't get lost
Eight floors is not a joke, especially with kids in tow. Use these tips to avoid spending the entire day looking for each other:
Take a map from one of the information counters when you enter on the ground floor.
Set a meeting point with your family or friends in case one of you gets lost.
Make sure you each have your mobile phone. If you run out of battery, ask a shop if you can quickly plug in to make a call.
If a member of your party is lost, go to the information booth on the ground floor to put out a call.
If you like comparing prices before actually buying, it helps to write down or type on your phone the names and coordinates of the shops you intend to return to.
If you are short on time and are trying to find something specific, go to an information counter and ask for help.
Shop with patience
When shopping in a big and sometimes chaotic place like MBK, patience is a virtue.
Around a hundred thousand shoppers visit the centre every day, and this number rises during weekends. If you are not comfortable with bumping elbows with strangers, try 'more luxurious' malls nearby, such as Siam Paragon, Central Mall, and Em Quartier instead. You will pay a lot more at these places, though.
Take a breather!
Malls get to me after a while. They bring back memories of me and my brother being dragged around John Lewis of a Saturday afternoon.
Step outside and visit the spirit houses (pictured below). It's a an interesting, mindful way to escape the shopper madness for 10 minutes.
Additionally, why not walk across the road and visit the Bangkok Arts & Culture Center. Admission is free and they always have wonderful exhibitions there. You can grab a coffee there too.
Entertain the kids
If the kids get bored of shopping, take them to the upper floors for bowling and games at the arcade; you can even try singing at the karaoke complex or go to the cinema.
Avoid the tuk-tuks / taxis outside, if possible
Outside MBK, you'll find the staple line of tuk-tuks offering to take you back to your hotel, and taxis touting for business.
You should know that tuk-tuks will overcharge if they can, and the taxis picking up foreigners here will try to charge a fixed price instead of turning on the meter – this is actually illegal.
You'll do better to walk a few blocks and then hail a taxi, or better still, get the train.
But look, at the end of the day, if your legs are shot and your arms are full of bags, paying an extra 100-200 Baht is no big deal – if it means getting back to the hotel a little quicker for a much needed chill.
Hotels Near MBK
MBK Centre is located in central Bangkok, and it's a pretty good area to base yourself for shopping and sightseeing.
Below are some of my recommended hotels near MBK:
Pathumwan Princess Hotel (5 stars)
Travel time: 1-minute walk and direct access to MBK
Facilities: restaurant, cocktail bar, massage and spa treatments, fitness centre, saltwater swimming pool, rooftop tennis court, laundry services, babysitting services
Average rate per night: 4,200 Baht
> Click to here to see Pathumwan
Holiday Inn Express Bangkok Siam (4 stars)
Travel time: 5-minute walk to MBK
Facilities: 24-hr fitness centre, free parking, business centre, self-service laundry services, restaurant and bar
Average rate per night: 3,000 Baht
> Click to here to see Holiday Inn Express
Novotel on Siam Square (4 stars)
Travel time: 10-minute walk to MBK
Facilities: outdoor pool, sauna room, day spa, restaurant, mini bar, fitness centre, free parking
Average rate per night: 3,300 Baht
> Click to here to see Novotel
Ibis Hotel Siam Bangkok (3 stars)
Travel time: 3-minute walk to MBK
Facilities: pet-friendly, laundry and shuttle services, corporate facilities, luggage storage, restaurant, bar, free parking
Average rate per night: 1,800 Baht
> Click to here to see Ibis Hotel
Tips to Start Planning Your Trip Now
Don't Forget Travel Insurance:
Travel insurance protects you against illness, injury, theft, and cancellations. I never travel without it. I've been using SafetyWing.com for years. You should too.