Four months ago I bought myself an expensive office chair, a lovely white desk and a cactus to top off my Zen-like workspace. Yes, the time had come to stop spending so much time working from cafes and spend more time in a home office.
However, while the ergonomic chair and CEO-style desk have heightened my productivity, I still find myself yearning to venture out to my favourite cafes for a spot of afternoon tea amidst the atmosphere of life.
I might not be a people person, per se, but I like to be among people. I like watching the world go by, all be it from the confines of an armchair in the corner of a coffee shop. Occasionally I do meet fellow laptop fiends and exchange stories of bandwidth, and of course a café provides such a darn good excuse to eat a cake – I have to cheat on my paleo diet sometimes.
The problem with cafes, however, is that the seats aren't the best for long stints of key tapping, and the Internet is often temperamental and slow, not to mention that on the odd occasion you can't help but be annoyed by someone chattering on about some old nonsense within your ear space. It's a café, not a place to sit and work! I hear you say…
And I agree, and I do feel a little bad about that, which is why I buy my fair share of drinks rather than risk becoming one of those WIFI leeches who sit all day with one coffee, guzzling from the free water jar and using a power point to recharge laptop and phone – the cheek of it!
What I really needed was something in between: The comfort of my home work environment coupled with the inspiration of life found at a cafe. As luck would have it, I found just that, after being introduced to Hubba.
The Day I Met Hubba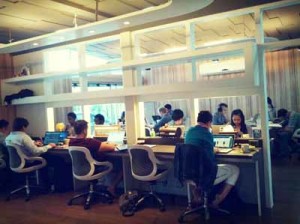 I was introduced to Hubba through a friend and we immediately hit it off. We share loads in common; we both love technology, creativity, fast internet and working on our own terms – shame Hubba isn't female. Nope, she's a very cool co-working space for freelancers, startup entrepreneurs and creative types based in Bangkok.
Hubba is situated on Ekkamai Soi 4, a quiet road overhung by trees protruding from middle-class suburban dwellings. It's so calm you can hear the birds tweeting (no Twitter reference intended), which is quite something considering you're a stone's throw from the hustle and bustle of Ekkamai BTS station.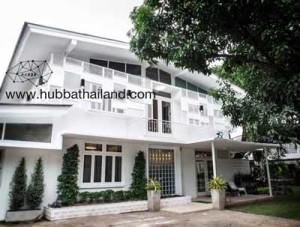 Hubba itself is set in a lovely property, hugged by a tree-stocked garden with space to eat, chat, work or ponder, and space to park your car or scooter. Inside you'll find Hubbers doing all sorts; reading on a bean bag, working at a hotde
sk, eating in the garden, making a tea in the kitchen, working in the quiet room, even catching up on sleep on the sofa. It's a communal space where you work at your own pace. (FAO Hubba CEO: I want a royalty if you use that rhyming tagline).
The price is a friendly 265 Baht for a day pass, which includes free coffee, tea and water. Buy a weekly or monthly pass and the price drops even further. The internet is super fast, the staff super friendly and the vibe super cool. There are weekly events too, like talks from entrepreneurs and workshops on how to use various technology, etc. You can also hire a meeting room or rent an office.
The reality is that Hubba motivates me to get stuff done. I am far less distracted there than at home or in a café. And you can't help but be productive because you're surrounded by like-minded people hell bent on getting ahead and making things happen.
At first glance you'd be forgiven for thinking that such a place might spiral into a commune-style chill pad for creative types, but the reality is that Hubba strikes the perfect balance between relaxation and motivation: You're relaxed by the vibe yet inspired to take your work to the next level. I imagine Hubba to be like working for a cool tech company like Apple or Google – there's even a shower upstairs!
The management have done a splendid job of creating a community that facilitates, supports and connects like-minded individuals. But don't think you need to be part of a startup or a budding online entrepreneur to spend a day or just a few hours there: Perhaps you're looking for a place to start that book you've always wanted to write, maybe you're a web developer sick of staring at the same four walls each day, or perhaps you'd like to spend a day each week sifting through your emails and tinkering online in a cool space with friendly people. Whatever your web-related tipple, come and join the community and stop wasting your money on over-priced lattes and snail-speed internet.
You can find out details, prices and directions at the Hubba Facebook page
See you there!