Did you know that in Thailand each day of the week is associated with a different color?
Wearing the correct color on the correct day is said to be lucky, but there's more to it than that.
This part of Thai culture is influenced by Hindu mythology, which follows an astrological rule of assigning a color to each day of the week.
Each color represents the God who protects the day, and a celestial body (planet) such as the sun or moon.
This little bit of cultural knowledge can go a long way in Thailand.
For example, wearing the correct color on the corresponding day for a job interview, or when meeting some elders, might just earn you a little more respect.
Days & Their Corresponding Colors, Planets & Gods
Today, fewer young people are adhering to this tradition, but there are still many who follow along and have particular t-shirts (usually polo shirts) that they wear to correspond with the custom.
Here are the days and their corresponding colors, planets, and Gods.
Sunday
Color: Red
Planet: Sun
God: Surya
Monday
Color: Yellow or cream
Planet: Moon
God: Chandra
Tuesday
Color: Pink
Planet: Mars
God: Mangala
Wednesday (day)
Color: Green
Planet: Mercury
God: Buddha
Wednesday (night)
Color: Grey
God: Rahu
Thursday
Color: Orange or brown
Planet: Jupiter
God: Brihaspati
Friday
Color: Light blue
Planet: Venus
God: Shukra
Saturday
Color: Purple or black
Planet: Saturn
God: Shani
* Wednesday is split into two colors, one for the day and one for the night. I don't know why this is.
Colors and The Monarchy
Monday is represented by the color Yellow. Monday is also the birth day of the late King Rama IX (Bhumibol Adulyadej), and of his son King Rama X ( King Vajiralongkorn).
Given the popularity of the king in Thailand, Monday is the most followed day of this colors custom and you will see many Thais sporting yellow tops at the start of the working week.
The flag that represents King Rama X (and his late father) are also yellow (as seen below).
Indeed, yellow has become the color most associated with royalty, and one that Thais wear when doing good deeds. It is a mark of respect for King Rama IX, who was renowned for his work on humanitarian projects.
Each prominent member of the Royal Family has a personal flag backed by the color that matches their birth day.
Her Majesty Queen Sirikit was born on a Friday, and therefore her royal flag is blue.
Queen Suthida's flag is purple, as she was born on a Saturday (as seen below).
Princess Chulabhorn Walailak's flag is red, as she was born on a Sunday (as seen below).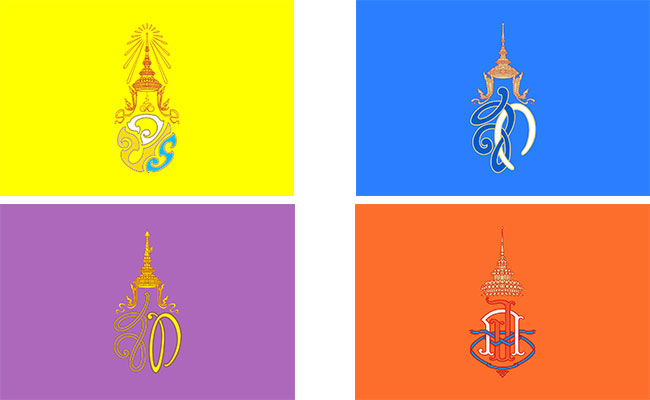 Unlucky Colors
Yes, as you probably suspected, there are unlucky colors too, which some people avoid on certain days.
I don't know why these colors are unlucky, specifically, perhaps someone can enlighten me in the comments section?
Sunday: Blue
Monday: Red
Tuesday: Yellow and white
Wednesday morning: Pink
Wednesday evening: Orange and red
Thursday: Purple
Friday: Black and dark blue
Saturday: Green
Modern Application
As noted previously, in the modern day there are very few people who follow the color chart religiously. However, it is quite popular for people to wear their birth color on their birthday, and to consider it their lucky color throughout life.
Strangely enough, I had no idea what day of the week I was born until a recent Google search.
To my surprise, my favorite color, blue, corresponds to the day I was born on the Thai chart, spooky! But apparently I should avoid dark blue on a Friday, as that would be unlucky.
Fun Fact
Tiger Woods, the half-Thai golfing legend, always wears red on the final day of a tournament, which usually falls on a Sunday – also his birthday.
This is because his mother, Tida, a Thai woman from Kanchanaburi, told him that wearing a red top would bring him good luck. Sunday is of course represented by red, the sun, and the God Surya.
Considering his success, I might adopt this custom myself!
Fun Challenge
If you're living in Thailand, follow the tradition and wear the colors for a week. Don't tell anyone you're doing it and see if anyone remarks.