Did you know that you can order products from Amazon.com and have them delivered to your address in Thailand?
Thanks to the International Shopping Experience, if you're an expat in Thailand wanting to order a hard-to-find book, or wanting to get in on those exclusive Black Friday deals, it's possible to order in just a few taps.
The International Shopping feature is for countries that do not have an official Amazon web portal and where imports are the only option. That means countries like Chile, Colombia, Costa Rica, Hong Kong, Indonesia, Malaysia, the Philippines, Peru, Uruguay, and Thailand.
So with 45 million available items (potentially), it's probably best that you don't start browsing at 2 o'clock in the morning after a night out on the booze!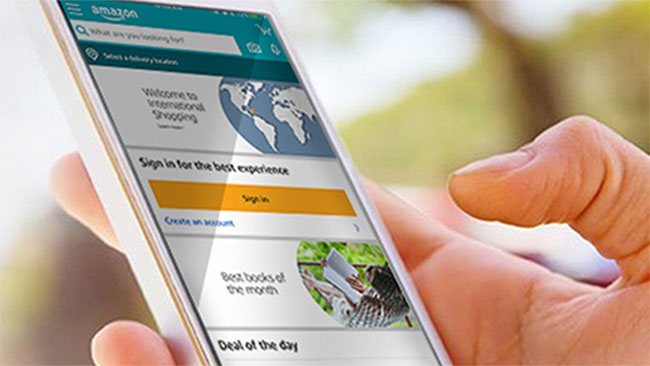 Why Order From Amazon.com in Thailand?
Why bother, right? There's other options. Is there, though?
Lazada is technically Southeast Asia's Amazon, a marketplace where you can buy just about everything and anything at reasonable price.
However, as you will see from my Lazada review, not everyone is  pleased with the service.
Some people like myself have used it without incident, but others, as you'll see from the comments section, have had a bit of a nightmare and find themselves wishing that they could order from Amazon – like they used to back home.
Of course, bad experiences can happen on Amazon too, particularly if a seller is using fake reviews to sell a substandard product, or if you receive a faulty product, or one that was bashed up in the delivery van.
It can happen.
But generally, Amazon is reliable. That's why so many people miss the service when they move to Thailand – particularly those who aren't fans of shopping in malls and haggling in markets.
It goes without saying that many electronic goods can be found in Thailand a lot cheaper than they would be on Amazon.com.
But there's the issue of quality.
Lately, there's been a lot in the press about substandard electronic items from China being sold on eBay, and even in high street stores.
Some electrical items such as phone chargers have been responsible for house fires and injuries due to electric shocks. Sometimes it pays to pay a little more.
While low quality cables and chargers are very cheap in Thailand, the higher end ones can actually be more expensive than they are found in the US or Europe.
And then there are the sales periods such as Black Friday and Cyber Monday, where you can get super deals on laptops,  Kindles, Amazon Echos, hard drives, kids toys, water filters, clothes, and anything else you can think of.
So maybe there are times when ordering from Amazon would be preferable.
There has certainly been times in my life in Thailand where being able to order from Amazon would have helped me out.
One situation in particular: I was trying to find a playpen for my daughter. I was struggling to find any of the popular brands in Thailand, but managed to locate one in Central Mall in Bangkok. Thing is, it was quite literally double the price.
If I'd had the Amazon international shopping feature back then, I would have ordered it from there.
For the record, the international shopping feature allows you to shop in 25 currencies, including Baht, which might be useful for those who have a Thai bank account with a Visa debit or credit card.
Expats can also choose a range of languages to shop in, including Spanish, English, simplified Chinese, Brazilian Portuguese and German.
How to Order From Amazon When in Thailand
To use the International Shopping feature, you have two options.
Option1 : Desktop Ordering
Open up Amazon and change your "deliver to" location in the top left-hand corner.
You'll then see products eligible for shipping to Thailand.
=> Open Amazon.com to get started
Option 2: App Ordering
Alternatively, install the Amazon Shopping app from the Apple App Store or the Google Play Store.
Once installed, the app will automatically load the feature based on your location.
If you already have the app installed, go to Settings > Country and Language > International Shopping.
In that setting, you can select your language and currency of preference.
Once you have installed the app and international shopping is enabled, you will see all the products eligible for shipping to Thailand.
Shipping Costs
Shipping was never going to be cheap, that's for sure. It's probably best to stick to smaller, lighter items. But then again, you might find that the cost of shipping is not far off the cost of the item.
So let's face it, this service is probably going to be reserved for special items like the one I described above, and when you can't get a product anywhere else.
Here's a rundown of the shipping costs:
Standard (7-10 days)
Music / DVD / Blu-ray – £1.49 per item + £2.09 per delivery.

PC & Video Games / VHS / Software – £2.99 per item + £5.49 per delivery.

Books (includes audio books) – £2.99 per item + £5.49 per delivery.
For any combination of items from the categories listed above add together the appropriate "per item" rates. The highest "Per Delivery" rate applies.
AmazonGlobal Standard (5-10 days)
Baby / Car & Motorbike / Clothing / DIY & Tools / Electronics & Photo / Hobbies, Sports & Leisure / Home & Garden / Jewellery & Watches / Kitchen / Musical Instruments / Office Products / PC & Video Games / Shoes and Bags / Software / Toys – £4.99 per kg + £10.99 per delivery.
AmazonGlobal Priority (2-4 days)
Music / DVD / Blu-ray / Video Games / Software / PC Games – £1.99 per item + £19.99 per delivery.

Books / Jewellery & Watches – £2.49 per item + £19.99 per delivery.

All other categories – £4.99 per kg + £19.99 per delivery.
* For any combination of items from the categories listed above add together the appropriate "per item" or "per kg" rates. The highest "Per Delivery" rate applies.
What About Customs Duties?
Yep, many of us have experienced the annoyance of receiving a customs payment request upon receiving a gift from abroad.
The good news is that the international shopping feature displays pricing, shipping costs and import duty estimates, with Amazon managing courier service and customs clearance so you don't have to worry about any  potential surprises once your goods arrive in Thailand.
I quote:
The International Shopping experience displays clear pricing, shipping costs, and import duty estimates, with Amazon coordinating with courier services for customs clearance on behalf of the customer.
Thailand doesn't have a dedicated Amazon store, so this is the next best thing.
Will you use it over Lazada?
Let me know of your experiences in the comments section.