I've always enjoyed history. In fact, along with geography and physical education, it was my favourite subject. I quite enjoyed religious education, too, not least because we had a really funny, camp teacher who made it all the more fun!
Anyway, having lived in Thailand for the past six years, naturally I've become interested in the many kingdoms that have changed the shape of the people, culture, landscape and economic structure.
And there is a lot to learn, too, much of which gets pretty confusing because the names of kings and kingdoms and other prominent figures are hard for an English lad like me to remember.
So, as a way of embedding this knowledge in my brain, and as a quick reference resource for others, I thought it would be useful to document the Thai Kingdoms and Thai Kings that have ruled and reigned through history in a post.
This also gives me a chance to share some interesting postcards I bought with pictures of King Chulalongkorn (Rama 5) and King Bhumibol Adulyadej (Rama 9) and their respective families.
Thai History and Pre-history (Major Kingdoms)
Here are the major kingdoms in chronological order:
Devariti (Mon): 6th – 9th centuries
Lopburi (Khmer): 9th – 13th centuries
Srivija: 8th – 13th centuries
Sukkothai: 13th – 15th centuries
Lanna: 13th – 18th centuries
Rattanakosin: 1782 – present
Chakri Dynasty Kings (Rattanakosin era)
Here are the names of the kings of the current Chakri reign:
First reign: King Rama I – Phra Phutthayotfa (1782 – 1809)
Second reign: King Rama II – Phra Phutthaloela (1809 – 1824)
Third reign: King Rama III – Phra Nangklao (1824 – 1851)
Fourth reign: King Rama IV – Mongkut (1851 – 1868)
Fifth reign: King Rama V – Chulalongkorn (1868 – 1910)
Sixth reign: King Rama VI – Vajiravudh (1910-1925)
Seventh reign: King Rama VII – Prajadhipok (1925 – 1946)
Eighth reign: King Rama VIII – Ananda Mahidol (1935 – 1946)
Ninth reign: King Rama IX – Bhumibol Adulyadej (1946 – present)
It is worth noting that the English spelling interpretations of the some of the Thai Kings are quite wrong. For example, if you pronounce King Vajiravudh, or King Bhumibol Adulyadej, in the way they are written here (these are the most common transliterations), to a Thai person they will be quick to correct you and point out that you are using a mispronunciation.
Quite why these versions have stuck through time is unclear. I could have attempted my own interpretation, but I thought it best to leave them as they are in their most recognisable form.
Anyway, here are those pictures. I picked these up for 5 Baht each. I don't usually buy postcards but I found these to be very interesting, particularly the more natural ones of the children. My wife has put them alongside her picture of King Rama IX and Queen Sirikit meeting Elvis (the other King).
Old Pictures of The Thai Royal Family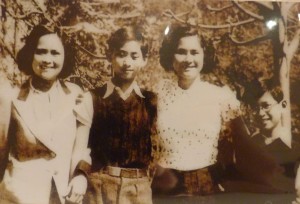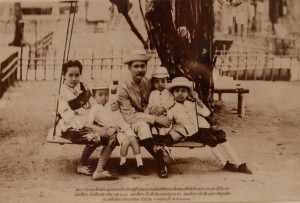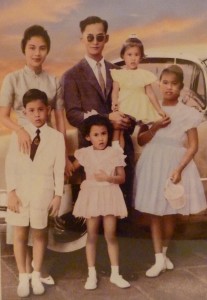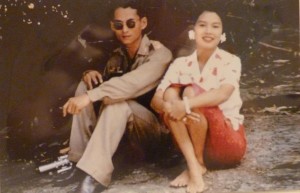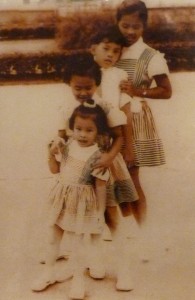 Please note: Comments will be moderated in line with the rules concerning language used when addressing the Royal Family. I appreciate your cooperation.