Major post update: Grab Car has acquired Uber in Southeast Asia.
Due to this acquisition, the Uber app will no longer be active in the following countries: Singapore, Malaysia, Indonesia, Philippines, Thailand, Vietnam and Cambodia.
Uber has combined its operations with Grab to offer ride sharing in Thailand and across most of Southeast Asia.
This change in Thailand just means that you need to use the Grab app to hail a ride. Uber owns almost 30% of Grab,  so essentially you will still be using the same service but through a different app.
If you want a ride in Thailand:
Download the Grab app
Create an account
For new Grab riders, apply promo code GRAB4W and take your first Grab ride free
Still Need the Uber App & a FREE Ride?
The Uber app still operates in over 80 countries around the world,   countries like Australia, New Zealand, USA, UK.
And in Asia  you can use the app  in Hong Kong, India and Taiwan.
If you have any comments about the change in service and what to do next, leave them in the comments section and all be along shortly to answer those for you.
My Uber Review
Here's my Uber review for Thailand anyway. I'm sure you'll still find it useful.
It is based on my experience in Thailand,  but it pretty much applies to Uber everywhere.
It would be fair to say that most people develop a love-hate relationship with the public taxis of Thailand.
They are a blessing when you need an instant ride in the baking heat, and a curse when you get a stinky cab, with a bad driver, in a car that hasn't been MOT'd in 10 years!
It's a lottery.
Sometimes you hit the jackpot and land a new taxi with a driver who takes pride in keeping the seats clean and taking a shower once a day.
Other times you hold onto the door handle for dear life and gasp at every last minute application of the brakes, as you race toward the airport thinking you'd rather be 50,000 feet in the air for 13 hours than in this deathtrap.
The one thing about Thailand is that taxis are cheap, well at least in Bangkok anyway. They are probably among the cheapest taxis in the world.
So hey, what can you expect? You hedge your bets and try and to hail the good ones.
For the most part, the drivers are friendly and they get you there in one piece: In 10 years, I've only been in one taxi that crashed into another car.
They're not all on the scam either, as may be perceived on the islands like Samui and Phuket where the rates are extortionate compared with the big mango.
But upon the birth of my daughter back in 2014, I had to reconsider my travel options. Hospital checkups, vaccinations, mall visits, airport runs, holidays, etc.; I needed a safer option.
I'm just not comfortable taking her in public taxis.
Her mum can't strap herself in to hold onto her because rarely are there belts in the back, when she was breastfeeding there was no privacy, and the hygiene standards, driving standards and car maintenance is not up to scratch.
In short, I feel I am taking a risk riding around in public taxis with her.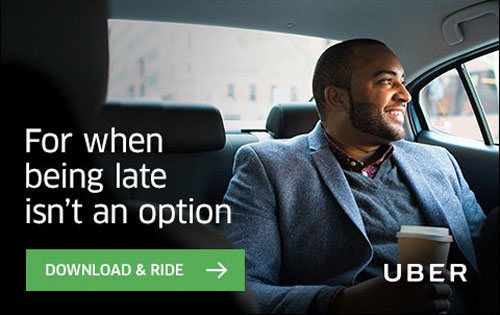 Why don't you just get a car?
I have considered it many times, but have held off getting one here because I can't bear the thought of sitting in traffic in Bangkok and getting all stressed out by reckless driving.
The MRT and BTS are super efficient here, and I am cool to take a taxi and pass the stress onto someone else when not travelling with my luuk sau (daughter in Thai).
If I had a car, it would be kept for out of town trips and emergencies rather than daily use.
Enter Uber!
The arrival of Uber in Thailand was a blessing for me, and happened just at the right time, as you can see from the screenshot below, taken not long after my daughter was born.
A little over three quid and I could go from home to the hospital in a luxury sedan.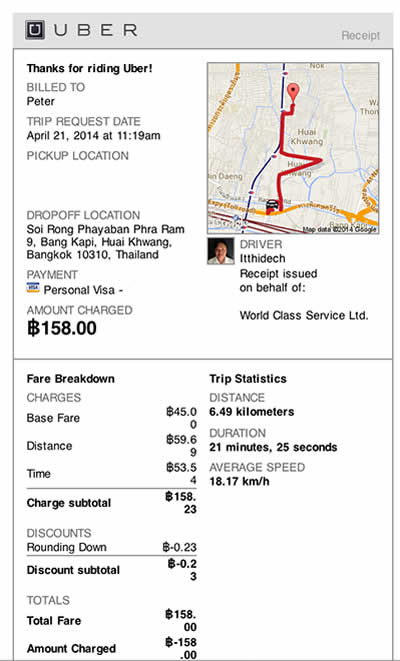 For me, Uber is the best thing since Facebook, and it's more useful. I don't have to look at people's selfies, either.
Uber Black is the premium service, and as you can see above it cost me 158 Baht to travel in a brand new Toyota Camry, with blacked out windows and a suited n' booted driver.
The car was cleaner than my mum's house (okay, maybe not that clean) and the driver actually drove like a normal driver that had passed a test.
I was skeptical using Uber at first. I thought the driver would take ages to arrive, it wouldn't be a top end car, and the price would be extortionate. But it was effortless, and I can't believe how many cars were within a couple of kilometers when I made the request in the app.
It's super-easy to get started. Here's what I did:
I downloaded the app to my iPad
I registered an account
I entered my credit card details
I did an in-app quote first (it said between 180-225 Baht)
I put in my location and desired destination
I then watched the driver (literally) driving towards my apartment on the map software inside the app.
The app even gave me a picture of the driver and his name before he arrived. What's more he called me when he was downstairs, and got out and opened the doors for me, my wife and daughter. Just like a chauffeur!
No More Fumbling Around to Pay the Driver
On this particular trip, when we finished at the hospital, I used Uber again to get home. If you're on a quick visit somewhere you often get the same driver.  I have been so impressed with the comfort and quality, paying a little less than double of a public taxi was an absolute non issue.
No walking in the baking heat to hail a cab.
No wrong turns.
No bad smells.
No dodgy brake discs or suspension.
Awesome, just awesome.
You don't even need to worry about fumbling about for change on the backseat, because the cost is billed straight to your card, and as soon as you arrive you'll receive a receipt with the exact milage travelled and how much you've been billed (by email).
Seriously, try Uber Black in Bangkok. You will be blown away by this service. It really is peanuts to pay for such luxury.
Some had predicted that Uber would take business away from local taxis, and Uber did face a temporary ban and stiff opposition. But it's still going strong.
And honestly, with an increasing amount of people moving to Bangkok and Thailand in general, I doubt the public taxis will be short of a fare. Moreover, Uber Black airport runs are charged at a standard 1,000 Baht, so no doubt most people will still take public taxis in that situation.
A number of expats I've spoken to are using their cars less and opting for Uber on short city trips instead. Why drive when you can be chauffeur driven.
In recent news, Uber has now partnered with Howa, the green taxi operator in Bangkok. So you can now book a Howa taxi through the Uber app by paying a surcharge. This enables Howa's drivers to connect with customers more efficiently using the app.
———
I'd love to know what you think of Uber. So let's share experiences in the comments box below.
Travel safely.