Breast slap therapy is becoming an increasingly popular way for women – who want to know how to get bigger boobs – to undergo natural breast enhancement.
Thailand is at the forefront of this particular innovation, though, historically, breast massage has been used to increase breast size in other Asian countries such as China.
But does boob slapping work?
How Boob Slapping Was Discovered
Self-proclaimed founder of the movement, 44-year-old Khemmikka Na Songkhla, says her grandmother once saw her massaging her breasts to make them bigger.
She told her to quit wasting her time and do it the old fashioned way, which was to slap them in a specific way.
After learning the technique and practicing for some time, her boobs grew bigger, and ever since that day she's been slapping other women's boobs and helping them achieve a bigger cup size too.
The method involves slapping the fat from nearby areas of the body into the chest, kneading excess fat towards the breasts.
Many women say that their breast size increased by up to four inches after a course of treatment.
Khemmikka, otherwise known as Khun Ying Tobnom, offers natural breast augmentation from her salon in Bangkok and, in addition to breast enlargement, she provides face slapping and bum slapping  to help plump and firm up appearance.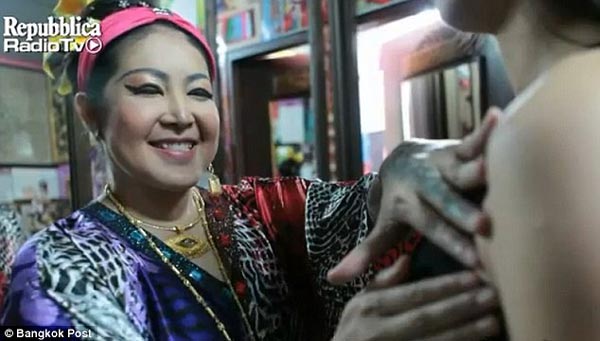 Does Breast Slap Therapy Really Work?
Khun Ying comes highly recommended, and women generally say it works. But while breast slapping is surgery-free, it is not without discomfort. Clients say the treatment is painful, but that they can handle it.
"I like it a lot," says one satisfied customer. "I came here because I don't want to have plastic surgery. This treatment gives fast results and it's safe for my body. After the treatment, I feel a little pain, but I can stand it."
It doesn't work for everyone though, admits Khun Ying:
"Sometimes we have to refuse treatment because some breasts are too small to be enlarged."
At least she is honest in that regard. And in fact, such is its popularity, the Thai government has endorsed breast slapping; paying for dozens of Thai women to undergo Khun Ying's treatment to help boost their confidence.
Thai politicians are mostly men, so it figures they'd encourage a nation of bigger breasted women.
Khun Ying does have one critic though. A patient accused the slapping treatment of giving her breast cancer, which urged the government to conduct a study on the method.
They found that aggressive breast massage does not cause cancer but does enlarge boobs. Good news.
Khun Ying's technique is a well kept family secret. However, she has agreed to teach others the practice for the staggering price of $330,000, $263,000 and $164,000, depending on the level of certification.
That's a lot of money, but it's big business and she wants to keep the family tradition a closely guarded secret.
Breast Augmentation Or Post-Slap Inflammation?
After a number of breast slapping sessions, dedicated clients have reported an increase in cup size and plumpness, but I can't help but wonder if this increase in bust size was more to do with inflammation due to consistently slapping the area.
Anyway, the therapy already has small busted women from all corners of the internet excited at the prospect of cheap boob enhancement, and who knows, breast slapping might soon be as popular as the traditional Thai massage!
Poor Thailand, as if "sexual activity" hasn't done you a huge global image disservice already, it looks like this breast slapping might add to the injury.
But seriously, if there's a chance it works then it has to be safer than implants, right?
The FDA has warned against implants and the risk of rupture and pain, and of course links to cancer. Breast slapping is also substantially cheaper, and seemingly harmless.
Here is a video of Khemmikka Na Songkhla in action at her salon.