Let me tell you straight off the bat that ThaiFriendly.com is widely considered the "hook-up" site of the Thai dating world.
If you want a serious relationship, if you want to meet a "good girl" – decent job, educated, loyal, you get my drift – jump straight to my review of ThaiCupid by clicking here.
BUT…
…If you fall into one of the following three categories, then read on, you're in for a treat:
A tourist looking for thrills with hot Thai girls on holiday
An expat based in Thailand looking for fun nights out with sexy Thai girls.
A girl looking for fun with either of the above.
Right, now we have that clarified, let's get down to the nitty gritty.
Whenever a dating service asks me for a review, I have one strict rule. I ask for premium access. I request unrestricted access to all features, so that I can share the full experience with my readers.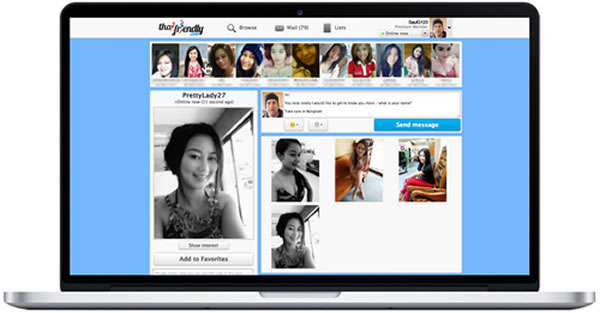 Is ThaiFriendly.com Worth Joining?
With over 524,000 members, and on average about 4,000 member online at any time, the short answer is yes.
But there are plenty of other reasons too.
For example,  there are very few dating services that allow you to start sending emails immediately for free, without upgrading.
But ThaiFriendly.com does just that. You can sign up now for free, click on a profile and begin sending messages in just a few seconds..
It's essentially a no frills platform, as you'll see from the interface.
For starters, there's none of this dating compatibility testing that takes hours to fill out, and ends up matching you with unsuitable matches, anyway.
On ThaiFriendly.com you just check out who is online and start sending messages.
The downside to this is that you will hear from all sorts of women. But hey, it's all good fun, especially when you've nothing to do of a evening.
You see, ThaiFriendly.com has more of a community vibe than other Thai dating sites. It's not so serious.
You can pretty much log on at any time and start chatting with girls, especially if you're on a paid subscription with the instant chat feature.
It's super good fun because it's really easy to get into. The site is very user-friendly – it's literally click and chat as soon as you login.
The Thai Language Feature Attracts More Thai Girls
The Thai language feature won't really concern you, but it's worth mentioning this, as the feature is key to ThaiFriendly's success, and one advantage it has over other Thai dating sites.
Basically, the platform lets Thai girls sign up in Thai, and then via translation software helps them communicate in English with foreign men.
This means you get a ton of girls on ThaiFriendly.com you wouldn't find on other sites. It also means you get plenty of women who can't communicate that well when you meet up…
…And we all know what that means! What else is there to do when you can't chat?
Smut aside, this makes for a really diverse dating community, and an awesome place to meet Thai women you wouldn't normally be able to chat to.
My Experience On ThaiFriendly.com
Firstly, let me say I was overwhelmed by the amount of girls online when I first logged on. There must have been in excess of two thousand, and at peak times this number was double that.
Once I'd waded through a few profiles, I started sending emails.  It wasn't long before I received a few basic messages and the following pictures:


Over the coming weeks I'd say 25% of the girls that I chatted with were bargirls or freelancers, 10% turned out to be ladyboys when they sent their pictures over, and 65% genuine girls up for some hanky panky, with a view to more, perhaps.
Those are pretty good statistics.
And let's face it, even if you do end up hooking up with a freelance hooker, if that's your thing, it's a whole lot easier and discreet through ThaiFriendly.com than in is trawling bars and discos.
That said, you can bypass that option and find some damn hot students and office girls looking for a fun night out.
Of course, I didn't get that far. I'm married. I'm just testing and reviewing the service – the rest, my friend, I'll leave up to you.
ThaiFriendly.com In A Nutshell
Listen, you probably won't meet the love of your life on there, but if you're single, or dare I say, doing the dirty, then ThaiFriendly.com is an adult playground not to be missed.
You will find a hook up pretty quick; it's impossible not too. So certainly grab a free membership and give it a test drive.