Smooci is a companion booking platform revolutionizing the escort industry.
Through its digital booking platform, it makes escort-client encounters easier and safer for both parties.
Furthermore, its digital, automated system allows for more spontaneous encounters, and puts client privacy at the forefront of the transaction.
In this Smooci review, I'll explain exactly how the platform works, what to expect from your experience, how much it costs, and whether or not it is worth using.
Let's get started…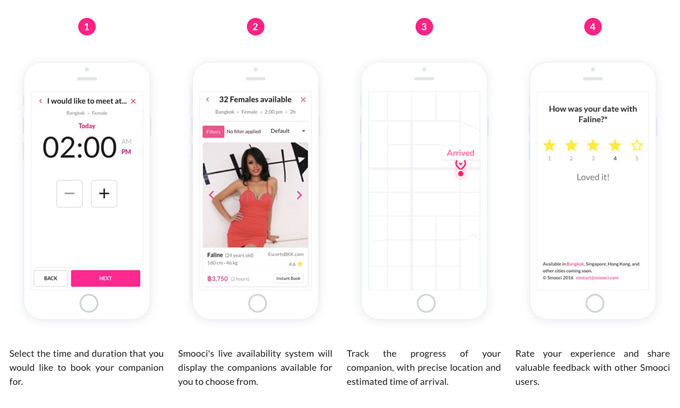 What Is Smooci?
Smooci is an escort booking platform that allows you to connect quickly with visiting companions (as it refers the service providers).
The site hosts the profiles of female and transexual workers, working independently or from trusted partner agencies.
The platform enables you to instantly book available escorts and receive immediate confirmation of who is visiting you, where they are located, and how long it will be before they arrive.
To be clear, Smooci isn't an agency, so it doesn't employ escorts (companions).
The girls keeps 100% of what they charge the client.
Smooci does not charge the girls a fee or take a commission.
The girls use the platform and Smooci makes money through client subscriptions.
Once you have booked a date, you will have an agreement with the companion you have chosen. You can then contact the escort directly to amend or cancel your booking.
Smooci is also the first ever web site to give discounts on escort bookings, and up to $15 discount on every escort booking with a premium membership.
Note that Premium memberships start at under $10, which we will look at at a bit later on under pricing.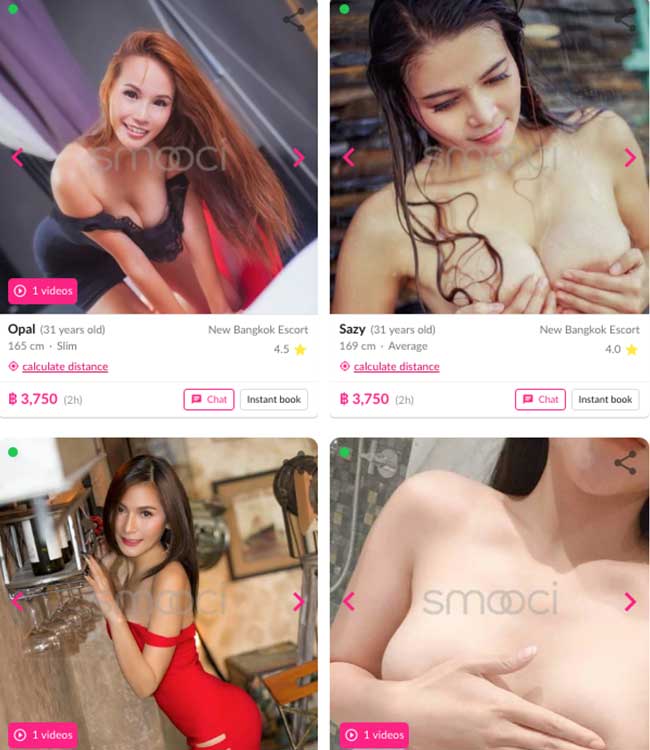 Is Smooci Safe and Discreet?
What's unique about Smooci is that it provides extra protection for the companion and the client.
It connects escorts with genuine clients, and vice versa.
It is far more discreet than picking up a girl in a bar, or off the street — which is not a good situation for either party.
The identities of the escorts are known and registered, and the client has to create an account, therefore making it a safer transaction all round.
The GPS tracking of the escort when meeting a client adds an additional layer of safety for the companion.
What Countries / Cities Does Smooci Operate In?
Smooci currently operates in the following cities.
Asia:
Bangkok
Phuket
Manila
Angeles City
Cebu
Hong Kong
Macau
Singapore
Kuala Lumpur
Tokyo
Phnom Penh
Europe
Berlin
Amsterdam
Rotterdam
The Hague
Barcelona
Ibiza
Malaga
Marbella
London
Liverpool
Manchester
Leeds
Do double check in the city selector filter, though, as more cities are being added as the service expands.
How Do You Book an Escort?
Smooci uses an API that connects to all the escorts. This enables the system to know who is available.
You can search in real time for escorts who are available for immediate bookings and bookings up to 24 hours in advance.
You can also search offline escorts and set alerts, notifying you when an escort is next available to book.
Most importantly, you can view user ratings and reviews to get verified information on the services offered by each companion.
Let's look at the process for booking an escort in Bangkok, since that's where I am located and this is a website about Thailand.
Booking Process
It's as simple as going to the website and doing the following:
Click on request a date at the top of the page.
Select whether you want female or ladyboy.
Select when you want your date (date).
Select the time and for how long for.
You will then see a list of companions who are online and available for your selected time.
You have the choice to filter by specific services, if you want to.
Bookings are placed and confirmed using SMS OTP verification, so have your phone to hand.
The same process applies to any of the aforementioned cities.
+ See all the available profiles here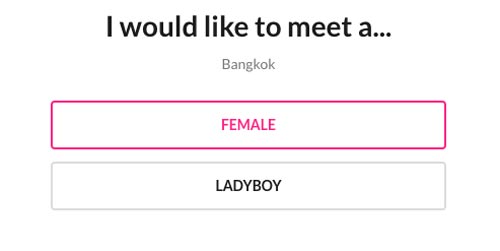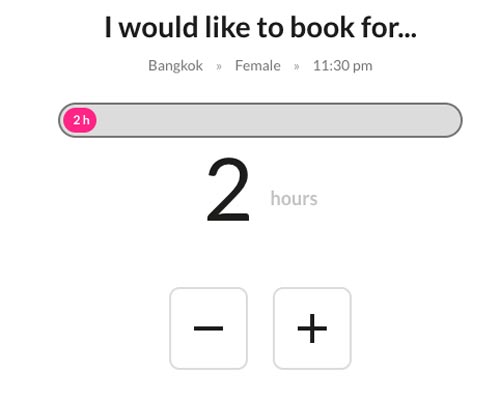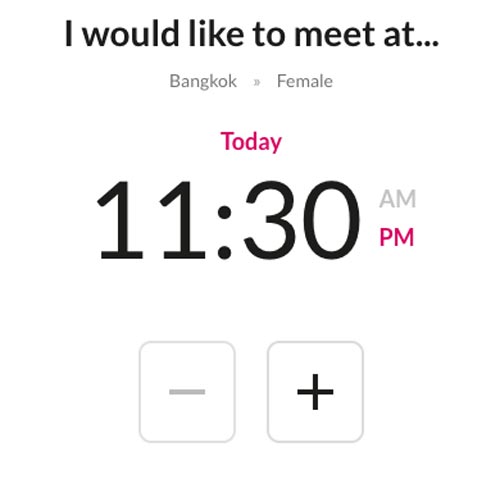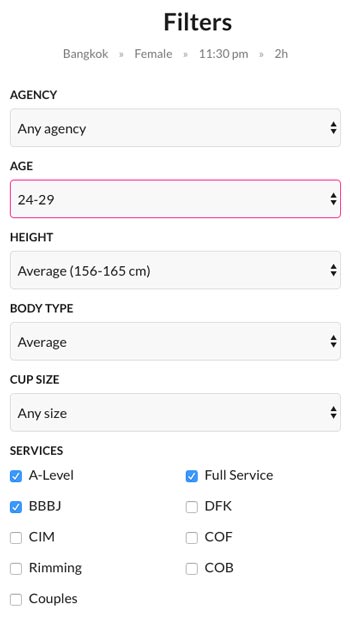 + See girls profiles on Smooci now
Standard vs. Premium Membership
Standard membership allows you to use the platform, which is cool because you can go right through the booking process to get a feel of how it all works before making a commitment.
But Premium Membership is preferable, and very affordable too.
It offers a host of benefits that I can't see you'd want to do without.
Here's a run-down of those benefits:
1. Access User Reviews
When it comes to using online services, reviews are key to making a decision.
While standard members can see an escort's overall rating, they can't read specific reviews.
Premium members can read the comments made by past clients.
What's more, reviews are not edited, so you see the good and the bad.
Believe me, some reviews are quite harsh!
2. Location Tracking
This feature enables you to see the estimated arrival time of your date. You can track her journey all the way to your door, giving you time to make sure you have your cologne on.
You'll be sent a live GPS tracking link the moment your companion starts her journey to meet you.
3. Access Photo Verification
Let's face it, dating sites are notorious for Photoshopping.
The escort business is no exception, as agencies and independents want to display professionally edited photos, which can often be a misleading representation of how the person looks in real life.
Premium Smooci members get the benefit of photo verification.
Once your meet-up has taken place, you can vote on whether your companion's photos were accurate or not.
Photos which receive a high number of 'no' votes are deemed inaccurate and automatically removed, while photos which receive a high number of 'yes' votes receive the verification seal –  only visible to Premium members.
4. Book 24-Hours in Advance
Standard membership allows you to book up to 4 hours in advance, with booking durations ranging from 2 -24 hours.
If you go Premium, you can get bookings confirmed up to 24 hours in advance.
This is super-helpful if you are flying in on business or for a long weekend and want to make an arrangement beforehand.
5. Book for as Little as an Hour
Sometimes you might just want company for a very short time. Premium members have the option of booking for a just 1-hour.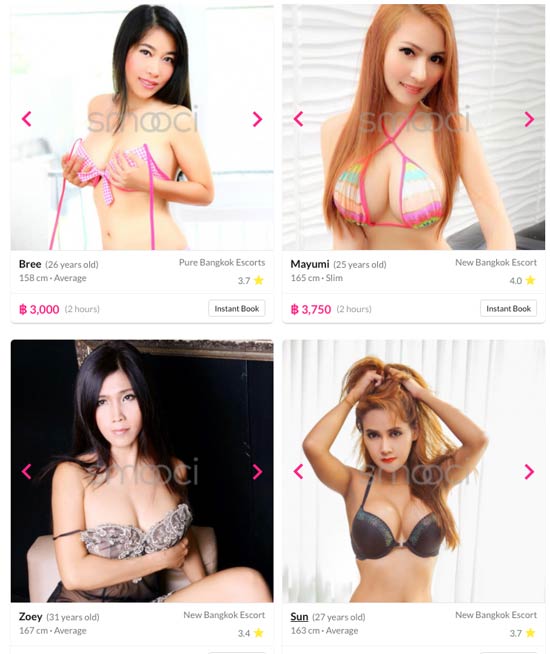 Smooci Pricing: Premium Membership
I think the pricing is very fair when you consider the associated benefits. As you'd expect, the longer your membership the more cost-effective it is:
3 days: $9.99
7 days: $14.99
30 days: $24.99
1-year: $99.99
Discounts
As mentioned previously, there is a discount in place for premium members.
The discount system works as follows:
Premium clients get an automatic discount on every booking.
In Bangkok that equates to the following:
100 Baht off 1-3 hours
200 Baht off 4-8 hours
300 Baht off 10-15 hours
400 baht of 24-hour bookings.
Smooci Profile Pictures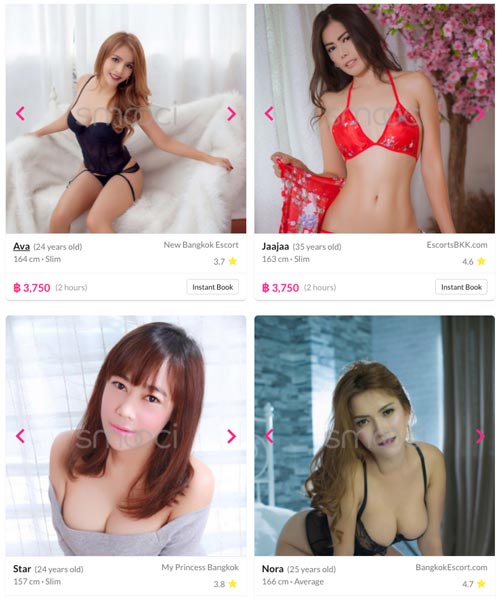 My Final Thoughts
Smooci bridges an important gap in the industry between client and companion. It is not an agency, it's a technology that connects clients and companions in the safest way possible.
I think most would agree that women working in this industry should be made to feel safer. On the client side, there is a need to protect against theft, which tends to happen in encounters where women are picked up in and around redlight areas.
Smooci keeps you updated throughout the process via SMS updates, your private booking screen and GPS tracking of  your companion.
Smooci offers a level of trust, privacy, and control that was, up until now, unavailable to clients of the escort industry.
On the companion side, Smooci enables escorts to work with more autonomy and efficiency, controlling their time and earnings with a new level of freedom and safety – no pimps, no "mamas or sisters" controlling them in bars, and no dangerous street corners.
I see Smooci as a positive move towards a safer, more discreet system for personal liaisons. It has been a long time coming.