What is Revolut?
Revolut is essentially a digital bank. It has no high street branches and everything is managed via an app.
Revolut offers a multi-currency prepaid card, which allows you to pre-load money and shop anywhere in the world.
You can hold balances in different currencies and, as you spend, Revolut converts money from your Revolut account to the local currency you're spending in.
Family and friends can also send money to your Revolut account, and you can send money to others and pay for bills and services.
Why is Revolut useful for traveling?
The card is prepaid, so you can top up your card before you travel and reduce the need to carry cash.
It's good for those who are working to a budget as they travel, because you can monitor how much you spend via the app and try to stick to the amount that you have prepaid.
The Revolut app provides automatic classification of expenses in categories such as cash, travel, and services,  so you can see exactly where your money is being spent.
Any money left over after you have finished traveling can be transferred back to your primary bank account.
This is also a good backup card to use in emergencies and when you're out of cash.
Are the exchange rates good?
The Revolut exchange rates are better than exchange bureaus because Revolut uses the Interbank rate.
The interbank exchange rate is the rate at which banks transfer money between themselves. In other words, when Bank A exchanges money with Bank B, they do so at a rate not normally accessible to us normal folk (1).
The app also shows the current exchange rates between different currency pairs – so you can make a decision before you spend. This enables you to calculate in real-time how much something will cost in your original currency.
Does Revolut give you free ATM withdrawals?
You can withdraw up to £200 / Euros per month (free), and you are charged 2% thereafter.
Note that when using an ATM, you should choose the "without conversion" option. This will allow Revolut to handle the conversion and you'll get a much better rate.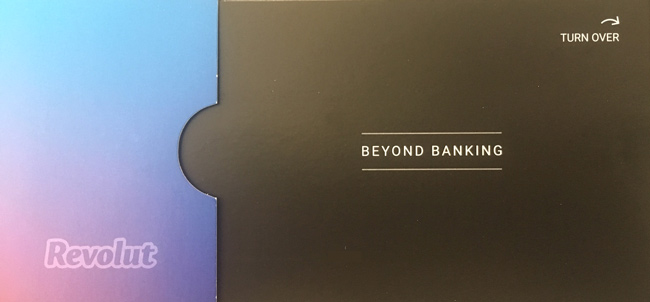 Can I withdraw from ATMs in Thailand – free?
I very much doubt there is an ATM in Thailand that does free withdrawals anymore. The majority of ATMs will charge a local fee.
But that doesn't mean the Revolut card isn't free, it's just that you will have to suck up the local charge, usually 150-200 Baht.
Can I use Revolut to pay in hotels, restaurants & shops?
Yes. Expats and travelers all over Thailand are using Revolut. It can be used anywhere that accepts Visa and Mastercard.
Note that shops in Thailand will ask you to charge your card in your home currency (EUR, USD, GBP, etc). Say no and have them charge you in Thai Baht. Doing so will avoid a 3%, or possibly more, surcharge.
Let Revolut do the conversion and you'll get a good exchange rate.
Can I shop online with Revolut?
Aside from the the physical card, you can have a Revolut virtual card. You can get this free of charge.
This card lives inside your app and you can use it for online shopping.
The process for ordering a virtual card is the same as ordering a physical card. You simply go to the 'Cards' section in the app, select 'Virtual' and choose a virtual card.
The card will instantly appear in your app.
What are the fees?
Withdrawals:
Free withdrawals up to £200 per month, then a fee of 2% for all withdrawals above this.
Send Money:
Transfers to other Revolut users: Free
Turbo Transfers (half the time): £5
Payments to accounts outside Revolut: The app lets you know if a fee will apply prior to the transfer.
Exchange Money: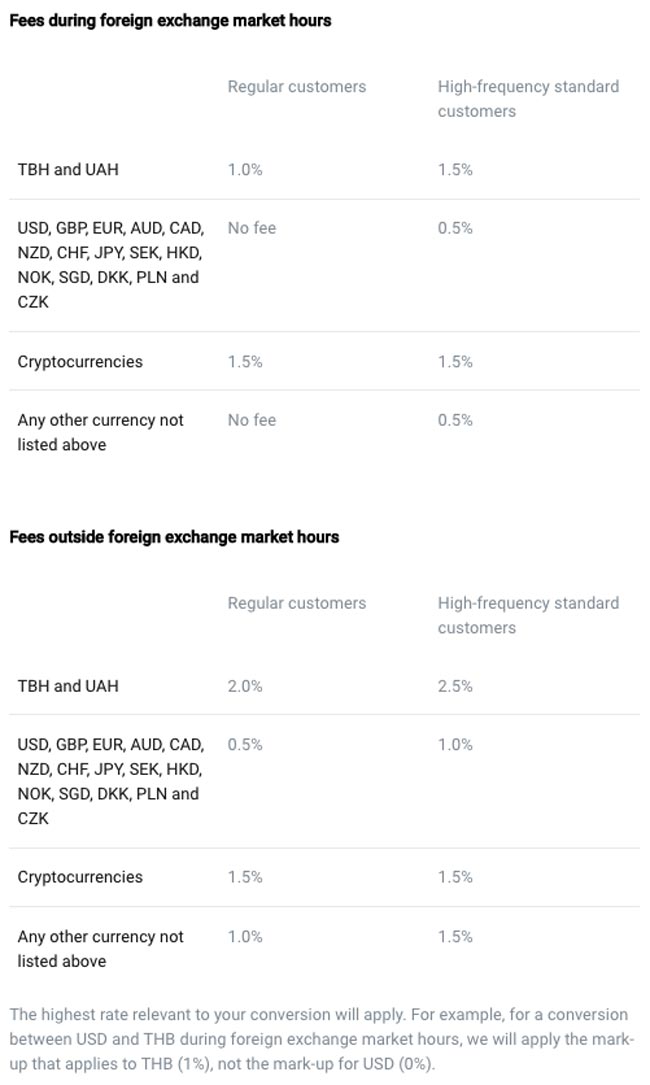 Different fees apply for high-frequency standard customers. A high-frequency standard customer is someone who:
is a standard customer (not a premium or metal user); and
has exchanged £5,000 (or the equivalent in a different currency) in any rolling month.
Who is eligible for a Revolut card?
At present Revolut supports legal residents in the European Economic Area (EEA), Switzerland, and Australia. The EEA includes:
Austria, Belgium, Bulgaria, Croatia, Republic of Cyprus, Czech Republic, Denmark, Estonia, Finland, France, Germany, Greece, Hungary, Iceland, Ireland, Italy, Latvia, Liechtenstein, Lithuania, Luxembourg, Malta, Netherlands, Norway, Poland, Portugal, Romania, Slovakia, Slovenia, Spain, Sweden, and the United Kingdom.
If you're from the US, you can join the waitlist and get a card very soon. Click here to do that.
How do I get my card?
There is a postage fee of £4.99.
How do I use the card?
Once you get your card, simply follow these steps:
Top up your Revolut card via the app before starting your journey
Use your card as you would any other card
Withdraw from local ATMS if you need to
Top up your card via the app if you need to (it's linked to a bank account of your choice
When your trip ends, send the remaining money back to your bank account via the Revolut app.
The short video below walks you through the app.
How secure is Revolut?
In many ways it feels more secure than regular banking, simply because you are checking the app on a regular basis to see your transactions and what you have spent.
You have the ability to freeze and unfreeze your card, so if you want to stop spending on your card, or you spot a suspicious transaction, you can simply freeze the card via the app.
The app uses location-based security. So if you're spending money on your card in Thailand, and then the next day your account is used in Russia,  you will be alerted of the fact.
There's also a chatbot built into the app that is able to answer the majority of questions regarding your account and card.
Other Revolut Card Services
Revolut Premium
Revolut also has a premium card for those who want to take advantage of extra benefits. It costs £6.99/month and gives you the following extra benefits:
3 exclusive card styles for you to choose from: silver, black rose and rose gold
Unlimited foreign exchange (no extra fees for foreign purchases, etc)
Double ATM withdraws abroad (no fees up to €/£400)
Revolut Metal
If you're a high flyer, baller, whatever, you can opt for a Revolut Metal card, which costs £12.99/month.
It has all the Revolut Premium benefits, plus:
A fancy metal card
Triple ATM withdraws abroad (no fees up to €/£600)
Up to 0.1% cashback within Europe and up to 1% outside Europe on all card payments.
Free concierge assistance for all your hotel reservations and flight bookings
Exclusive events and more.
Wait, What About Transferwise… Is Revolut Better?
Transferwise has a Borderless account service that comes with a MasterCard, just like Revolut. The two services are fairly similar but there are key differences, as follows:
The Transferwise Borderless Account is available in more countries than Revolut.
TransferWise offers better rates, which don't change depending on foreign market exchange hours.
Revolut has a wider range of products, with support for Cryptocurrency and insurance products.
For me the two have a different feel to them. I use Transferwise Borderless to receive money in different currencies and manage those currencies between my bank accounts.
I use Revolut for traveling as a prepaid backup card, and as a card I can give to my wife if she doesn't have hers, knowing that she can only max out to the limit I have prepaid on the card – haha!
Of course I could do the same with Transferwise, but I treat Revolut more as a pay-as-you go type thing.
Revlout is a good option for parents with a gap-year child traveling around the world. You can give your son or daughter a budget to work to, and then when they need more money they can contact you and you can top the account up for them.
Revolut Pros & Cons Summary
Pros:
Revolut is pretty cool and offers the convenience of not having to carry large amounts of cash in a foreign currency.
Free ATM withdrawals up to £200/Euros per month.
Get the Interbank exchange rate and save money on the usual foreign currency conversion fees.
Spend and withdraw money abroad in more than 150 currencies.
1-2 day bank to bank money transfers – quicker with Turbo (incurs a fee).
Use the app to monitor your expenses, manage your card, and do currency conversions.
Cons:
Identity verification:  It took me a good few goes to scan my driving license and get it accepted. I was then asked to take a selfie, which I absolutely hate because I have to look at myself in the camera for more than a few seconds. I then received a message saying the verification had failed, and had to do it all over again. But hey, this is the digital age and the security is necessary.
In Thailand, Revolut adds an additional 1% markup (making it 2% in total) on the weekend when the market is closed. They say they do this because the Baht is an "illiquid" currency – one that lacks market depth and trades at low volumes. This makes such currencies riskier to trade. I don't buy this reason, though, because Transferwise doesn't do this. So I don't use it Revolut the weekend, period.
It's cool though, and getting a card is super easy.
—
Still have a question about using Revolut in Thailand? Drop it below.