Top-Level Overview
Straight off the bat I'll tell you that Mondly is fun. I recently reviewed Glossika, and while Mondly is not wholly dissimilar, I found it far more interactive and engaging.
The lessons offer elements of gamification, and part of its appeal is that, like a game, it is very easy to dip in and out of.
You can learn a couple of words while you're on a break, go back to what you were doing and then come back later and jump straight in where you left off. It's all very simple.
Mondly uses images to accompany words and phrases, too, which I personally think adds a necessary dimension to the learning. I for one am quite visual and this certainly aids my learning process.
In addition, there is the option of using voice recognition (activate your microphone) when conversing with the chatbot feature; something that is particularly useful for practising pronunciation.
To be blunt, though, despite the fact that you can opt to learn a single language or multiple languages, my personal opinion is that Mondly is best suited to those who think they may want to learn more than one language, either now or in the future.
Either that or for those who want to learn a number of words and basic phrases very quickly for the purposes of travel, conversing with business clients, or chatting with foreign friends/partners, etc.
For example: let's say you're going to Spain in two months time and you'd like to be able to use basic greetings and order food, or perhaps you have started dating someone from another country and you want to make an effort to communicate a tad in their native tongue; this is something that you would be able to achieve using Mondly.
I don't think this is a complete platform for obtaining fluency in one language. If that is your aim then you might be better off choosing a language platform that is comprehensively immersive in one language.
If that one language is Thai, which is the language I am interested in, then I recommend Thaipod101. Click here for my review on that program.
That being said, I personally found Mondly a really good refresher for my Thai. It was a good test for me to start from the basic level and work my way up to see just how well I tested against the computer.
I enjoyed the game-like challenge of it. It is a tool I will use in addition to others.
A free Mondly membership gives you access to any of the 33 languages, at different levels of learning – beginner, intermediate and advanced. When you go premium, you can choose to learn one language or have access to all the languages.
It's cross platform too, so you can learn on your desktop or laptop, or via the Android or iOS app.
If you're interested in learning one or more of their 33 languages, then you should definitely try out the free version, even if just for kicks and giggles.
> Click here to play with Mondly
If you want to delve deeper into the functionality of this platform and hear about my personal experience, then feel free to read on through my extensive review.
Getting Started
You don't have to sign up for an account to start learning, although it is recommended for data saving purposes.
This is something I really digged. It can be annoying when you just want to quickly try something out yet have to go through the whole registration process. You know the process: you have to wait for an email to arrive in your inbox, and then activate the link in that email.
All you have to do once you're on the website is select your native language, and then one you want to learn, as well as your current level.
Click 'Start Tutorial' and you're all set for your first lesson.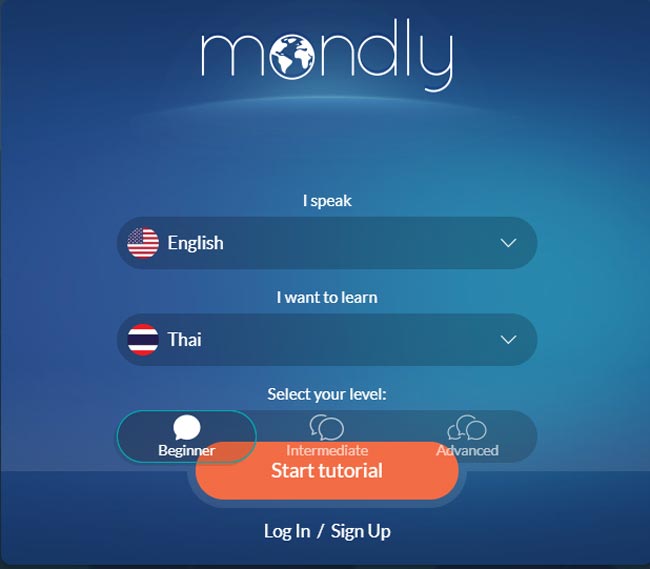 A tutorial — a common restaurant scene and dialog between people — is what shows on the next screen.
I must say, the voiceover is very authentic, clear and precise. It's obvious that the company has invested well in good voiceover persons to execute the dialogue; a sure sign of quality.
Click 'Continue' to jump to a sample lesson of the vocabulary you used in the restaurant dialog. That's pretty much how it works. Have a conversation, remember stuff, then take lessons.
Once done with the tutorial, you will be directed to the 'home page', where you can see the different categories offered to users.
There are about 40 categories, each with approximately 8 lessons, which I'll elaborate on in the next section.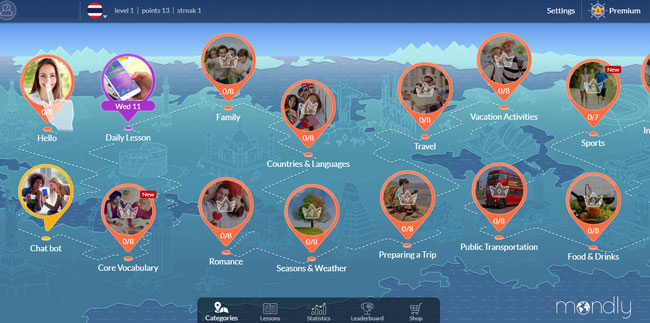 It's worth noting that at present only 3 categories are offered to users on a Free account. The remaining are exclusively for learners with a Premium account.
If you want to upgrade to Premium anytime in your learning journey, just click on any of the locked categories, the 'Shop' button at the bottom part of the page, or the 'Premium' button at the top right corner of the screen, and a prompt will appear.
Free users can still learn more than one language. Just click 'Settings', then 'Select Your Language' to add it to your dashboard, as seen below.
If you have two or several languages on your tab, just click on the language you want to learn in the given session, then click 'Save' to start your lessons.
Lesson Categories
As mentioned, there are over 40 categories, each containing numerous lessons. The first three categories — Hello, Chatbot, and Daily Lesson — are offered free. The other categories are locked and only Premium users can access them.
Below are the lesson categories for each language in Mondly:
– Hello
Words, phrases and sentences used as greetings and for starting a conversation.
– Chatbot
You'll chat with a chatbot portraying common scenarios in different settings, such as a restaurant and hotel. You'll be presented with replies you can say, and you have the option to use the keyboard for typing, or your mic if you prefer speaking.
– Core Vocabulary
This section presents the most commonly used words, phrases and sentences: those you are likely to use often.
– Daily Lesson
Mondly gives you daily lessons taken from previously taken lessons to further enhance and test retention.
– Family
Words for, and phrases and sentences relating to, family members and relatives
– Countries and Languages
Words for, and phrases and sentences relating to, different countries and their languages.
– Romance
Words for, and phrases and sentences relating to, romantic relationships such as endearments and affectionate adjectives.
– Seasons and Weather
Words for, and phrases and sentences relating to, seasons, weather, atmosphere and nature.
– Preparing a Trip
Words for, and phrases and sentences relating to, trip preparation, public transportation and essentials like tickets and reservations.
– Travel
Words for, and phrases and sentences relating to, travel such as hotels, airport, public transportation and sightseeing spots.
– Vacation Activities
Words for, and phrases and sentences relating to, the different types of activities common during vacation, sightseeing and popular places
– Public Transportation
Words for, and phrases and sentences relating to, different public transportation and getting around.
– Food and Drinks
Words for, and phrases and sentences relating to, different types of food and drinks, and ordering.
– School
Words for, and phrases and sentences relating to, school activities, supplies and facilities.
– Sports
Words for, and phrases and sentences relating to, different types of sports.
– Introductions
Words, phrases and sentences relating to introducing yourself and getting to know other people.
– Pets
Words for, and phrases and sentences relating to, pets and caring for them
– Entertainment
Words for, and phrases and sentences relating to, entertainment such as movie genres and music.
– Shopping
Words for, and phrases and sentences relating to, shopping, money and transportation.
– Around the House
Words for, and phrases and sentences relating to, house supplies, parts and facilities.
– Grammar 1, 2, and 3
These categories are dedicated to showing you how words are used (e.g. as verb or noun) in a certain language.
– Airport 1 and 2
Words, phrases and sentences relating to getting to and from the airport and using transportation/facilities.
– Hotel: Reservation
Words, phrases and sentences relating to making accommodation reservations.
– Hotel: In the Room
Words for, and phrases and sentences relating to, accommodation, baggage and supplies and facilities.
– Restaurant 1, 2, 3, and 4
Words, phrases and sentences relating to finding restaurants, restaurant etiquette, food and eating.
– City Tour
Words, phrases and sentences relating to traveling around the city.
– Bank
Words for, and phrases and sentences relating to, banks, bank activities and bank personnel.
– Business
Words for, and phrases and sentences relating to, business: like making an appointment and meeting people
– Fun
Words for, and phrases and sentences relating to, fun activities such as concerts, movies and nightclubs
– Help
Words for, and phrases and sentences relating to, places like supermarkets, banks and airports, and stuff we usually need help for such as money, tickets and trains.
– Doctor
Words, phrases and sentences relating to being ill, and other healthcare-related topics.
– Emergencies
Words for, and phrases and sentences relating to, different emergency situations.
– Animals
Words for, and phrases and sentences relating to, different types of animals and their names.
– Fruits and Food
Words for, and phrases and sentences relating to meals of the day, different types of food and names of fruits.
– Colors and Numbers
Words for, and phrases and sentences relating to, numbers and colors.
– Parts of the Body
Words for, and phrases and sentences relating to, common body parts. Also includes lessons related to clothes and accessories.
> Click here to learn your first language (it's free)
If you like it…
> Click here to get a huge discount
How Categories Work
Each category provides 6 to 8 core lessons, which include questions about words, phrases and sentences in the given language.
Questions are answered in various ways, depending on the type, but the most common is the swipe-up-and-down function. I enjoy this style because it makes me feel like I'm playing rather than studying.
If you answer the questions correctly, the stars detailed at the top of the lesson box remains on 3. A star may disappear if you get a certain number of wrong answers.
Here is a sample of the types of questions presented in a given category: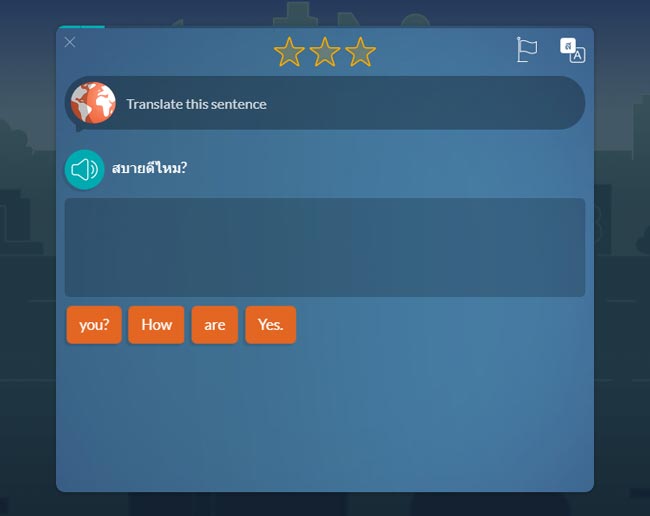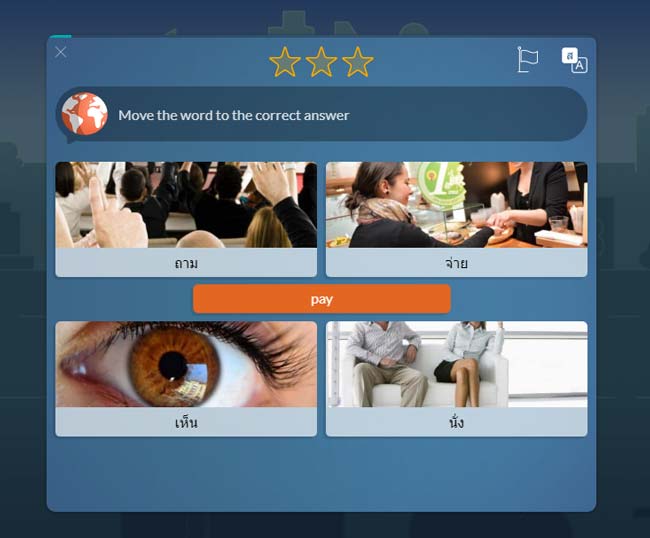 Considering the example above, even if you don't know the Thai alphabet, the images will help you remember what the word looks like. Of course, going forward you will have to learn the Thai alphabet, if you want to learn Thai, but this visual recall technique will definitely help you remember words.
Conversation and Vocabulary Sessions
Aside from the core lessons, each category also has 'Conversation' and 'Vocabulary' sessions, unless otherwise presented.
The 'Conversation' sessions are the most interactive type of lesson offered by Mondly (at least for me).
Basically, it's a dialog between you and the chatbot. The interaction revolves around day-to-day scenarios and is really helpful for enhancing your speaking skills in the a native way.
The vocabulary sessions can get a little boring, what with all the repetition, but by taking breaks and using short bursts of study time, you can break up this repetition.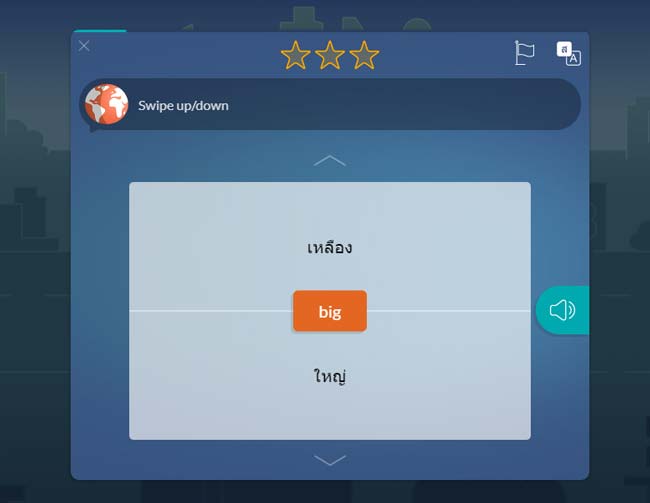 Free vs. Premium Membership
Although Free users can access the website and start lessons right away, even without signing up, the favor, of course, comes with restrictions.
The Premium membership, on the other hand, has plenty more to offer, as featured in the table below.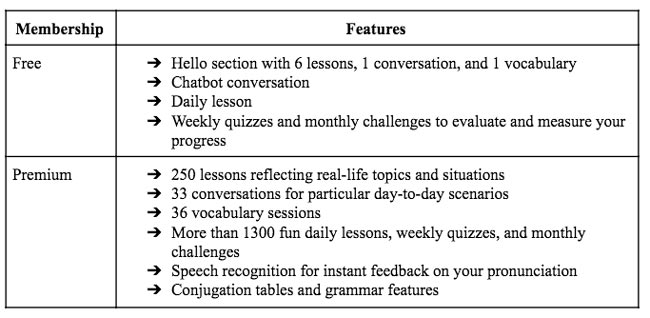 > Start here with a FREE membership
Statistics
The Statistics section, which can be found at the bottom part of the Home page along with Categories, Lessons, Leaderboard, and Shop, shows several details referring to your progress.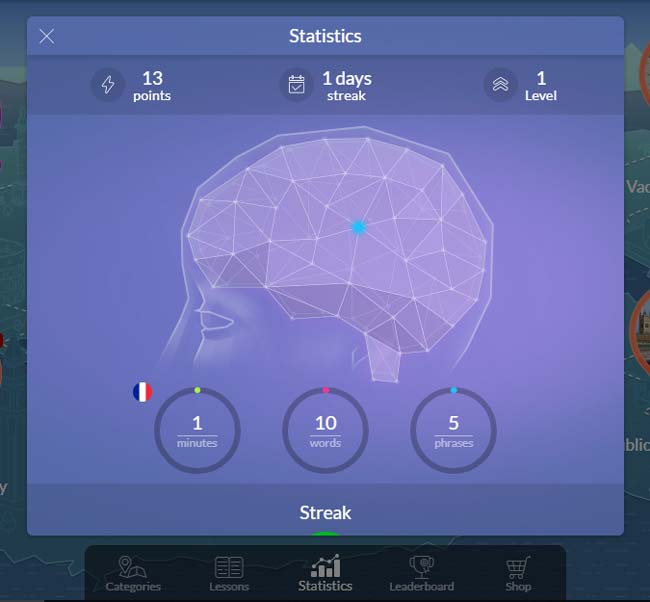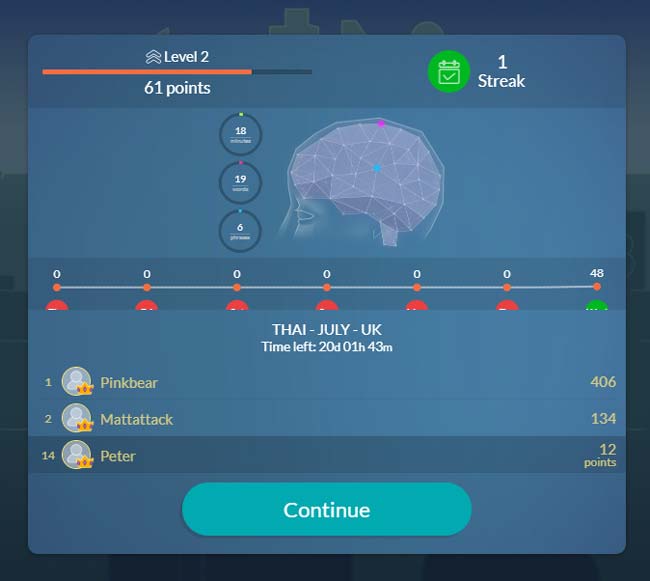 Here are the details you will see under Statistics:
Points: This  shows how many points you've accumulated since day and lesson 1.
Streak: This pertains to the number of days you have taken lessons for.
Level: This is your level of learning based on the lessons you've taken and your score. You start at 1 and work to a higher level as you progress with the lessons.
Brain: One of the coolest features of Mondly, the image of the brain in this section holds neural connections that relate to your lessons. Tap or click on the connections to review content. Below the brain, you can also find the number of words and phrases you have learned, and the time you rendered for learning.
Daily Progress Chart: As it implies, this shows your progress in the form of a chart, so you can easily see your daily scores and how much you've improved. You can see this at the bottom part of the box.
Leaderboard
The leaderboard is where you can see your ranking among other learners of the language. It also ranks countries based on the points of all learners, by month or all-time, and ranks the learners based on Streak.
There are 3 units under the tab Points:
Friends: Mondly believes that learning is more fun when shared. And I believe so, too! You can increase your learning motivation by competing with your best friend, sister, brother or anyone else who wants to learn the language. This is a cool feature, particularly if you are going travelling with one or more friends.
Country: Here you'll find your ranking among other learners (in your country) of the same language.
Global: In this unit, you can see how high or low your rank is compared to other learners of the language in Mondly, worldwide.
Mondly: the Pros & Cons
Pros
Great Graphics & Animation
Unlike similar polyglot-driven language learning online tools, Mondly has gone a step further by using useful graphics and animation, which create a game-like dynamic.
In most of the core lessons, the visual representation of the word being taught is presented, which adds fun to the learning process. It's a very good thing for visual learners like me!
Supports Various Languages
Mondly supports not just the most common languages such as Chinese, German, and French, but even the not-so-familiar yet equally interesting ones like Croatian and Farsi.
Transliteration & Voice Over
Mondly gives you the option to toggle between the transliteration and the Thai script (or any language you choose).
What I think is quite good about the programme is the transliterations very much match up with what the speaker says, so it is easy to recognize the word on the screen. This and the visual representation mentioned earlier ultimately make it easy to remember the words.
Speaking with a Native
The biggest downside to learning a language using a language learning platform is not having a native speaker to practice with. Mondly doesn't quite give you that, but what it does give you is a level of interaction with a native speaker (chatbot) are via small conversations.
At times you picture yourself as if you are in that restaurant or café and answering the questions being asked. In that respect, it has a kind of virtual reality aspect to it.
Free Membership
Mondly offers free lessons to everyone. Although this comes with restrictions, it can be a help to those who want to have some fun and learn a few "holiday words". Plus, this Free membership never expires.
Cons
Repetition
This is the key restriction of a language learning platform that gives you access to multiple languages, and includes so many languages –  33 in this case.
The system is designed with a template that is replicated across the other languages.
Unlike a platform that is designed for one specific language, where the features are built around that specific language, pertaining to any specific needs a learner might have due to the individual characteristics of that language,  the system is fairly basic in its approach and therefore can quickly get repetitive.
That being said, I personally feel that this kind of system isn't aimed at those who want to sit down and study for an hour or more in one go.
When using Mondly, I find myself doing a maximum of say 15 minutes and then going off to do something else. I will come back at another time and do another 15 minutes or so.
In short, I feel like it's a dip in and out system, with purposeful repetition that will help you speak an impressive number of words and phrases in a short amount of time.
It should probably be noted that the way younger people study now is most likely quite different from how I was taught to study.
With all due respect, I think attention spans are shorter; perhaps due to the way in which media is consumed, and because of so many fun distractions in life that pull the mind in all manner of directions, all day, every day.
So it would make sense to me that the designers of such a language learning platform would bear in mind the way in which consumers digest information, and therefore make the system very easy to pick up where you left off and dip in and out when you need to.
Requires Additional Learning (preferable)
Depending on the language, you may require additional learning tools. Certainly with Thai,  which I am learning, you need to have an understanding of the Thai alphabet to read the words.
It is possible to memorise what the words look like, and Mondly does makes this possible with the accompaniment of imagery. However, to become competent in the language you will need to learn the individual consonants and vowels. This isn't a problem with languages that use a Romanised alphabet.
I think if you are going for  a long-term learning plan that  lead you towards fluency, you would use Mondly in addition to other learning tools.
But I must say, as I mentioned at the beginning of the post,  Mondly is a great platform to test yourself on if you have been learning a language elsewhere – that is what I am using it for at the moment.
Paid Membership
For you to take advantage of the full features of the platform, you'll need to shell out real money. If you don't have any intention to pay a dime and are simply looking for free lessons, you can use the free features until your heart's content.
I don't think it's expensive, at least not if you go for the 12 month option. Like most tiered payment options these days, you get a considerable discount for locking in for six or 12 months.
It is a very well executed learning platform, and if you are a beginner getting started from scratch I think you'll find it extremely useful. It will certainly advance your learning very quickly.
People often say to me, "I tried learning Thai but it's so difficult". And I always say the same thing: start with one word a day. Once you master that, you will easily be able to step up to 2 words a day. Two words a day over one year is 730 words. That is a lot of words in any language, and will enable you to develop good conversational skills.
Mondly would be a good tool to help you manage a process like that.
At the time of writing they had a deal on too, which  gives you all 33 languages for £4 a month (paid yearly).
Mondly, In Summary
For this type of quick-fire, somewhat gamified learning, Mondly is certainly a leader in its class.
I think it is very easy to get started, and to get used to the functionality. In general, I think the design elements are very appealing and as such make the platform that much more engaging –  hats off to the design team.
I would recommend Mondly to anyone who wants to jump straight in and start learning words and phrases for travel purposes, study purposes, working abroad or migrating to another country with a language different from yours.
It is built in such a way that you can literally load the page and get going.
It is also a great platform for polyglots to learn additional languages, and to test themselves on languages they have a grasp of already.
If you are a visual learner with a low attention span (I mean that in the nicest possible way), then Mondly is a good option too. It's ideal for short bursts of learning, as it is fairly repetitive and has a very simple app-like approach to delivery.
Is it a comprehensive single language learning platform, I wouldn't say so, not if you compare it to Thaipod101, for example, where the range of learning tools is vast. However, in context, Mondly does what it intends to do very well.
If you are learning Thai, Mandarin, Japanese or any language with non-Romanised alphabet, then you will probably want to use Mondly as a secondary learning tool; something as an alternative to your main learning platform and/or your alphabet learning to mix things up a bit and have a bit of fun.
Then, if you like it…
> Click here to get a huge discount