LoveTefl has now merged with i-to-i Tefl, bringing together two of the biggest and most popular Tefl providers.
When my cousin announced to his mum that he wanted to head for Thailand and teach English she had a fit.
She worried that he wouldn't get a job and end up in all sorts of trouble.
Of course, being the responsible cousin that lives in Thailand, I was armed with the task of finding a reputable course that would give him the best grounding for opportunity and success.
Since being in Thailand I have met a lot of teachers, and I have a couple of close friends who have taught in various countries, one of whom is currently making good money in Vietnam after having started out in Chiang Mai, Thailand.
In the last few years, TEFL courses in Thailand have become more popular, which has plugged a gap in the market for those who travel first and then decide they want to stay and teach.
One big selling point is that by learning to teach here, foreign nationals have the opportunity to mix and practice with native people during their training, and of course enjoy a holiday too.
Whether online or abroad, teaching English as a foreign language is accessible to everyone these days.
Moreover, not being able to find a job once you have the TEFL is a thing of the past, as demand for teachers in countries like Thailand is soaring each year.
The teaching abroad lifestyle is becoming more popular and better paid job openings are increasing, but not every TEFL company was created equally, so to speak.
It's massively important that you find a TEFL agency that can guarantee you a recognized qualification and a job after completing your course.
After a asking a few teacher friends, I was pointed in the direction of LoveTefl/i-to-i. My cousin ended up signing up for their online course, and he is now enrolled in their free job support program. Here's why we decided to go with this company over others.
Studying a LoveTefl/i-to-i Online Course
For those who want to get the TEFL  quickly, like my cousin did,  there is a 120 hour online course that can be accessed on mobile and desktop computers.
In past times online TEFLs have gotten a bad rap for not being supportive enough, but LoveTefl/i-to-i provides you with feedback from a personal tutor throughout the course, which, by the way, can be studied at your own pace.
You can also be based anywhere in the world, which means if you're already traveling or living outside of the UK you can still sign up.
Paid Internships That Provide Cultural & Teaching Experience
If you would like to combine travel with your study then you should take a look at the LoveTefl/i-to-i internship packages. I'd certainly consider one if I was in my early twenties again :).
This option is a world apart from simply moving to Thailand and studying a TEFL at a language school in Bangkok.
This is a properly organised internship with an itinerary designed to give you full cultural immersion. They also provide these for China and Vietnam too.
For example, the China internship provides you with 4.5 months teaching experience, coupled with sessions on Chinese culture, teaching techniques, the chance to socialise with other teachers, explore Beijing for two weeks and learn the basics of Mandarin.
You also receive an allowance each month (approx £200) and a payment of £250 on completion of the TEFL course. Food and accommodation is provided,  as is airport pick up and transfer.
Getting paid to do the course is pretty damn cool. You'll get a Tefl course, a placement with a reputable school, free accommodation and a healthy monthly living allowance.
The Thailand internship is shorter at 8-weeks long. You develop your teaching skills whilst experiencing some of Thailand's most beautiful locations, including the ancient capital city of Ayutthaya, Kanchanaburi and the gorgeous island of Koh Samet (on the beach, baby!)
I can personally vouch for these places all being worth a visit, and at £895 for the entire trip (excludes flight) this is great value.
These packages offer a complete adventure whereby you get the chance to meet other like-minded individuals, which I think is preferable to  sitting in a boring language school for a month.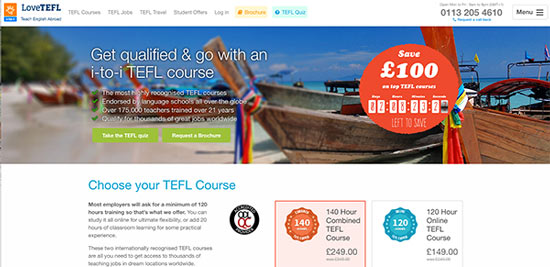 Getting a Teaching Job After Your Course
There's nothing worse than education without opportunity, and completing a TEFL and then having to search for a job can be a daunting prospect in a foreign country.
On the LoveTefl/i-to-i internships it is likely that you will secure a job before you finish, however, those studying online like my cousin will be pleased to know that they offer job support if you need it.
The company provides jobs with hundreds of employers across 23 countries, offering top-end salaries, perks and progression opportunities.
There's a jobs section here on the site that you can check out now and while you do your course.
LoveTefl/i-to-i Benefits Summary:
So let's summarise the benefits and opportunities offered by LoveTefl/i-to-i:
Study from anywhere in the world (online or classroom or internship — it's up to you)
Paid interships in Thailand, China, Vietnam
Dedicated personal tutor to monitor your progress
Get fully TEFL accredited and recognised to teach worldwide
Access to thousands of jobs worldwide (23 countries)
Students and graduates get 15% discount
In Conclusion
If you've decided that you want to teach English abroad, either as a short term means to see another side of life, or to create a new life in a foreign land, LoveTefl/i-to-i comes highly recommended.
The company offers great support and lots of course options, be it online study or a internship abroad, meaning your mum won't constantly be worrying about who's looking after you and what you're doing with your life.