Koh Kret, often spelled "Koh Kred," is a unique island located in the Chao Phraya River, just north of Bangkok, Thailand. The tiny island covers an area of approximately 3.2 square kilometers (about 1.2 square miles).
Known for its traditional Mon culture and beautiful pottery, this island is an interesting, off-the-beaten track place to visit in Bangkok.
History
This island, of manmade origins, was crafted through the excavation of a canal nestled between two meanders of the Chao Phraya River.
The majority of its inhabitants trace their lineage back to the Mon hill tribe, a minority group that was granted permission to relocate and establish their homes there during the reign of King Taksin in the aftermath of Ayutthaya's fall.
A subsequent wave of Mon migrants arrived during the rule of King Rama II.
The Mon people, known for their craftsmanship, brought their pottery-making skills to Koh Kret, which is characterized by intricate designs and patterns.
No Cars, No Trucks!
One of the most distinctive features of Koh Kret is the absence of cars and trucks on the island, which is hugely refreshing when having been exposed to pollution of central Bangkok.
The lack of vehicles contributes significantly to the island's peaceful atmosphere. This restriction on automobiles is a deliberate choice made by the local authorities to preserve the island's traditional way of life and to protect its fragile ecosystem. As a result, the primary modes of transportation on Koh Kret are bicycles, mopeds and foot traffic.
Attractions and Activities
1. Wat Paramai Yikawat
Wat Paramai Yikawat, also known as Wat Paramai Yikawat Woramahawihan, is a prominent Buddhist temple on Koh Kret, Thailand.  While the exact founding date of the temple is not widely documented, it is believed to have been established many decades ago, with the Mon community playing a pivotal role in its construction and development.
Located at the island's far right, adjacent to the temple, stands the "Phra Chedi Mutao," a Mon-style white pagoda. King Chulalongkorn visited in 1884 to enshrine Buddha relics, and this pagoda has a unique characteristic – it leans. Originally upright, erosion caused it to tilt around 1891, despite a restoration attempt in 1992. This pagoda replicates Myanmar's revered Shwemawdaw Pagoda in Bago.
Visitors to Wat Paramai Yikawat can explore the temple grounds, offering a glimpse into traditional Mon architecture and design. Mon architecture typically features intricate carvings, ornate decorations, and a blend of Burmese and Thai styles. The temple's structures are adorned with these decorative elements, making it an architectural and artistic marvel to behold.
In addition to the main stupa, you will also find other important structures within the temple complex, such as viharas (halls for meditation and prayer), Buddha statues, and shrines.
2. Pottery Village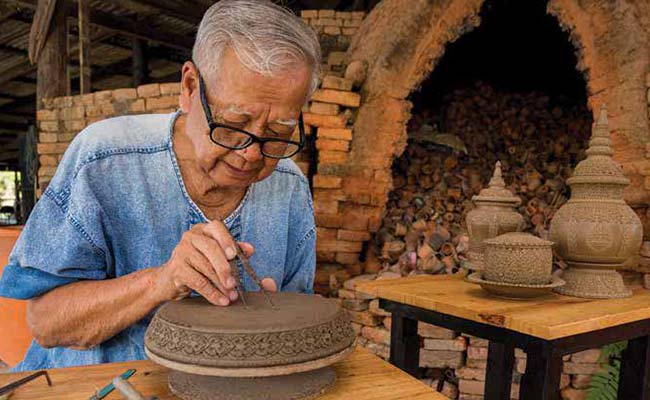 As mentioned previously, Koh Kret is renowned for its pottery, making it a popular destination for those interested in traditional Thai and Mon ceramics. Local pottery workshops on Koh Kret offer a unique and immersive experience for visitors. These workshops are where skilled artisans demonstrate their craftsmanship, showcasing the intricate and time-honored techniques used to create the beautiful pottery that the island is famous for.
When you visit these pottery workshops, you can observe the skilled artisans as they shape and decorate clay to produce pottery pieces. You'll witness the precision and expertise that goes into creating the unique patterns, designs and forms that characterize Mon pottery.
Many of these workshops offer visitors the chance to try their hand at pottery making. Under the guidance of experienced potters, you can create your pottery, whether it's a bowl, vase or another ceramic piece.
By supporting the local pottery industry on Koh Kret, you contribute to the preservation of a cultural legacy. The island's potters take pride in continuing the traditions passed down through generations, ensuring that these artistic techniques and cultural practices endure.
3. Chit Beer
"Temples and pottery? Come on, Peter, I just want a cold beer!" Okay, okay. I got you…
Craft beer in Thailand is a rarity due to laws favoring major beer companies. As I'm sure you know, two dominant family-owned giants control 90% of the market. But a guy called Wichit "Chit" Saiklao is leading a craft beer rebellion.
Chit's brewery, hidden away on Koh Kret, operated in secrecy for years. However, in 2018, he secured the country's first legal craft brewery license.
It's probably the most popular spot on the island. And, beyond brewing and serving jugs of cold beer, Chit shares his knowledge through classes, often booked months ahead (so do book in advance).
Chit's students also get a chance to feature their creations at Chit Beer. You could be next!
4. Cycling and Exploring
Cycling is the best way to explore Koh Kret. The island's compact size and flat terrain make it ideal for leisurely bike rides. There are also no cars to have to worry about.
You can bring your own bike or rent one there.
Once you arrive at the pier, head left towards the food carts, and you'll discover a bicycle rental service operated by Khun Joom. For 40 Baht you can rent a single-speed cruiser bicycle for the entire day. You'll settle the rental fee when you return the bicycle, and there are no restrictions on the duration of use.
Here's a suggested cycling route around the island:
Start at the Pier:  Most visitors arrive on Koh Kret by boat from the mainland, so you can begin your cycling journey from the pier. There are bike rental shops available near the pier where you can rent bicycles for the day, including the one mentioned above.
Head to Wat Paramai Yikawat: Your first stop can be Wat Paramai Yikawat, the prominent temple with the stunning white stupa. Explore the temple grounds, take in the architectural beauty, and perhaps attend a religious ceremony.
Cycle Along the Riverside: Follow the road that runs along the Chao Phraya River. You'll be treated to scenic views of the river, passing by local houses and gardens. The riverside path is often shaded by trees, making it a pleasant and comfortable ride.
Visit Pottery Workshops: Make a stop at one of the traditional Mon pottery workshops. Here, you can watch artisans at work and even try your hand at pottery making. Don't forget to pick up a unique pottery souvenir.
Explore the Island's Villages: As you cycle inland, you'll encounter charming wooden houses, lush gardens and peaceful lanes. Take your time to explore the local villages and appreciate the island's rustic beauty.
Sample Local Cuisine: Koh Kret is known for its delicious Mon and Thai cuisine. Be sure to stop at a local eatery to savor authentic dishes like Khanom Krok (coconut rice pancakes).
Complete the Loop: Continue cycling along the island's perimeter, and you'll eventually complete the loop, returning to the pier where you began your journey. Along the way, you'll discover other points of interest, including more temples, markets and parks.
Getting There
Koh Kret is easily accessible from Bangkok. You can take a taxi to Wat Sanam Nuae Pier, then take the boat across the river. It is a very short boat ride, not more than two minutes.
The ferry ride itself is an enjoyable experience, providing scenic views of the Chao Phraya River.
At the Pak Kret Pier, you'll find several boats and ferries waiting to transport passengers to Koh Kret. You can typically purchase your ferry ticket directly at the pier. The ferry operators have set schedules and boats run regularly, so you won't have to wait long for the next one.
Taking the ferry from the Wat Sanam Nua pier to the Wat Poramai Yikawat pier (which is the main pier for Koh Kret) costs 2 Baht per person in the daytime, and 3 Baht in the evening. It costs 10 Baht per bike, sometimes less for the bike, depending on how busy it is.
Accommodation
While Koh Kret is a popular day-trip destination, it is possible to stay overnight in one of the island's guesthouses if you wish to experience its peaceful ambiance for an extended period. However, a half or whole day trip is usually sufficient to see all you want to see.
In Summary
Koh Kret isn't a picturesque island; it certainly doesn't have a sandy beach or water worth swimming in. But it is an interesting place.
It's quite bizarre that a small piece of land, cut off from the city, with its own unique community, no cars, a brewery and three temples within 3km, exists in a suburb of Bangkok.
Koh Kret is a cool place, and definitely worth a visit.