I have been in Bangkok near on five years now, and pretty much tried every gym there is worth trying. From California Wow to True Fitness, to small condo gyms and back alley spit n' dust Rocky Balboa esque' gyms, I have been there and worn the t-shirt, as they say.
For the past five months I have been using my condo gym, which is okay, but lacks big free weights and a variety of machines. There's a pool, too, but I don't swim in the sun so I rarely use it.
Anyway, it was time to search out a new gym, somewhere with more variety and space; some bags to hit, some proper benches, some ol' skool leg machines that take plates, an area to skip and do circuits…but where!
My actor-model-ex-marine mate Tom was looking for somewhere too. As luck would have it a new place had opened just around the corner from my condo. It's attached to the Amanta Suites hotel.
We went in for a look. It wasn't huge but had very new equipment, great showers, an awesome selection of weights and TVs, etc. It is by all accounts a modern gym. The nice lady showed us the pricing and said she'd waive the 1,500 Baht signing on fee, "Errr, cheers, does it cost that much to scan a passport and laminate a card these days? Man, I need to get out more".
Cut a long story short, I now know why the gym is empty and 10 personal trainers were sitting in the back room watching Thai soap operas. It costs 5,000 Baht a month! "Shieeet"! I said, in my best Clay Davis (The Wire) accent. Man, that certainly will keep the riff raff out.
Forget it. True Fitness is only 1,500 a month, and as Tom pointed out, Bannatyne's in the UK is only 60 nicker a month on Gold Membership, and you get a free haircut thrown in every month.
Three days later Tom calls me like an excited kid. "Mate, all these stunt actors are telling me to go to the Thai-Japan, Ding Deng. It's 40 Baht a year and they have everything"! "There's no way it will be that for farang", I said, disbelievingly.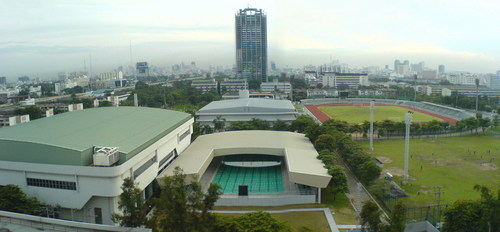 And so today we went down there. Unreal. We showed our passports, filled in the form, took a picture and collected our membership cards.
The gym is a tad old school, but it's big and has everything you need. They have a full size boxing/MMA ring. Lots of bags, lots of space to skip, run, jump and whatever else you like doing.
They have two floors of equipment; the first proper 80's bodybuilder style; solid plate weights and machines for every part of the body, and then an upstairs which is more leisure-centre like. There's a nice ab section upstairs too.
It doesn't stop there, either. They have…
– A full size running track (stadium)
– A full size football pitch with beautiful grass
– An Olympic -sized swimming pool (you need a health certificate from the doctor to use this. Very clean.)
– Squash courts
– Outdoor park-style gym
– Onsite shop (x2)
ALL FOR 40 BAHT A YEAR!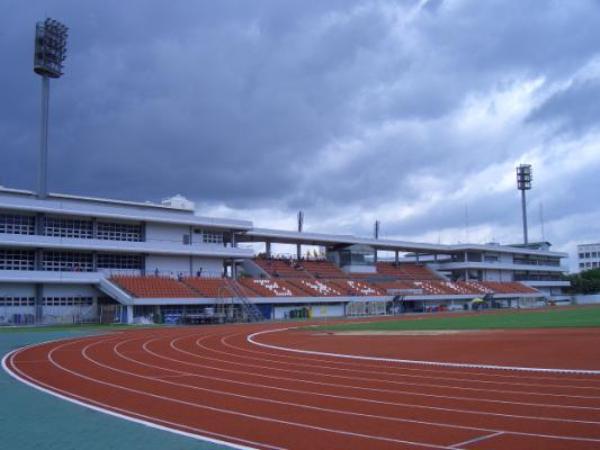 Why So Cheap?
This place isn't in it for the cash, obviously. Apparently, the Thai-Japan youth centre is an initiative between Thailand and Japan to provide training facilities for one and all; anyone living in Thailand, rich or poor.
From taxi drivers to executives, it's open to all. Of course a number of sporting and social events are held here too.
I like to workout, and I like my sport. If this place was just a crummy little gym I wouldn't have joined just because it was cheap. I'd prefer to pay 2,000 Baht a month and have access to what I need. But honestly, this is certainly the best gym in Bangkok when you consider the overall amenities. The grounds also provide a lovely place to chill out.
Perhaps I'd feel bad about using the place if I was just on holiday, but I have been in Thailand 5 years and figure I am entitled to occasionally take advantage of government amenities.
Where Is The Thai-Japan Youth Centre?
Address:  2, Mit Mitri Rd, Din Daeng, Din Daeng, Bangkok, 10400
Area: Ratchadapisek / Zone: Vibhavadi / Metro: BTS Sukhumvit Line – Sanam Pao (1,155m)
Hour: Tue-Sat 10:00-21:00, Sun 13:00-21:00 / Close on: Mon, Nat'l.holiday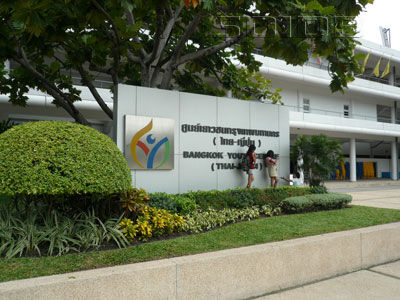 All the info you need to get there is on this page. And don't forget to take your passport with you!