It would be fair to say that most people develop a love-hate relationship with the taxis of Thailand. They're a blessing when you need an instant ride in the baking heat, and a curse when you get a stinky cab with a poor driver in a car that hasn't been MOT'd in three years!
It's a lottery.
Sometimes you hit the jackpot and land a new taxi with a driver who takes pride in keeping the seats clean and taking a shower once a day. Other times you hold onto the door handle for dear life as you race toward the airport thinking you'd rather be 50,000 feet in the air for 13 hours on a plane than in this deathtrap.
The one thing Bangkok taxis are is cheap. Very cheap. Probably among the cheapest taxis in the world. So hey, what can you expect?
I don't tend to moan about taxis much. I hedge my bets and try and spot the good ones. For the most part the drivers are friendly and not all on the scam as some perceive – this is largely reserved for tourist areas, the islands in particular.
But just lately I've had to reconsider my options. The arrival of my daughter means regular hospital checkups, vaccinations, etc.  It will also mean days out, shopping trips and holidays.  I'm just not comfortable with taking in public taxis. Her mum can't strap herself in to hold onto her because rarely are their belts in the back, there's no privacy to change or breastfeed, nor are the hygiene standards, driving standards or car maintenance up to scratch. In short, I feel I am doing my child a disservice traveling in such vehicles.
Why don't you just get a car?
I have been looking, and I probably will , soon. I love cars, but have held off getting one here because I can't bear the thought of sitting in traffic in Bangkok and getting all stressed out by reckless driving. The MRT and BTS are super efficient, and travelling without my luuk sau (daughter in Thai) I am cool to take a taxi and pass the stress onto someone else.
When I get a car it will be for out of town trips and emergencies rather than daily use.
So what's the solution?
Enter Uber Taxi – Bangkok!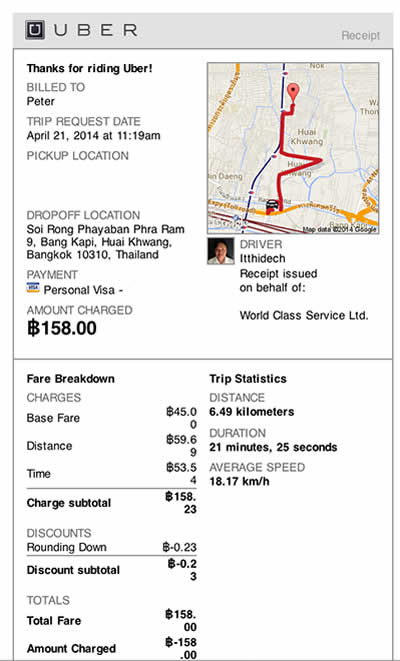 If I said this was the best startup since Facebook, would you believe me?
Well it's more useful, I tell you that much. And I don't have to look at people's selfies.
Today I took an Uber Black taxi to the hospital, which is the premium service, and it cost me 158 Baht. I travelled in a brand new Toyota Camry, with blacked out windows and a suited n' booted driver.
The car was cleaner than my mum's house (okay, maybe not that clean :)) and the driver actually drove like a normal driver that had passed a test.
I was skeptical at first. I thought the taxi would take ages to arrive, it wouldn't be a top end car, and the price would be extortionate. But it was effortless, and I can't believe how fast the taxi arrived.
I downloaded the app to my iPad.
I registered an account.
I entered my credit card details.
I did an in-app quote first (it said between 180-225 Baht)
I put in my location and desired destination
I then watched the driver (literally) driving toward my apartment on the map software inside the app.
The app even gave me a picture of the driver and his name before he arrived. What's more he called me when he was downstairs and opened the doors for me, my wife and the baby.
No More Fumbling Around to Pay the Driver
When we finished at the hospital I used Uber again. In fact, I was so thrilled with the comfort and quality, paying double (only 1.50- 2 more than a standard cab) was an absolute non issue. No walking in the baking heat to hail a cab. No wrong turns. No bad smells. No dodgy brake discs or suspension. Awesome, just awesome.
You don't even need to worry about fumbling about for change on the backseat because it's billed straight to your card, and as soon as you arrive you receive a receipt with the exact milage travelled and how much you've been billed – something else to put on the business tax allowance 🙂
Seriously, try Uber Black in Bangkok. You will be blown away by this service. It really is peanuts to pay for such luxury.
Without a doubt this is the best invention of 2014. And before you say "But won't it take away customers from local taxis?" Personally I don't think it will have an impact; I just think people will use their cars less and people like me will prefer Uber to buying a car. Moreover, airport runs are charged at a standard 1000 Baht, so no doubt most people will still take publics taxis in that situation.
Use This Promo Code For 300 Baht Off Your First Ride
If you want to get 300 Baht off your first ride, go to this link https://www.uber.com/invite and enter the promo code: 2p8ea.
You'll get 300 Baht free credit and I'll get a little free Uber credit too, which will pay for the Starbucks I had while writing this post.
I'd love to know what you think of Uber. So let's share experiences in the comments box below. Travel safely.