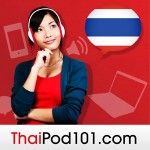 Since I have been using the Thai language learning program ThaiPod101 for over 6 months now I thought I should post up a review so that others thinking of buying the program can get an idea of what is on offer.
Initially I started using the program to get ahead of my fellow students at Thai school, but with work commitments pulling me away from classes, I ended up leaving school for a while and studying solely with ThaiPod101 in the evenings and on weekends. When comparing school classes to the program, to be honest I learn faster learning from ThaiPod101, although I do love the social interaction of the classroom because I enjoy meeting new people.
I am not really a fan of textbooks, preferring interactive learning to just repeating things to myself parrot-fashion, which is why I rarely did my homework outside of class, yet excelled in the class learning in a group. However, ThaiPod101 suits me because there is a broad range of interactive learning and no textbooks to bore me J New lessons are released every week, and there is a huge existing database of existing learning resources, and also a community, too.
There are also a number of apps available like MyWords, which focuses on learning 10 new words a day, and Gengo Flashcards, which use images to help you learn new words. This is great because I have a Tablet and a Smartphone, which means I can learn on the go; on the BTS, on planes, in hotels, in bed on a Sunday morning, etc.
How The Lessons Work
Lessons are grouped into five levels: Introduction, Absolute Beginner, Beginner, Intermediate, and Advanced. Under these five levels, the lessons are further grouped into series with more specific levels. Under each series are different seasons, which are lessons grouped into sets of 25. At the end of each lesson there is a short oral quiz to improve your speaking ability.
Learning Resources
Depending on your level of membership there is a broad range of learning materials available, from Podcasts, Video and Audio lessons, to flashcards, quizzes and an instant dictionary; ThaiPod101 really is a comprehensive and engaging Thai language learning program.
Membership Levels
There is a free 7-day trial available, and also a FREE membership option that gives you access to some basic language and cultural learning lessons. I have Premium membership, which costs $240 for 24 months, and there is a Premium+ option for $316 (12 months) that gives you one-on-one live instructor hours, personalised curriculum and more, but I don't have time for that right now. There is also a basic membership for $60 a year, but personally I'd upgrade from that because you only get about a quarter of the resources, meaning your interest is likely to fade and it will be money wasted.  You can pay on a monthly basis if that better suits your budget; the basic membership starts at $8 per month.
When you consider that I was paying around $1200 per year for my Thai school lessons, this is an absolute steal at $240 for 2-years membership. Even if I get a study visa for Language Express in BKK for 24,000 Baht (per year), I still save $540 per year. However, if you have the money and want to learn Thai really fast, I highly recommend attending classes and studying ThaiPod101 at home.
Conclusion
ThaiPod101 makes learning Thai fun and easy to fit in around your lifestyle, meaning you don't have to commit to classroom times or schedule one-on-one lessons with a teacher. It is very affordable and the amount of content available keeps things interesting. The creators think outside the box, giving you useful colloquial Thai not found in standard school textbooks.  You can visit the ThaiPod101 website here.