If you are thinking of studying Wing Chun in Bangkok, then there's only one place to train, and that's the Thailand Wing Chun Club, the first and only officially recognised professional Wing Chun club in Bangkok, as licensed by the International Wing Chun Organization.
Run by Sifu Panor, a Master of over 17 years experience, the club has recently opened a new studio just 150 meters from Bang Na station.
Sifu Panor is of the Yip Man lineage, and recently finished training in China with a number of famous teachers, renowned for their knowledge, skill and lineage.
The Thailand Wing Chun Club is based around the grass roots of Wing Chun philosophy. The vibe is one of a community, a family atmosphere where students help each other, learn together and create lasting friendships. As the Wing Chun forefathers taught, egos should be left outside the club.
The Thailand Wing Chun Club is as much about mental and spiritual growth as it is about getting fit and learning the ancient, beautiful art.
If you are thinking about training Wing Chun but don't know much about it, here's a quick overview for you.
What is Wing Chun?
Wing Chun is a Chinese martial art that utilises a solid stance, fluidity, energy and body structure to deflect or redirect external force, and therefore enables a Wing Chun practitioner to beat a stronger opponent.  They say a Wing Chun stance is "like a piece of bamboo, firm but flexible, rooted but yielding".
Wing Chun isn't about competing or being aggressive – although in time it becomes a great self-protection tool – it is about self-development and conditioning the mind, body and soul. Wing Chun utilises forms to learn graceful, but potentially lethal movements of the arms and legs, and is also a great way to unwind, channel energy and de-stress from work.
Wing Chun in Bangkok
There are very few reputable places to do Wing Chun in Thailand, let alone Bangkok. When I first arrived I searched for some time with little luck. Eventually my extensive search led me to meet Sifu Panor and I joined as his student.
The club has gone through many changes, with students coming and going over the years, and the club relocating twice. But one thing that hasn't changed is the friendly atmosphere and fun learning created by Sifu Panor.
The Location
To get there you currently need to go to Bang Na BTS station, then either jump on a motorbike taxi or walk the easy 150 meters to the club.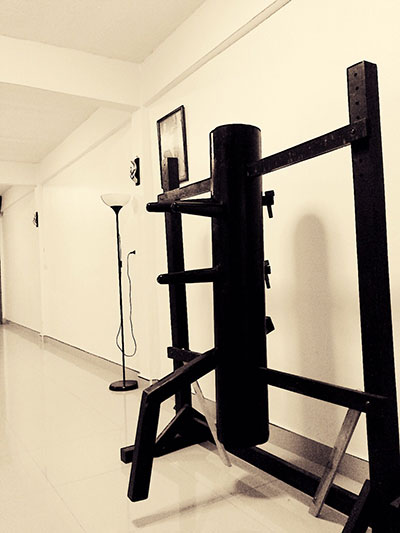 About Sifu Panor
Master Panor is a friendly, down to earth guy who speaks English, German and Thai. He has studied Wing Chun for over 17 years and also knows various other martial art techniques. Unlike many other Wing Chun teachers, Master Panor has competition experience, having fought in many semi- and full contact mixed martial art bouts in his teens and early twenties. He is also proficient in Muay Thai.
His free flowing teaching style allows you to ask all your "what if's", request demonstrations at any time, and learn specific things that you feel are important for you. For example, presently we have two ladies in the class who often request to learn practical self-defence techniques to use in the event of being attacked in the street.
The Cost of Wing Chun In Bangkok
I have been learning with Sifu Panor for over three years now, and although I had prior Wing Chun experience in the UK, I have learnt so much in a relatively short space of time. I believe this is due to his personalised teaching approach and a smaller class that adopts a Thai family-style culture.
No matter what level of Wing Chun you are, you are welcome at the Thailand Wing Chun Club in Bangkok. And if you are thinking of taking up a hobby, then why not try Wing Chun.
Sifu Panor offers a free introductory lesson to all newcomers, and the monthly price for three sessions a week (Tuesday, Thursday, Saturday) is a mere 3,000 Baht, all of which, by the way, regularly run over the allotted time. Put it this way, you will always get a lot more than you pay for at this club.
Single class lessons are 400 Baht each.
In true Thai style the class has a warm family vibe and everyone is welcome. We are all there to help each, have fun, get fit, and of course, learn Wing Chun!
If you need any further information feel free to contact me.
Thailand Wing Chun Club Details:
Address: 3290 Soi Bang Na nai, Bang Na, Bangkok 1260
Phone Number: +66 85 4600 330.
Email: thailandwingchun@gmail.com
Facebook: Thailand Wing Chun