When you come across a gem of a hotel or apartment in Thailand, you tend to keep going back to what you know.
For me this is because I spent far too long being disappointed by accommodation. A hotel might look the part on the web but end up being a lot less prettier than the photos, and delivering bad customer service.
The great thing about travelling in Thailand is the selection of "pay per night" apartments on offer, which means you pay less than a hotel but get the same benefits, mostly.
Quite often you can get a king-sized bed, UBC package, swimming pool and complimentary tea and coffee options for a third of the price by booking into a serviced apartment block – although you probably won't get the 24-hour room service or a restaurant.
I am a regular visitor to Chiang Mai, and having lived there on and off for a month at a time and visited on numerous occasions, I have been using the same hotel-cum-apartment accommodation. So I thought it was about time I gave the place a mention on here on TTL.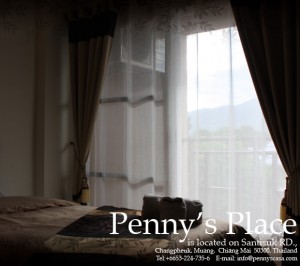 Penny's Place is run by a delightful couple, Stephanie and Peter, who are incredibly laid back and welcoming. Between Feb-Sep you can get an air-con room with double bed and balcony, and free wifi for 450 Baht.
There is no swimming pool or restaurant, but you do get Cable TV and a refrigerator, and the rooms are new and cleaned daily. You can also stay on a monthly rate for about 5,000-6,000 Baht, but you will need to check the current pricing with the owners.
The only bug is not having any breakfast options, as there is no restaurant on site. I used to bike it down to the backpacker area and grab a munch there, which wasn't a problem unless it was raining. However, Santisuk Road (where Penny's is located) now has a choice of two great restaurants only a minute's walk from the apartment block. There is also conveniently placed 7/11 across the street.
Santisuk Road is quiet, and if you stay on the left-hand side of the building you get an awesome view of the foothills of the Himalayas. If you don't like riding a moped then no worries, you can walk to the main shopping centre in 10 minutes using the backroads, and from there you can pick up a taxi, tuk-tuk or songtail. For those wanting a moped you can order one on arrival to be brought to Penny's.
I can't rave about this place enough. I always feel so relaxed and never want to leave. Just for the record, I am not getting a commission for writing this; it's just a case of giving credit where credit is due.
I always feel it's quite difficult for the smaller hotels and serviced apartments to get the word out with a limited marketing budget, and it's good for both traveller and business if bloggers help share tips for good accommodation.
See you at Penny's Place…some day…maybe…