For fans of the beautiful game, watching Champions League and English Premiership football in Thailand can be a nightmare.
Of course, when the games are on at a reasonable hour you can hit a sports bar, but then there are times when you'd rather chill at home in peace and quiet and watch with the kids or your partner.
And then there are those 3am games where you don't fancy staggering home in the early light after more than a few beers.
I love football. In fact, I used to enjoy playing far more than watching – watching just makes me eager to lace up the boots and bang in a few goals.
Sadly, I haven't played that much in Thailand. I did a bit in Samui during the early days, but hardly at all in Bangkok. It's a mixture of finding a team, finding the time and being 39 with a history of hamstring issues to contend with.
So these days, I'm getting my football fix following the Arsenal from the comfort of my condo. Yes, I'm North London born and bred!
The problem is, standard Thai TV doesn't show half the games, and when they do the picture quality can is terrible. Moreover, the commentary sucks.
Even my cable package doesn't show half the games, and usually only the big FA Cup matches.
The most annoying thing is when a huge game like Man United vs Arsenal is on and they show some random game like Wolves vs Brighton!
So, like you probably have, I've turned to the web for a solution on more than one occasion.
I've tried multiple sites and apps, but on the whole have been pretty disappointed with the large majority.
So to save you the hassle, here's the 4 best ways to watch English Premier League Football and Champions League from your sofa – starting with the worst and finishing on the best.
The 3 Best Ways to Watch Football Free in Thailand
#3. ATDHE.net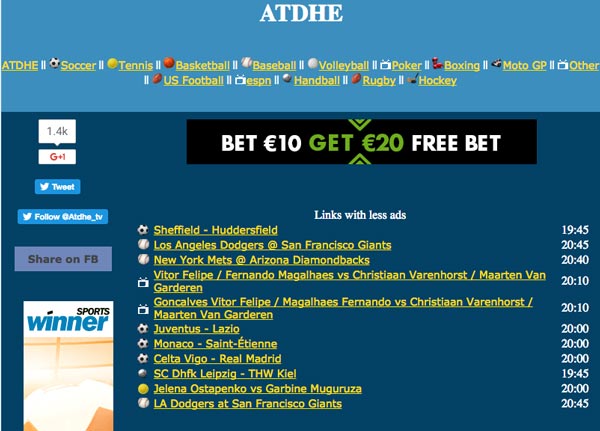 ATDHE.net was my original online solution, but has gradually became my last chance option when all else fails. The site has multiple streams to choose from and you can usually find even the not so popular games.
You will need a super-fast internet connection or the games tend to freeze and buffer for ages. Sometimes you will need to spend 15 minutes or so at the beginning of games to test different streams and find one that works well too, which is a pain in the bum.
The ads on some screens are pretty annoying too. You have to zoom in to find the 'X' and close the window all the time, and you'll regularly find yourself clicking the ad by accident and then having to close the window that opens in a new tab.
You can use an ad-blocker like uBlock Origin on Chrome, but some streams won't run if they detect an adblocker because ads is how they make their revenue to fund the screen.
It can be super annoying when a stream needs reloading, because you have to go through the process of getting rid of the ads again.
Sometimes you get lucky, but consider this your last resort option.
Rating: 2/5
Pros: 100% free. No app or install required. Accessible on PC, Mac, Tablets. Bit fiddly on a phone.
Cons: Constant ad pop-ups that need closing and take you off to other pages when accidentally clicked. Buffering lots on a slow connection.
Stress Factor: 7/10
#2. TeamViewer – For PC & Mac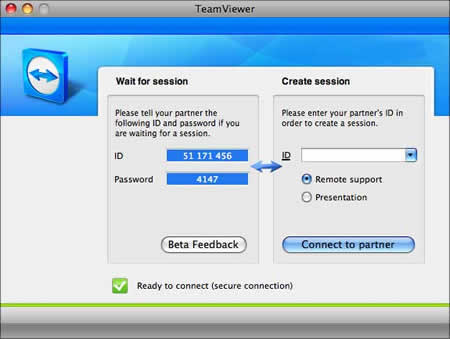 This is a bit of a hack and requires some co-operation from a friend with a service that allows him or her to watch football on their computer. In this instance, I'll use SkyGo as an example, as I've tried and tested this with a friend who is back home in the UK.
Basically, you both need TeamViewer installed. TeamViewer is computer software used for remote control, desktop sharing, online meetings, web conferencing and file transfer between computers. It's free for non-commercial use.
Your friend will load his SkyGo (or other) account and select the football channel on his/her computer. You both then boot up TeamViewer. Your friend will then send you an unlock code by email, Skype or SMS, that allows you to view his/her computer screen for that session.
I used to do this with my pal in the UK when I had no SkyTv. It worked well if he wasn't using his computer or we both wanted to watch the same game.
It's a little hit and miss because it relies on you both having a solid web connection. Depending on the match, the quality sometimes gets a bit blurry.
That said, I prefer this option to ATDHE.eu because there's no pop-up ads, you get a bigger screen and less buffering. This is a preferable option if you're only into the big games and have a friend who's willing to share.
Rating: 3/5
Pros: 100% free. Runs on trusted software. Accessible on Mac.
Cons: Relies too heavily on third party co-operation. Action may blur at times dues to web-to-web streaming.
Stress Factor: 5-6/10
#1. Reddit Soccer Streams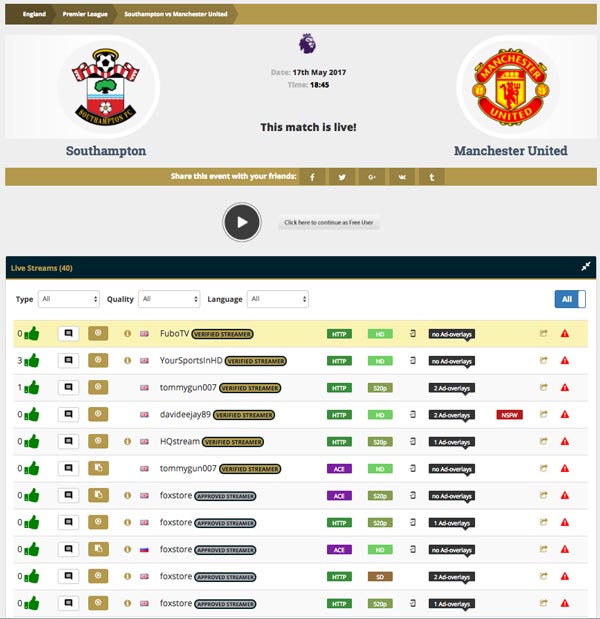 This Reddit Soccer Streams page is a reliable resource. It's also generally very transparent. By that  I mean that the moderators tell you exactly what to expect before you click the stream.
A lot of dedication goes into making this resource work, and as such it has become very popular.
As you can see from the screenshot, you can select from HD or 520p, and Http (over web) or an Ace Stream. Choose the stream with the least ad overlays. Try to go for zero if possible.
One ad pop-up is no big deal as it will most likely open in a new browser window and then you can play the stream. I usually find a decent stream within  a few attempts of trying.
Just click on any button on the row of a particular stream and you will be taken to its page.
It isn't 100% reliable though and I generally don't like to risk it with a huge game, like Arsenal Vs. Spurs / Man City / Man UTD / Chelsea / Liverpool.
There is no way I want to miss 15 minutes or more of the game getting a stream going. Or worse still, the stream goes down mid-way through a half – it has happened!
Rating: 3.5/5
Pros: 100% free. Fairly reliable streams. Accessible on PC, Mac, Tablets & Phones.
Cons: Watching on a mobile isn't really viable. Foreign commentary sometimes, though I usually get an English stream (US). Chat boxes on some stream sites may contain offensive language from other viewers. Often there is a button to turn the chat-box off.
Stress Factor: 4/10
= >Don't forget, you should always use a VPN in Thailand. Read my recommendations here.