For fans of the beautiful game, watching Champions League and Premiership football in Thailand can be a nightmare. Of course, when the games are on at a reasonable hour you can hit a sports bar, but then there are times when you'd rather chill at home in peace and quiet, watch with the kids or your partner.
And then there are those 3am games where you don't fancy staggering home in the early light after more than a few beers.
I love football. In fact, I used to enjoy playing far more than watching – watching just makes me eager to lace up the boots and bang in a few goals. I'm quite proud that back in university I played semi-pro, and also managed my uni team to win the league and South Eastern Cup. Like most English lads I love nothing more than an afternoon of jumpers for goal posts over the local park.
Sadly, I haven't played that much in Thailand. I did a bit in Samui during the early days, but hardly at all in Bangkok. It's a mixture of finding a team, finding the time and being 35 with a history of hamstring issues to contend with.
So these days I'm getting my football fix following the Arsenal from the comfort of my condo. Yes, I'm North London born and bred.
The problem is, standard Thai TV doesn't show half the games, and for the last few, like the recent Charity Shield, the picture quality was terrible. Even my cable package doesn't show half the games, and usually only the big FA Cup matches.
The most annoying thing is when a huge game like Man U vs Arsenal is on and they show some random game like Hull vs Swansea!
So, like you probably have, I've turned to the web for a solution on more than one occasion.
I've tried multiple services, free and paid, but on the whole been pretty disappointed with the large majority.
One thing that really annoys me is having to install untrusted software on my computer or risk downloading applications that could contain viruses or spyware, etc. And when I do fond a stream or app that's good, it usually isn't long before it starts playing up.
I have found the perfect solution now, though I thought it would be useful to list my top 4 options for watching European football in Thailand, starting with the least favourable and finishing with the best!
The Best Way to Watch Football Free in Thailand
#4. ATDHE.net
ATDHE.net (http://www.atdhe.net) was my original online solution, but has gradually became my last chance option when all else fails. The site has multiple streams to choose from and you can usually find even the not so popular games.
You will need a super-fast internet connection though or the games tend to freeze and buffer for ages. Often you will need to spend 15 minutes or so at the beginning of games to test different streams and find one that works well too, which is a pain in the bottom.
The ads are pretty annoying too. You have to zoom in to find the 'X' and close the window all the time, and you'll regularly find yourself clicking the ad by accident and then having to close the window that opens in a new tab. Sometimes you get lucky, but this is really the last resort option.
Rating: 2/5
Pros: 100% free. No app or install required. Accessible on PC, Mac, Tablets. Bit fiddly on a phone.
Cons: Constant ad pop-ups that need closing and take you off to other pages when accidentally clicked. Buffering lots on a slow connection.
Stress Factor: 7/10
#3. Teamviewer – for PC & Mac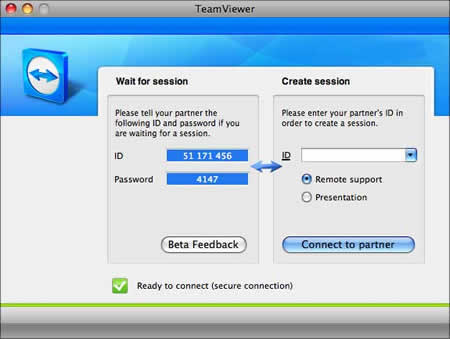 This is a bit of a hack and requires some co-operation from a friend with a SkyGo account or similar account that allows him or her to watch football on their computer.
Basically, you both need Teamviewer installed. Your friend will load his SkyGo account and select the football channel on his/her computer. You both then boot up Teamviewer. Your friend will then send you an unlock code by email, Skype or SMS, that allows you to view his/her computer screen for that session.
I used to do this in the UK with a pal when I had no SkyTv. It worked well if he wasn't using his computer and we both wanted to watch the same game.
It's a little hit and miss because it relies on you both having a solid web connection. Depending on the match, the quality sometimes gets a bit blurry.
That said, I prefer this option to ATDHE.eu because there's no pop-up ads, you get a bigger screen and less buffering. This is a preferable option if you're only into the big games and have a friend who's willing to share.
Rating: 3/5
Pros: 100% free. Runs on trusted software. Accessible on Mac.
Cons: Relies too heavily on third party co-operation. Action may blur at times dues to web-to-web streaming.
Stress Factor: 5/10
#2. Live Sports TV App
This is a free Android app that uses Sopcast as its engine. Now wait, I know the very mention of Sopcast puts you off already, but here's how this differs.
Once you have Sopcast installed on your tablet, install Match Live and open the app. You'll see that Match Live lists all the popular matches.  Choose one that's "online now". You'll then be presented with 4 (usually) stream options listed in order of Kbps. Three out of the 4 usually work, with a couple of noticeably better quality than the others.
You'll see a fair few moaners in the review section on the Android store, but honestly, I have tried every free app available and this is the best – but that isn't saying much!
I have watched entire games without a frozen screen, but that it can play up when you least want it to.
One thing to be aware of is that when you first load the stream, the app will take a few minutes to fully buffer and begin playing the game. Be patient, the black screen doesn't mean it's not working.
Rating: 3/5
Pros: 100% free. Reliable streams. Accessible on PC, Mac, Tablets & Phones.
Cons: Watching on a small screen isn't always ideal. Foreign commentary, usually in Russian or Arabic, can be annoying and you may opt to turn the sound off. The occasional pop-up ad inside the app (not during games).
Stress Factor: 5/10
Download the Live Sports TV App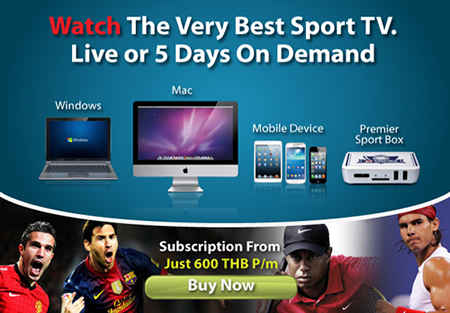 I've tried a few paid services in the last 5 years and been very disappointed. Usually what you find is that someone is streaming from a stream or a Sky Go account through a server and charging you for it, which makes for a hugely unreliable service.
I've tried ExpatTelly, WorldSoccerTV and all sorts, and most I have cancelled within a month. The other issue is getting a service that works well from Thailand without running into connectivity issues. Reason being that most services are designed for US and Europe based customers and therefore have servers in these regions.
But finally 365 Sport Tv entered the market, specifically serving Thailand-based expats. Having had bad experiences previously I was of course skeptical,  but for the price the service blew me away.
I have watched Premiership Football, the Winter Olympics, The Ashes, The US Open, Boxing and lord knows what else, all from the comfort of my chair, the beach and from cafes.
This service is just like Sky Go in that I can watch sport on all my devices; Macbook, Nexus Tablet, phone, the lot. All for 600 Baht a month!
Okay, so it's not free, apart from the fact that you can get your money back after 30-days if you don't like the service. But when it comes to big games, and let's not forget the 2015 Champions League is looming, it's well worth the price of a meal or a few beers, whichever way you look at it.
Rating: 5/5
Pros: Never miss a football game. Watch all types of sport. Accessible on all devices; PC, Mac, Tablets & Phones. No annoying buffering. English commentary. Risk-free trial.
Cons: 600 Baht a month.
Stress Factor: 0/10