Every friend of mine that comes to Thailand adores Tom Yung Kung soup, often spelt Tom Yum Goong, or even Tom Yum koong.
Like Pad Thai, it's one of a few dishes that people remember and reminisce over when home. The thing is, finding an authentic tasting Tom Yum is difficult back home, even if a Thai restaurant. This is because like most foreign foods, the recipes are adapted for the general palette of the local population, so it never tastes like the natives cook it back home.
So, for all those back home and unable to find an authentic Tom Yum Soup in their local Thai restaurant, here is the popular native Thai recipe so you can make it yourself and feel like you're back in the land of smiles while sitting on your sofa.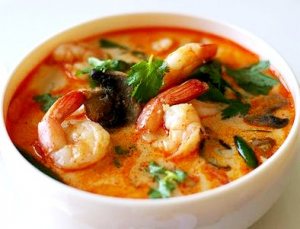 Authentic Tom Yum Kung Recipe
Ingredients:
Serves 2 people:
4 cups of water
1 cup of shrimps
5 medium sized mushrooms
2 limes
1 bunch of lemon grass
3 kaffir lime leaves
2 tablespoons of fish sauce
5 sprigs of cilantro
3 chilli peppers
1 tablespoon of nam prig pow
Caution: if you have a sensitive stomach, cut down the chilli content to say one or even half a chilli.
Cooking Instructions:
Step 1: Boil the water in a 2 quart pot.
Step 2: Peel the shrimp
Step 3: Pound the lemon grass with a rolling pin to release the flavour and cut into 4 inch strips.
Step 4: Put the level grass in the water and boil for 4 minutes.
Step 5: Pour the fish sauce and 1 juice of lime into a serving bowl
Step 6: Crush the chilli into the same bowl.
Step 7: Remove the stems from the kaffir leaves and add the leaves to the pot.
Step 8: Dice the mushrooms to 1 inch portions and add to the pot.
Step 9: Add the shrimps and switch off the heat.
Step 10: Scoop out the shrimp into the serving bowl after 25 seconds.
Step 11: Pour the broth into the serving bowls.
Step 12: Add the nam prig pow and sprinkle in the cilantro and serve.
If the soup doesn't have the required punch, add more fish sauce or lime juice depending to flavor.
Enjoy!