The shooting of  22 year old Stephen Ashton on the island of Koh Phangan on New Years Eve has again brought into question the safety of holidaying in Thailand.
The young British backpacker was celebrating New Years Eve at Zoom Bar on Had Rim Beach when a fight broke out between rival Thai youths. One youth then fired into the crowd, killing Stephen who was dancing with friends. Another Thai man was injured.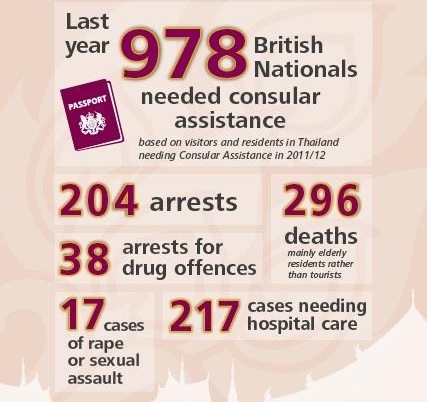 Although Stephen Ashton's death wasn't intentional, it was a mindless and wholly unnecessary killing, and 2012 was a shocking year for attacks on tourists in Thailand. There was the fatal stabbing of Australian travel agent Michelle Smith, the stabbing of Mohamad Zubair Edwa, the vicious attack on Muay Thai fighter Daniel Ketley, and the stabbing of Jack Cole in Ao Nang as he protected his girlfriend from a local gang.
But was 2012 just a particularly bad year? Is Thailand getting more dangerous or has it always been this way?
I lived on Koh Samui for near on a year between 2008 and mid 2009, and a week never passed without reports of a shooting (Thai on Thai, usually), a mugging or an incident of theft. Indeed I had my ground floor apartment burgled one sunny Sunday afternoon. I spent many days working online at my friend's travel shop, where tourists would regularly come in telling stories of having money and jewellery stolen on boat trips and such.
Just this past week during my annual trip back to the UK, I encountered a woman in the park who, after telling her I lived in Thailand, shouted, "Don't talk to me about Thailand!" She explained she was robbed of 500 pounds on her first day in Koh Samui, and that her daughter had a three thousand pound necklace stolen at a 5* hotel. Thing is, turns out she put the money in an unattended bag during transport, and her daughter forgot to put the necklace in the safe! Christmas came early for the maid.
And that's the case with most of incidents of theft in Thailand. People forget they are travelling to a developing country with a largely poor population, of whom 70%+ earn under 150 pounds per month. Opportunist theft is bound to be a problem, as it is in the majority of tourist destinations and major cities around the world.
But for every negative story I hear twenty or more positive experiences. Indeed my mum and dad (65 and 66, respectively) visited Thailand for three weeks in December this year and had a wonderful time in Phuket and Bangkok. I did, however, have to tell my mum to be careful with her belongings, particularly not to walk with her handbag on her shoulder facing the road. Bangkok has experienced a rise in motorcycle handbag theft in the last year, again though, not something new; in 2009 Lydia Riach died after having her skull shattered when she was dragged along the ground by bag-snatching motorbike bandits.
Don't be Fooled into Thinking it's all Smiles
Thailand is such a smiley, happy, peaceful place on the surface, and it's easy to forget that there are thieves and opportunists lurking, and that there are gangs and mafia organisations at work. Violence can and does occur; I've seen many a Thai man go from a smiling, happy go lucky demeanour to violent lunatic after a bottle of whisky and losing a bit of face among friends, as I have also seen in my home country, too.
The point is that Thailand is no different to anywhere else in that respect. People occasionally fight, youths do go wayward and people do commit crime. Is it worse than neighbouring countries, the US or the UK? I haven't seen any reliable statistics but I doubt it very much.
The majority of crime I read about occurs in the hedonistic seaside resort of Pattaya, the party district of Patong (Phuket) and at events like the Full Moon Party on Koh Phangan. Which is obvious, really, because opportunists will frequent tourist populated areas where people are relaxed, enjoying themselves and generally taking leave of their senses. Alcohol is no stranger to violence, either, and where there's regular consumption of alcohol there is likely to be an incident sooner or later.
Personally, I Feel Safe
Overall though, I have felt safer in Thailand over the last 5 years than I ever did in London. I was mugged twice in London during my teens, once stabbed and the other a simple threat and robbery scenario.
Touch wood I have never felt threatened walking late at night in Bangkok, or catching an empty Skytrain carriage. But what I do make sure is that whenever I am walking around the city, or travelling to the islands, that I don't wear/carry expensive jewellery, and that my money is strapped to my person. I use the safe in the hotel room, and I never carry more cash than I can afford to lose.
I am also aware that the islands can be law unto their own. And as such I am cautious about walking around on my own, or with my wife, late at night, especially near the beach. One other point I'd like to stress is that where possible always pay that bit more for your travel. If you can take a plane over a bus, and beware of cheap, overloaded boat rides.
What happened to Stephen Ashton was a tragic accident, and my heart goes out to his family. But this is one shooting out of 23 million tourists in 2012. I won't deny there have been plenty of other negative incidents, but in truth many could have been avoided if the individuals exercised more caution. The Thai authorities and the British consular have a role to play in this too. They should make more effort to educate tourists on the dangers, and provide a "safe practice" code for those visiting the land of smiles.
Safety in Thailand is about using your smarts. Of course no one can predict an accidental shooting, but one can think one step ahead of a thief, and if identified early enough, one can take oneself out of a potentially hostile situation.