I've very rarely used my blog as a news portal, and I'm not a political observer/reporter of any kind. But seeing as I've received lots of messages over email and Facebook from people asking about the current military coup in Thailand, I thought I'd create a post to offer a real-life, on the ground overview of the situation, so that those worrying about relatives here, or thinking of traveling to Thailand, can get a truthful insight on the current circumstances.
The gravity of the situation has been gravely misreported by the foreign media – nothing new there – and while this is a serious time of transition for Thailand and its people, it's important not to be misled by sensationalism from foreign media channels.
Regardless of the why, who and how, the fact is, everyday Thai people are living everyday life in an everyday way, as usual. Life continues: People are going to work, visiting restaurants and cafes, going to the gym, shopping, taking selfies and still smiling. In terms of my own personal comings and goings, nothing has changed and all is peaceful as I type this from my local Starbucks.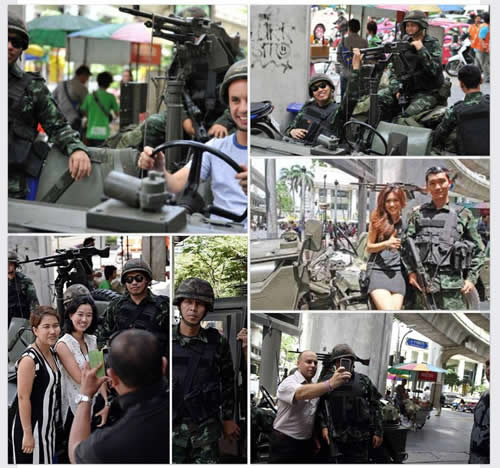 Thailand Military coup 2014 – Your Questions Answered
1. Why has the military seized control?
Since late 2013, Thailand has experienced political unrest, with regular demonstrations against the then government. Even though this government was democratically elected, the opposition claimed it was a proxy government run by then prime minister Yingluck Shinawatra's brother,Thaksin Shinawatra (ousted ex-prime minister), from outside the country.
The opposition refused to partake in elections, stating their goal as a proposed removal of the government and subsequent creation of a people's council.
A stalemate ensued and, with violence looming, the military seized control of the country to prevent further unrest, violence and damage to the economy.
Until peaceful elections can be held, the military will make sure political leaders do not rally their supporters for protests, nor stir up resentment that may prompt public disorder.
Of course, the roots of political divide run a lot deeper than this brief explanation, and every man/woman and his/her dog has an opinion on the motives behind the coup, but this is essentially the reason the military is currently in control, and the official reason given by Thai Army Chief General Prayuth Chan-Ocha.
2. I have a holiday booked to Thailand, shall I cancel?
No. There's no reason to cancel your holiday. In fact, the present situation is a lot safer than it was before the coup. Of course this may change, and the best way to keep up with developments is by monitoring press releases on the website of your home country's embassy.
3. I was considering booking a holiday, should I go elsewhere?
Personally I think it's a great time to come to Thailand. Flights are currently cheaper, the Dollar/Pound/Euro are currently strengthening against the Baht and there's less tourists :).
4. Is my travel insurance valid during a military coup?
You do need to check the small print. Most travel insurance policies will cover you, but there are some that do not cover any travel to a country in the midst of a coup.
It is likely your travel insurance terms and conditions state something like this:
War, invasion, acts of foreign enemies, hostilities or warlike operations (whether war be declared or not), civil war, rebellion, terrorism, revolution, insurrection, civil commotion assuming the proportions of or amounting to an uprising, military or usurped power but this exclusion shall not apply to losses under Section B – Emergency Medical and Other Expenses, Section C – Hospital Benefit and Section D Personal Accident, unless such losses are caused by nuclear, chemical or biological attack, or the disturbances were already taking place at the beginning of any trip.
5. Is Thailand a dangerous place for foreigners?
No. At the present time there is no threat to foreigners, and certainly no resentment towards foreigners. Just be sensible and abide by the laws in place. If you see a protest, or know of an area where a protest is happening, stay away. Don't be tempted to go into the area and take pictures. Outside of Bangkok, you are unlikely to see anything more than a few soldiers here and there.
6. I heard there is a curfew, does the curfew apply to foreigners?
Currently there is a curfew in place between 10pm and 5am, which also applies to foreigners. However, exceptions are made for foreigners travelling to and from the airport to catch flights. The curfew is expected to be lifted soon. I will update this post when that happens.
**UPDATE: Curfew is now 12am – 4am.
7. I heard the Internet has been shut down, is this true?
No. This was a rumour started in the first 48 hours of the military taking control, and based upon the assumption that the military was going to censor social media to stop supporters of each side inciting protest gatherings, etc. But this hasn't happened. Moreover, shutting down the internet would deeply affect business and the wider economy, and is therefore unlikely to happen.
8. But the BBC said…?
Please be aware that the situation reported on the news and in newspapers of your home country is vastly different to that which we are experiencing here. For example, if one image is captured of a protestor being manhandled by the army, this image is shown across all media as a representation of the situation. But the reality of the situation is usually quite different. I personally have seen only four soldiers since the start of the coup.
As mentioned above, check your embassy's website for travel warnings and up to date advice. For UK citizens go here.
9. Am I banned from talking about the coup when I visit Thailand?
While foreigners are very much welcome in Thailand, debating Thai politics in public is not a good idea, regardless of the coup. Politics is a sensitive subject at any dinner table, in any country, but it's a particularly sensitive issue here right now. Moreover, in truth, unless you have studied the country's history extensively, the likelihood is that you don't really have a good enough grasp on the situation to make a fair debate.
Thai Army Chief General Prayuth Chan-Ocha has publicly announced that people should refrain from criticising the military. So that in itself should be enough of a warning not to make any  negative remarks. If you are traveling to Thailand, you should also be aware that disrespecting the monarchy and insulting the state in any way are criminal offences that carry prison sentences. Be smart, keep your trap shut.
10. But what if a Thai person asks me what I think of the coup?
This may well happen, be it at the hotel or in a taxi. Don't complicate your answer or get into political affairs. Simply say something like,  "I hope Thailand can be peaceful and happy again soon". That's enough to put a smile on the face of the asker.
Got a question? Leave it in the comment box.
Also check out Richard Barrow on Twitter for up to the minute coup updates. You can also follow me here.