It is with great pleasure that I welcome poet and writer, Anthony Anaxagorou, back to The Thailand Life.
I recently came across one of his Thailand diary entries on my computer; he had forwarded it for me to read some time ago.
So I dropped him an email and, after some persuasion, he agreed to let me publish this personal piece.
It really is absolutely compelling, and no doubt describes how many people feel when they visit Thailand and see old western men paying for the company of Thai bar girls (prostitutes).
Whatever your opinions on this subject matter, Anthony's metaphoric brilliance really does make you think on many levels.
Enjoy….
Thailand Diaries: Koh Samui
Our Sickness – By Anthony Anaxagorou
How my gazed eyes suffered tonight at the sight of such an unnatural arrangement. Why do they make such ugly choices in the face of such magnificent beauty?
Here, in the heart of paradise where palms trees sway to cool the dry ground below, and clouds play like children on a retreat, I have seen the desperation in man culled from its barren one-bedroom apartment and position itself between the legs of such a fresh life.
I have seen the cousin of poverty consecrate itself within the womb of a rustic culture and breed a new type of entrepreneur, uniformed in heels and thick red lipstick with mini skirts that are constantly explored by large wrinkled hands.
The young and attractive lock fingers with those who are perpetually heavy, shabby and unloved. Those that in their native sunless land live like shadows, hidden inside invisible movements, unnoticed like everything that exists behind us.
Just the other day I saw one such man, young and loaded with such a lonely soul that he held his hired property with a mighty conviction that commanded me to stop and observe with close attention.
There he was, puny and precocious in appearance, with his eyes squeezed tightly shut as if not wanting to wake from his voluptuous dream, he held full her waist and rested his bare chin on her auburn shoulder.
He opened his eyes and stared out into the wavering seams of the sky-blue ocean. The scene sat perfectly around a likeness of devotion, however, when I watched this bargained matrimony with a closer interest, I saw another possibility elicit itself.
She too was facing the languor of that tropical hour, but she was not lost in the whimsical current of wedding dresses and eternal vows, on the contrary, her heart revelled with an insatiable hunger.
In her mind she counted out the minutes and Baht, whilst his mind counted out her heartbeats and his nights alone. I left the two there, hypnotised by the ocean and hopelessness alike.
I have not taken up form to judge another person on his/her actions or the way in which they choose to live their life, to do so would only be frivolous and detrimental to my own being.
However, there is an enigmatic element that derives awkwardly from observing a more distinguished man with a younger more vigorous lady that still finds she giggles at the sound of flatulence, or maybe has the picture of her beloved boy-band singer in the transparent sleeve of her Gucci wallet.
There is also something strangely fascinating when I see these same men elevate themselves to a God-like status, as their woman, beautiful as the sun, sits smiling as she strokes parts of a receding hairline.
Unable to communicate entirely due to the limitations in language, the lack of education and the destitute hand of circumstance, she plants a kiss on a glistening forehead and pours another glass of cool, crisp wine, whilst the music of the waves closes both their eyes; if only for a while.
I watch the man rise like a crucified prophet, like someone who has been at the receiving end of society's boot their whole life, feeling the throttle of empowerment. Now they are the emblems to a new religion, here amongst these rolling waves, these palm trees, these silver shacks with crackling bonfires, these men are eternal emperors.
For what was once seen as a lowlife, sordid business, has now grown to become a sophisticated trade laced in glamorous attire and dining, with the prospects of making enough money to feed a crying baby stranded somewhere in a desolate northern province, or buy medicine for a splattering old man who has never felt the comfort of a mattress against his frail aged bones.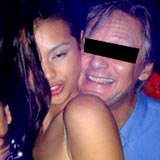 Rich men bankrupted by love and deserted by companionship prowl these heated streets of heaven in the private anticipation of finding someone, anyone to hold hands with for longer than their allocated time.
To lift the veil of rehearsed lines and flattering niceties and kiss the mouth of a genuine person, then rightly use the surplus of money to persevere life as apposed to perverting it.
Before I hand this day to memory, I will close with one such meditation.
It occurred to me tonight as I lay pondering the universe that the sun and its cosmic family have been the true witnesses to all of mans atrocities, achievements and harbouring efforts to make peace with all that is within and without.
In doing so they have never ceased to shine and sustain our life force, our quintessential need for progression, as they lay gracefully the foundations of all our tomorrows.
Maybe the reason being is because they already know how the story for humankind will end, like a judge who has just wheeled his eyes over the final verdict, and so before handing out sentencing is taking one last moment to smile upon us all.