Contrary to Western-centric stereotyping, day-to-day life in Thailand is still largely conservative. Television programming is centered around game shows and predictable soap operas (Thai Lakorn), and sex education premised on abstinence over birth control.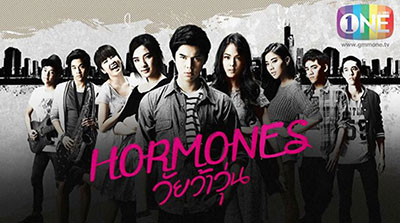 For these reasons, much like the Skins series did in the UK, Hormones has ruffled some feathers in Thailand, with fans appreciating its honesty and critics lambasting its "reckless" scenes of youths smoking and kissing.
Some officials have even called for an outright ban, but Hormones director, Songyos Sugmakanan, says the series plays an integral part in Thailand's culture, because the issues it highlights – teenage sex, drugs and general hormonal confusion – are not usually discussed at home or in school.
"Thai society has been closed for a long time. In my day adults chose not to teach us about sex in the classroom because they feared it would lead to us having sex, when actually it just forced kids to go out and learn on their own."
Though Thai officials constantly call for senseless bans on anything that might taint the Thai image as anything less than perfect, and few would be ready to talk about the fact that Thailand has the second-highest number of teen pregnancies in the world, spiralling rates of STD infection among its youth and the highest rate of HIV/Aids in Asia.
Sex education in schools is mandatory, but teaching the subject is limited to eight hours a year, with a focus on abstinence rather than practicing safe sex.
Hormones is so much more than a Thai soap opera, and is educating not just Thai society on the reality of youth and bad parenting, but also the rest of the world on a part of Thailand foreigners seldom get to witness – an insight into the trials and tribulations of being a teenager in Thailand, and how modern living clashes with conservative values.
The first episode can be watched below, with English subtitles.
**A huge thanks to YouTube user Sai Fon for taking on the massive task of subtitling so that the English-speaking world can enjoy this series.