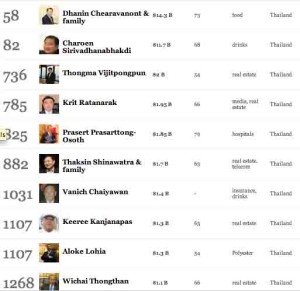 The rich getting richer is increasingly noticeable in Thailand, particularly if you live in the City of Angels (Krugthep). More high-end car showrooms lining Ratchadapisek road, more exclusive gyms, more foreign brand-name retail outlets and more fancy high-end restaurants; the rich need places to feel their wealth, literally.
A middle-class is emerging, too. Look no further than Starbucks on any given day of the week. Getting a seat amidst the Macbook Air using, Samsung Galaxy toting students and twenty-something creatives spending 300 Baht on a large iced capuchino with double cream and a fancy (poor quality sponge) cake is a mission at the best of times.
A booming economy means people can borrow more, wages are increasing, kids are more demanding as they seek to keep up with next door's kids and parents are spending to keep face with the Jones'. It's reminiscent of the 90s' boom in the UK, a country where many are now ironically trying to escape the soulless consumerism in exchange for a life of mindfulness in destinations like Thailand. Disappointed you will be.
Thailand is in grasping, striving mode. It's showtime like never before. Thing is, while many are feeling the blessings of a booming economy, others are feeling the squeeze like never before, as the cost of living rises in tandem. Truth is, much of the middle class is simply living in a bubble of credit; car finance, mortgages and personal loans rather than tangible wealth. The super rich are the ones getting richer. The land owners, those with the right name, the right contacts and a hand in the political pie. And it shows, big time. Recently Forbes released its latest rich-list, and Thailand had doubled its entries on last year's offering.
There are now 10 Thais on the list. Charoen Group chairman, Dhanin Chearvanont, leads the pack with US$14.3 billion (Bt426 billion). He ranks 58th-richest person in the world, with his net worth increasing by a whopping $7 billion on the same month last year.
In at 82nd place (up from 184th last year) is liquor and property tycoon Charoen Sirivadhanabhakdi. Fresh off the heals of his $11-billion acquisition of Singapore's Fraser and Neave, his net worth sits at $11.7 billion, up from $5.5 billion last year.
The rest rolled in as follows:
736. Thongma Vijitpongpun: CEO of Pruksa Real Estate – $2 bn.
785. Krit Ratanarak: major shareholder of Bangkok Broadcasting and TV – $1.95 bn.
825. Prasert Prasarttong-Osoth: CEO of Bangkok Airways – $1.85 bn.
882. Former prime minister Thaksin Shinawatra & family – $1.7 bn.
1031. Vanich Chaiyawan: chairman of Thai Life Insurance – $1.4 bn.
1107. Keeree Kanjanapas: CEO of BTS Group Holdings – $1.3 bn.
1107. Aloke Lohia: CEO of Indorama Venture – $1.3 bn .
1268. Wichai Thongtang: lawyer turned investor – $1.1 bn.
Dhanin, Charoen, Aloke, Krit and Chaleo Yoovidhya were the five Thai billionaires on last year's list.  The full Thai list is here.
Just for the record, no foreigners living in Thailand made the list :). But it is encouraging that five new faces popped up. There's hope for us all yet.