Pure organic Thai coffee is hard to come by. By the time so-called organic brands hit the shelves it's hardly fresh, moreover, it's probably passed through a couple of factories on the way to Tesco or Big-C.
This means that to get real, fresh organic coffee, you'd need to literally go and collect your beans from the plantation.
I won't be doing that. But I do like good coffee. And I have found the next best thing…
In a deep-rooted corner of Facebook, lies a page with about 600 odd fans to date. The page is owned by La Liart (ละเลียด – means 'nibble' in Thai), a small company owned by some young entrepreneurial Bangkokians who, with their connections in Chiang Mai, are bringing the purest of pure 100% Thai Arabica coffee to the doorstep of every province in the Kingdom.
The story of the coffee begins at the junction of three provinces – Chiang Mai, Chiang Rai and Lampang – where, 1400 metres above sea level, Yao farmers cultivate Thai coffee beans.
The disposition of the soil is made perfect by adequate rainfall and the shade of the forest, which helps preserve year round moisture.
It smells amazing and tastes just as good, with a moreish velvety dance on the palette. And no, I am not receiving a cent for endorsing Li Liart, but I do feel kind of compelled to promote it because it's so well hidden – even the Facebook page currently has very few details.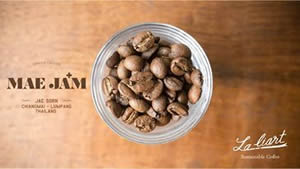 In a nutshell, here's the low down on the latest bean, which is called Mae Jam…
Mae Jam is grown 1400 metres above sea-level by Yao tribe farmers.
It contains no chemicals.
It comes in dark and medium roast varieties.
You can order beans, or, if you don't have a grinder, they will grind it for you.
You can even request a mixed blend, if you like.
It costs 250 Baht (n/inc postage) for 250g.
And 750 Baht (n/inc postage) for 750g
*I can't remember the postage prices and I can't find them on the Facebook page either. If I remember correctly it's around 65 Baht for the 250g pack.
There is one downside to this coffee though; it's so pure, you only have 45 days to consume your order before it's subject to natural degradation, which is no problem because a 250g bag will last an average drinker approximately 30 days.
I think living in Thailand comes with a few guest duties, and one of those duties is to support local businesses. I mean, why buy Nescafe or imported brands when you can support domestic plantations. The same can be said for wine. There's some great wines coming out of Thailand, but seldom do people bother to look beyond Australian imports.
Of course, if a product is sub-standard then I am not suggesting you buy it just to support the cause, but really, this coffee is great. Moreover, you won't find it in any shop or supermarket – it's only currently available from the La Liart Facebook page.
If you're looking for 100% organic Thai coffee, this is my recommendation.
Visit the Facebook page to drop La Liart a message (the owner speaks English), or call the number provided.