Most expats who enjoy writing start a blog when they arrive and start living in Thailand, and just recently I discovered a blog by a guy named Colin who is currently planning his move to Thailand.
Colin wants to become a teacher here, and from his posts and tweets I can tell he is very excited. He has been a regular at TTL and on other blogs soaking up information and planning away, so I asked Colin if he'd like to guest post and share a few of his thoughts and feelings on the move…
…Perhaps some of you can offer Colin some tips and advice.
Moving To Thailand – Ambitions, Doubts & Stereotyping
By Colin Steele
I've decided to move to Thailand!
A few of the reasons are; for the experience of living in a new culture, testing my ability to adapt to a new environment, to learn a new language and enjoy the beautiful weather.
I've thought about this move over the last two months, admittedly not as long as some people take to think about such a move, but I've done a lot of research and asked myself many questions.
Anyone moving so far overseas will question themselves over their ability to cope, and fleeting thoughts occur daily such as, will I have enough money? Will I adapt well to the climate? Will I enjoy teaching English? Will I end up in Jail?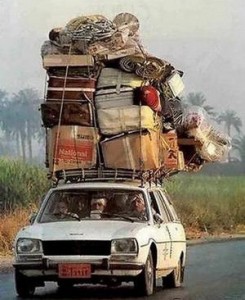 Moving to Thailand also raises questions from your family and friends. They are naturally intrigued as to why you're moving. They want to make sure you're going to be safe. They panic about how they will contact you and what you will do for money. But mainly they want to know about the sex!
The number one line of questioning, however, and the theme on everyone's lips is, sex? Are you going for the ladyboys? Are you going to watch a ping-pong show? Will you come home with a Thai bride?
Maybe these questions are a little tongue in cheek or maybe my reputation proceeds me, after all they do call me Dirty Roger, but really, I am not going to Thailand to indulge in all my twisted fantasies. I am bemused about the frequency of this line of questioning and maybe I'm being a little innocent here, but I feel people are being extremely unfair and disrespectful of the rich cultural history that Thailand has to offer.
Thailand appears to have created quite a sleazy reputation for itself, and the capital, Bangkok, is widely known as one of the sex tourism capitals of the world. The sex tourism industry in Thailand is now reportedly a 12 billion dollar industry, and they say if it's not found in Bangkok then it's not available any place else.
Recently a post on "The Thailand Life" featured a video that documented the life of a young woman in Thailand named Pla. This young woman was unfortunately one of the possible 200,000 women working in Thailand as sex workers, and had clearly suffered at the hands and desires of men that are commonly known as sex tourists.  I recommend watching the Bangkok Girl documentary to anyone thinking of visiting Thailand.
Honestly though, I am a man, and I must say Thai women are stunningly beautiful. But if I do happen to find a beautiful woman by my side, I'll tell you now, I won't have paid for it.  I don't want to start a debate on the morality of the sex trade, that certainly isn't my intention, I just wanted to make the point that NOT everyone who goes to Thailand is a sex tourist.
I'm moving to Thailand to immerse myself in a new culture and explore the sights, sounds and tastes the country has to offer.
I want to walk the streets of Bangkok, Chiang Mai, Chiang Rai and Phuket. I want to travel around the rural Isaan region and meander down the Mekong river towns.  I want to swim in the seas and relax on the beaches on Ko Tao, and if I pick up a hot Thai woman on the way then great. I'll write all about it on my blog.
But I will also do all I can to show people there is a lot more to Thailand than Ping-pong shows, ladyboys and oppressed women left with little choice in life but prostitution.