After a chocolate-laden Christmas and 3-months out of the gym, I returned to LOS feeling out of shape and a good few pounds heavier.
Returning to paleo living had been on my mind for some time, and feeling so disenchanted with my shape, I decided it was time to immerse myself in a 30-day paleo challenge, and hopefully beyond.
If you don't know, the paleo diet isn't a diet fad like "the cabbage soup diet" or "lemon detox diet", it is quite simply living naturally as our caveman ancestors lived during the paliothic era, before the agricultural revolution bloated and infected our bodies with grain, sugar and God knows what else.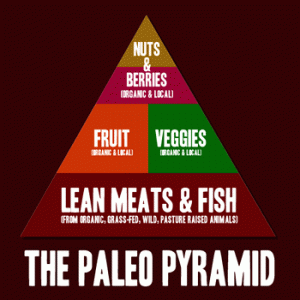 Believe it or not, grain was only ever eaten as a last resort during starvation periods. Now grain makes up a large percentage of the human diet; bread, cereal, rice, pasta, etc. When you live paleo you don't eat grains or dairy. You eat lean meats for protein and vegetables and fruits for carbs and fibre.
You can also eat nuts and anything that isn't unnaturally processed. This is hard going in a country where sugar is added to even things with sugar already inside. I am also presented with the problem of not being able to find grass-fed beef and organic chicken, let alone free range eggs. Any ideas?  I couldn't see organic meat in my local Tesco.
The paleo diet isn't just about eating though, it is a lifestyle choice, and one synonymous with exercise. But rather than slow, heavy weight workouts or laborious running machine sessions, training is explosive and largely uses body weight exercises. Our ancestors used to cover 19km a day hunting and looking for vegetables and berries, nowadays most people find it an effort to walk to the car.
I am on day 3 of my 30-days, and last night found myself buying fruit in the market at 12am; I needed a carb fix, but a natural one! I know, not very caveman being up at that time. Healthy sleep is also a big part of paleo living, another difficult endeavour in Bangkok. I feel good though for not eating any noodles or bread. Already I feel lighter, more alert and eager to go running.
The health benefits of living paleo are scientifically proven, and studies of existing hunter-gatherer communities around the world have shown how positively beneficial eating food designed by mother nature for humans in terms of maintaining all aspects of health. By cutting out sugar and preservative laden foods, cortisol levels and inflammation is reduced in the body, helping the body to heal everyday ailments, aches and pains, sleep better, feel less stressed and become leaner and fitter.
The last time I went paleo I lasted 4 months, unfortunately succumbing to peer pressure and not wanting to offend as a guest at a dinner party – it's very difficult to say, "Sorry, I can't eat that" when someone has gone to so much trouble.
How long I will hold out this time remains to be seen, but am not mounting massive pressure on myself. I will need a treat at some point, or an alcoholic drink on a night out. But if I could maintain paleo living for 75% of the time post my 30-day challenge I would be happy with that.
Moreover, it isn't just getting a bit unhealthy over Christmas that prompted this paleo switch. I am at high risk of skin cancer because my mum suffered and I have a large amount of moles on my skin. I visited the hospital for my yearly check up in January and was told I must come back every three months now because there is increasing concern over some of my moles.
The doc wasn't impressed with my reply that I couldn't because I lived in BKK, and he rebuked my argument that I could visit a private hospital here, saying that Thai skin doctors were good at cosmetic surgery but didn't have the experience to pick up signs of skin cancer – how true that is I don't know. He said I would have to go to Australia as the nearest competent country, possibly Singapore might be an option.
Anyway, a while ago, a cancer doctor friend of mine, who lives in Thailand, was explaining the importance of diet and general holistic living in preventing cancer, and I figure I should probably heed that advice as much as possible living under the blazing rays of Thai sun. So for me paleo living makes perfect sense.
Needless to say, Thai people are shocked to hear I am not eating rice because it is bad for the body; explaining what grains do to the body and how simple carbs contribute to high insulin levels, etc, is a tall order here. I'm not here to become a diet preacher though, just to maximize my health and get lean again.
It would be interesting to hear if anyone else is living paleo in Thailand, and if you are, how you adapt your lifestyle around the country, culture and food.
*I am currently following Rob Wolf's 30 Day Total Transformation. The guide is ideal if you want to fully understand paleo without having to read 10 textbooks, and if you want to give paleo a go and get started immediately. It contains all the advice and tips required, including shopping lists and meal planners for 30 days, and a full paleo workout plan.
Rob is a biological researcher, paleo author, trainer and all round well-respected paleo guru. He is a student of Dr Loren Cordain, the leading paleo medical authority.