Metal detecting has always appealed to me, although I never did it as a child or teenager.
The idea of finding treasure is alluring, but that for me isn't the sole motivation. I am a fan of history and find anthropology fascinating.
Finding bits of history, whether coin or relic, is interesting because it makes you wonder who sat here, who lived here, what type of people were they, what were they doing and why were they here?
There's also something fascinating about the fact that day in day out people walk over a particular spot, possibly for decades, and then with just one dig, a few inches down, a piece of history is unearthed that they had no idea was there.
And so, a year ago, I decided to buy myself a metal detector. I tested it out in my garden and a local field in the UK, but the beeps led to dead ends.
I needed to find some potentially more lucrative sites, and increase my knowledge and experience.
My main intention for buying the machine was to do some metal detecting in Thailand on the beaches. Sadly I forgot to bring it when I went to Phuket last December, and most of my travel has been urban-orientated since.
Then, two weeks ago, a friend suggested a trip to Hua Hin.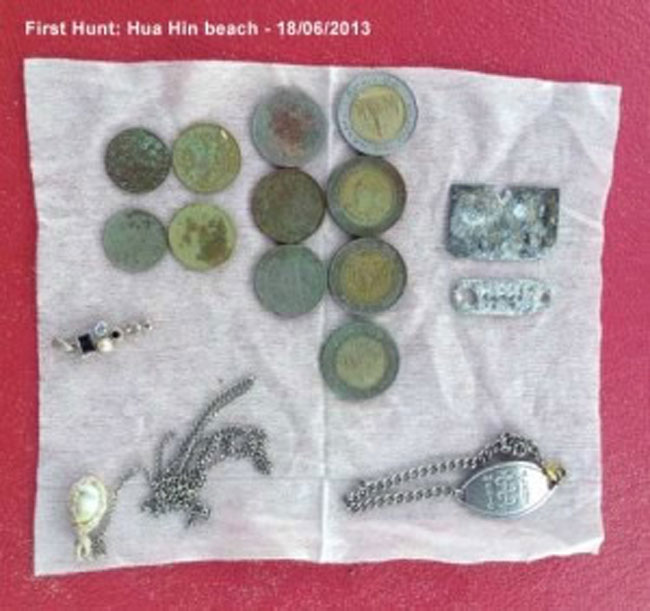 Metal Detecting In Hua Hin
It was only because my wife asked me whether I was taking my detector that I remembered to pack it the night before we left.
I was excited, but being inexperienced I pretty much expected to come up short.
However, the first day really surprised me.
My friend suggested scanning an area of the beach just in front of some big old properties that line the beach; his theory being that in the past wealthy people may have relaxed there when the tide was high.
Immediately we detected a few old one Baht coins. And over the following couple of hours we found some interesting bits.
The most valuable find of the day was a silver pendent (925 stamped) with a pearl inside and a couple of other stones I am yet to identify. My friend is credited with that find, though, as he was holding the detector at the time.
I also found a junk chain with a shell encased in rope, some ten Baht coins, a few five Baht coins and someone's asthma medic bracelet – it's from the UK so I'll try and return it by calling the number when I get home.
Excited by what the first day had dug up, I went home and did some online research. Videos on YouTube and comments on blogs suggested looking in harder, more compact sand, there was also advice about reading the tide lines and gulleys which I didn't quite understand.
Some suggested looking among shell deposits, and the obvious advice of looking around areas frequented by tourists, like sunbeds and beach restaurants.
Armed with this knowledge I thought I'd do better, but I didn't…
I choose to detect in the section in front of the Hilton Hotel and about 150 metres either side. But the compact sand near the shoreline frustrated me.
I was getting beeps at 8-10 inches that always led to nothing, and became convinced the sand or rocks below the surface contained some metal compound that I couldn't discriminate through sensitivity.
I looked around rocks, shell-laden areas and deckchairs, and found nothing. I then moved to the back of the beach again, along the wall, and found a few coins totalling eight Baht.
A guy on the beach said that occasionally a local metal detector club comes down and works the same area, so perhaps that was a factor in the finds being few and far between; apparently one of them had recently found a gold watch.
But then perhaps my inexperience led me to become frustrated and too sporadic with my search. I just can't "read the beach", which apparently is a real skill that takes a long time.
Still, my total time metal detecting in Thailand has been around 4-5 hours, and I have at least made a handful of finds, one pretty good at that.
What would be cool is if next time I could go out with someone with experience who could show me some basic skills. I think I got to grips with my detector pretty well.
I am using a Bounty Hunter Quick Draw 2, which is not a high-end machine but a solid entry machine for newbies and occasional hobby hunters.
It gets good reviews and has a good auto-detecting functionality, a plus for those who want to get straight into the treasure hunt. It is also reasonably priced. I got a pointer and a carry bag with it for less that £200.
I will take this experience and hopefully get out treasure hunting again soon. I am interested in other places Thailand that are good for detecting.
I doubt there's anywhere in Bangkok to detect, so I guess beaches are the main attraction for expats and travellers metal detecting in Thailand.
Tips for Metal Detecting In Thailand
If you are an experienced detector, perhaps you can give me some tips:
Here are some questions I have:
1. Where to Search?
With the type of detector I have, should I stick to a specific type of terrain?
I have seen some people with metal detectors scanning shallow water and the compact sand by the shoreline, but  would my detector be good enough for this?
The only luck I seem to have is finding coins in loose sand a few inches down. Is this because my detector is fairly entry-level, even though it was a couple of hundred pounds?
I'm not too hung up on finding expensive things or valuable relics but rather having fun and making regular fines. Now I have my young daughter she gets excited then disappointed when nothing is dug up for an hour or more, and of course loses interest.
Does anyone have any tips on places or areas of the beach or park where you can kind of guarantee that I will have some luck, even if it is just a few low value coins?
Perhaps a better question is where am I definitely wasting my time on a beach? Would I be right to continue the same strategy I had in Hua Hin where I was searching at the back of the beach in the loose sand?
2. Best Technique?
When I was back in the UK recently visiting West Wittering beach I saw a guy detecting and he had a specific technique of sweeping: he would mark the area he was sweeping by making a dig in the sand with his shovel, essentially creating a grid so he knew exactly where he had covered.
I also noticed he was swinging his detector quite wildly from side to side and moving very quickly. He was definitely experienced and his detector looked pretty high end, but I wonder, for someone like me, should I be going very slowly or is the quick swinging motion not an issue?
3. Any Essential Accessories?
Are there any accessories that are really worth investing in that can help speed up the process of searching,  such as a type of shovel or sieve?
4.How to Deal with Unwanted Attention?
And lastly, how do you deal with people who come up and ask questions and then follow you around anticipating you digging something up?
I know people are really interested and obviously kids get excited, but I found this really off putting. I quite enjoy the mindfulness of searching and when not doing it with my daughter I like to zone out and just be in the moment of what I am doing.
When I have a couple of people following me around waiting for me to dig up something valuable and getting disappointed when I don't starts to ruin the experience and makes me anxious to find something quickly to her prove that this actually works.