The festive season is upon us once more, and even though Thais don't really celebrate Christmas in the traditional sense, they do like the happy, party atmosphere that comes with it.
It's an excuse to put up decorations and make everything "suuway" (beautiful), to shop a bit more, party a bit more and for the younger female generation a chance to don cute santa outfits like the one in the picture below.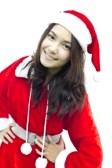 Whether you're going home for crimbo to enjoy some colder weather, or staying in the Land of Smiles without a chance of snow or decent brussels sprouts, you'll want to know how to say Merry Christmas to your Thai friends or the owners of the local Thai restaurant back in your home town.
To help you out, I thought I'd go a step further than that and give you 10 Christmas-related words to help expand your Thai vocabulary.
I recorded the audio below with my wife, with whom I'm currently celebrating Christmas with in the UK. I'll say the word in English and she'll give you the Thai translation twice. Just press play on the player below to listen and learn.
Press Play Below
Sorry – audio removed due to re-recording. Check back soon 🙂
A very Merry Christmas to you and your loved ones!